I love planning a party…  From Legos,  Thomas the Train, Star Wars, Princess, Gingerbread, Back to School, Cars, Spiderman, Christmas Games to School Parties; it's way too much fun!  I think if I knew I could be a party planner and still love party planning for my family, I would become a party planner.  Sometimes when you call something a job you just don't want to do it for fun any longer.  So I will stick to doing parties for my family and students.  Classroom parties are fun to plan too!  We just finished planning the K parties for my daughter's school.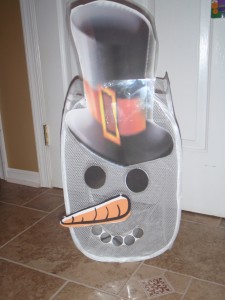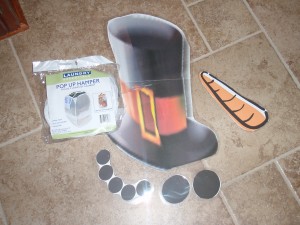 How about this cute snowman laundry basket we will be using for one of the games? It took me ten minutes to make!   The kiddos will try to throw a snowball (Styrofoam ball) into the snowman from various lengths away to score a point!  I just printed out a snowman pattern I made.  You can click here and here to download the hat, note, eyes, and mouth.  Then I laminated it.  After that I hot glued it to the white laundry basket (dollar store).  Yippeeee….  a fun Snowman game.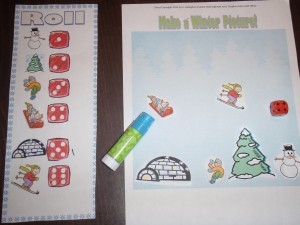 Sticking along the Snowman Theme I have a free printable for you that you could use at your party.  It's a roll a winter scene dice game.  (Remember the fall free one here)!  All you need to do is print one playing card per child and a set of playing pieces per child.  Cut out the playing pieces or have the children cut them.  Each child takes turns rolling the dice and putting the correct picture on the scene.  When all the pictures are on their scene, they win.  Then let them glue the pictures onto their page to take home.  CLICK HERE TO DOWNLOAD!!!
  I have two more free printables for you (winter bingo and a snowglobe game) over at my guest blog post at the Organized Classroom Blog.  Remember last month I shared with you how I will be there once a month to do a guest post?    Over at this months post, I will tell you how to organize the classroom party to make it fun and successful.  Hop over to the post here to read more and to grab two more free printables….   That's a total of four free printables after reading both posts!  WOOT!!!   You will also enjoy some of the links to other sites that offer free printables that I thought were great.  I also fell in love with the Roll a Snowman game I shared on the post.   Click here to see the post!
If you need more fun winter ideas Click Here!!
Also, be sure to check out our Snowman and Gingerbread Friends Packet – YOU WILL LOVE IT!!! 
Google+