I love Pinkalicious almost as much as my five year old daughter… Okay, I may even like her slightly more than the five year old.  Why did I not think of creating a story book about a character that loves pink?  The authors, Victoria & Elizabeth Kann, were very smart and their books are a huge hit in my house.  You can see some pink posts here!!  A few weeks ago we attended the Pinkalicious Children's musical.  It was outstanding!!!  The cast was great!  It was so cute to see all the mommies with their pink daughters enjoying the show together.   We of course had to have pink cupcakes before the big show.  I just added pink food coloring to the batter of my cake mix and to my icing.  I think they turned out pretty close to what Pinkalicious cupcakes look like in the book.  What do you think???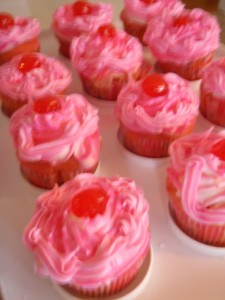 The girls loved them!!!   But guess what happened???  What happens when you eat way too much pink?  We all had a case of Pinktitus!  So, what's the cure for Pinktitus?  Yes, green food…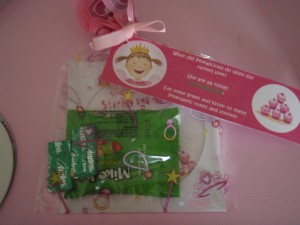 So I made a little tag to attach to a bag with green candy and a CD.  The CD is the Pinkalicious Musical.  The music from the musical is adorable and my daughter and her friends can't get enough of it!  It's  a great buy and you can click here to hear bits of it or to download! 
Also, click here to download the Pinkilicious Treat Tag I made.  If you would like the CD label I made, click here.  These print on these CD lables. 
How about dressing for the show…  With a little iron-on avery computer paper you can make a shirt like the one I made below for my friends daughter…  I love printing out a picture from online and ironing it to a shirt.  I have used this paper for years to make iron on crafts.  It super easy to use!  Click here to learn more about Avery Iron On Paper!!!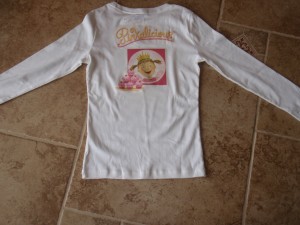 Pinkalicious is such a fun read.  Stop by later this week and I will have a Pinkalicious classroom activity!  ANOTHER free printable coming.  As for now, you get what you get and don't get upset!  🙂

 Here are some FREE off site resources you will enjoy!
Pinkalicious Activity Packet & More PDF Printables!
Great ideas from HowDoesShe!!!
Check out this Pink Playdoh Recipe!!!
Learn how to make Pinkalicious Wands here!
Yes, I could stay in pink world all day… but it is time to move on!  Sigh!



Google+