Today I am a guest blogger at The Organized Classroom Blog.  Actually for the next few months look for me there on the 12th of every month.   If you haven't spent some time exploring The Organized Classroom Blog, you really must.  Charity, the owner, has done an awesome job on this blog and the Facebook page  is always streaming with hot education talk & awesome posts from Charity.  In fact, if you ask a question on the facebook page, Charity works her magic to get her fans to help answer it.  She is creating a wonderful community of educators that love what they do and love helping others.  IF you know me, you know I love those with Teaching Hearts – Charity has one!   
Some of what I feel are must see spots on her site include;
The post and video on Pintrest.  If you are new or starting on Pintrest, this is a must read/watch!
She has a tutorial on the Facebook Subscribe Feature.  I asked her to explain it and a few hours later she had a video posted.  This girl is amazing me.  😉
Need Teaching Tips Galore, check these out!
Her Video Tutorials are great, check them out!
I feel fortunate that she asked me to be a guest blogger on her site.    Thanks Charity for having a "Teaching Heart"!  It's educators like you that make me happy to be in this field. 
So, my post is 2 FREE Printables to help you create a classroom of Pumpkin Glyphs!  I'll tell you all about it over at the Organized Classroom Blog.  Below is a sneak peek of one of the free pages you can download for free when you visit my post here.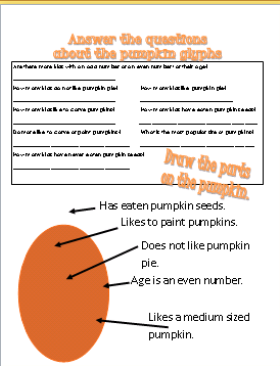 Click here to see my post and print the free printables!! 
Want more of my printables – please shop at my store!!!
Google+