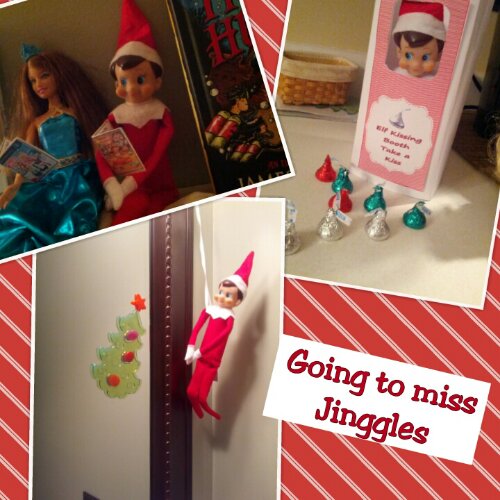 I cannot believe it, Christmas is almost here!  We added a new tradition of Elf on the shelf to our home this year.  I was against it the past two years and broke down and decided to do it when my daughter became obsessed with the Elf we have at the school I teach at.  She also added it to the top of her Christmas list… so one day in December he just showed up when she returned from a soccer game he was hanging on the door!  She was beyond thrilled and then I knew it was the right thing to add to the million of other things we already do.   She named him Jinggles (yes with two g's).  I tried my best to keep it simple and wanted to make sure Jinggles did nice things and not too naughty…  Although he took a liking to my daughter's Barbie Dolls.  Wanted to share a few simple ideas, two printables, and the note Jinggles will leave when they wake up Christmas Eve.  The note mentions the true meaning of Christmas and also details that they will get a second to hold Jinggles and wish him a goodbye.  The note makes me cry when I read it…  I seriously am attached to the fellow.
Below is the kissing booth I made.  Just a few Hershey kisses and some cardstock are needed.  I printed the template and glues it to some cardstock that I hade shaped into a booth.  The free printable is at the end of this post.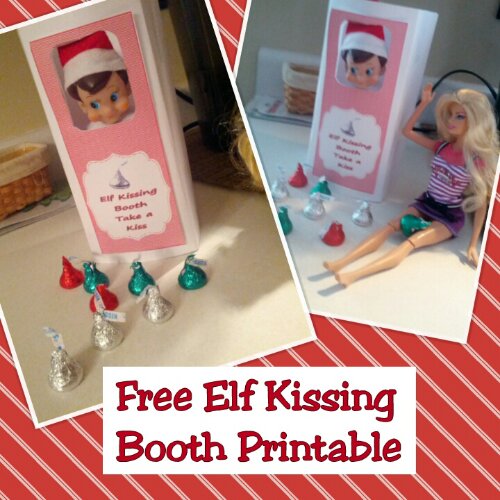 Jinggles had a little mission while he was here…  My kids tend to be the best of friends and the worst of enemies…  He kept giving them little hints that Santa wanted them to spend more time being kind to each other.   Below he glued two candy canes together and put little notes inside.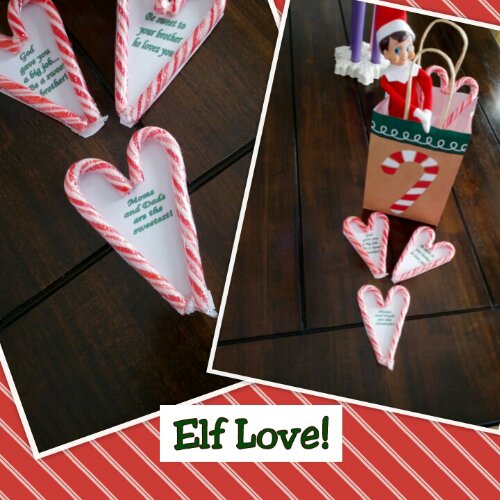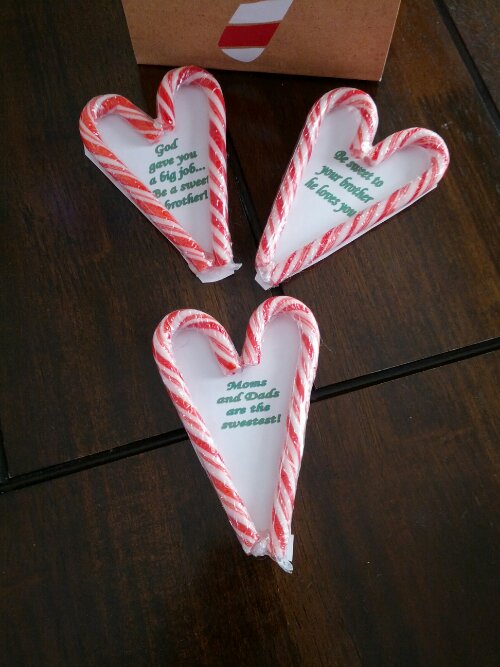 What else did Jinggles do while he was here?  He took care of baby Jesus.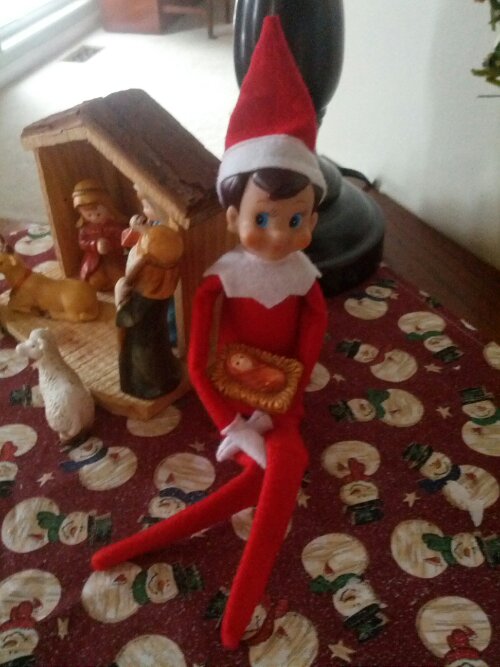 He added some decorations to our kitchen light.   These lights are battery operated and purchased from the dollar store…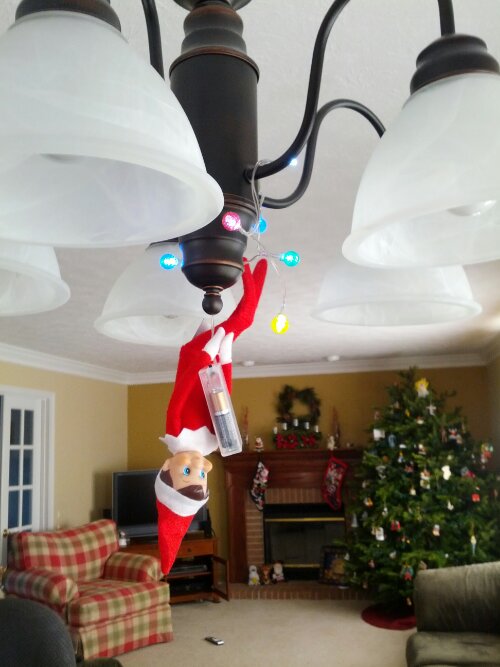 My daughter thought this was a hoot… she wrote a letter to him!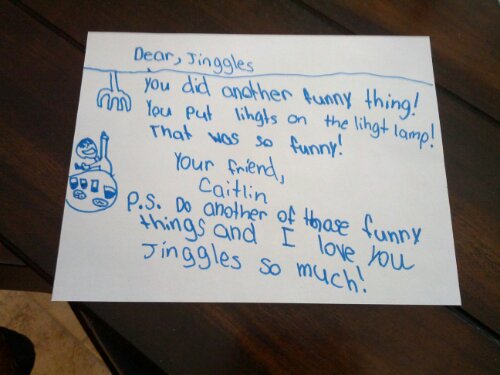 That Jinggles likes Christmas Decorations….  Below you see he added some to our powder room mirror!
Another dollar store find!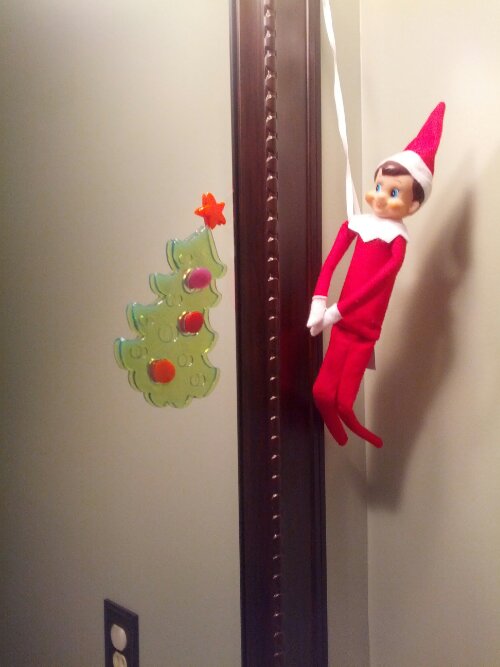 I told you he found a friend in my daughter's Barbie dolls.
This is just two of the times he was spotted with Barbie…  Other times he was found riding horses with her and in the bath tub with her.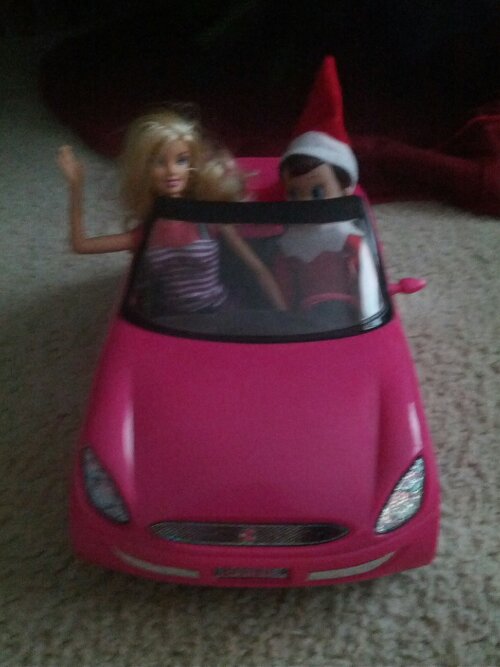 Here he is again with Barbie!  Even Jinggles likes to read and promote reading over winter break.
The mini books can me downloaded at the end of this post!  This would be great for the classroom Elf as well.
Elf was extra generous this day and left each child a new book to read over winter break!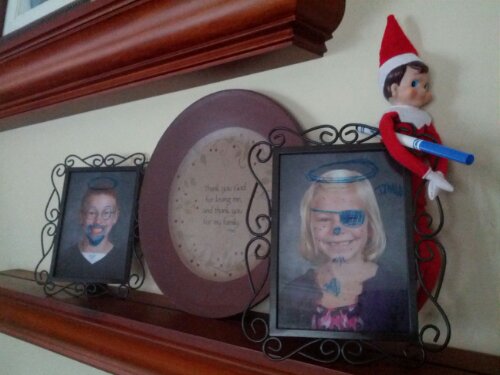 Above he had some fun drawing on the pictures of the kids…  That silly elf.  Good thing he used a washable Crayola.
Those are just a few things our elf has been up to.  He only has a few days left and then he is gone till next December.  I think I will miss him more than anyone!
Jinggles has a special letter he will deliver on the 24th telling of his departure, the true meaning of Christmas, and giving my kids the gift of a goodbye!!!  My daughter will be thrilled to touch and kiss him.
You can see my letter in the free printable below.
click here to download and print the free printables found in this post!
Google+