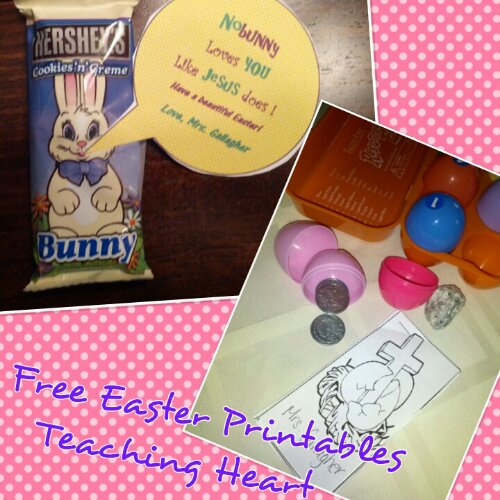 I know, you are thinking of Shamrocks and Leprechauns TODAY… but Easter is so close and that is what this post is about…  But click here to check out GREAT GREEN MEMORIES  we made last year (which is similar to this year). 
I shared different tags for the bunny above here.  I tweaked the tag this week and came up with a new one (as seen below).
Click here to download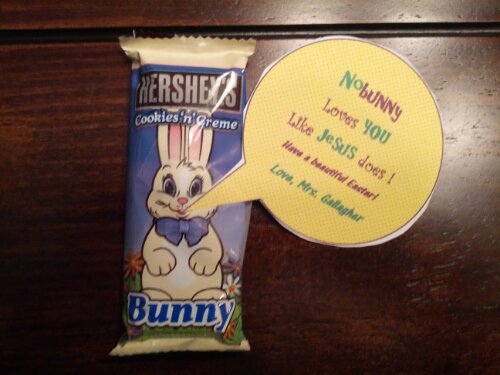 You may have seen my post about the Resurrection Eggs…  I love these and I created a great lap book (file folder) for the kids to make.
You can read about those here and print the files needed to make them. You can purchase Resurrection Eggs here.
This year I did not make the book above with my class due to time issues.  I did make  smaller mini book seen below.
It has all the 12 eggs and details inside it.  Click here to download the mini book!  Just print it and have your students cut the pages and staple in order…  You may want to later play Resurrection Bingo.
I also created a BINGO game to use with my family and CCD class after we have opened all the eggs.
You need:
1.) M&M's for each player
To play: Draw a card and read the definition about the vocabulary word or picture. Student finds the word or picture that matches your statement.
Place the card in the discard area and repeat until someone yells BINGO!!! First person to get four in row, wins!!!!
You will want to check this out –
Have a great week all!
Google+