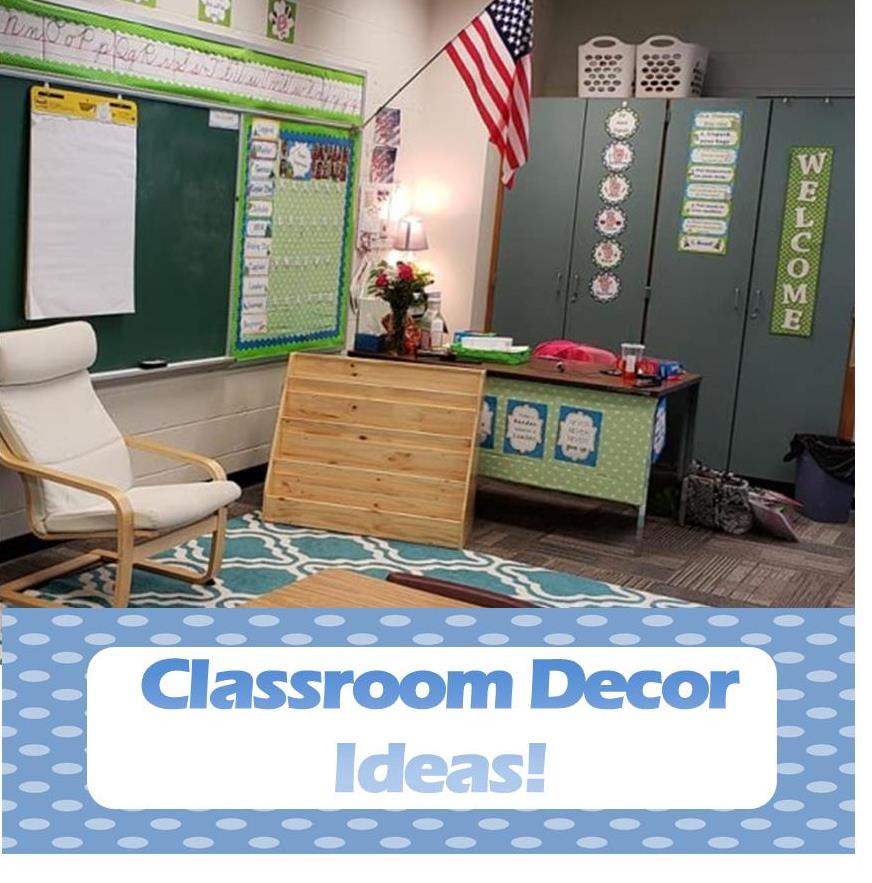 Happy summer teachers!  Although school is out, I still spend a couple days (maybe more than a couple) planning for next year.  Who can relate to that?  However, this is the first summer where I feel like my classroom is pretty much ready.  I love it and feel like I do not need to change or buy too many things this summer to make it great for the 2019-2020 school year.  Plus, I know that I will be teaching third grade again (year four of third) and that makes it easier.   I am looking into putting whiteboard paper over my chalkboard this summer, changing out some of my dollar store bins (I have had them for five years now), and adding more IKEA shelfing.  I added a few things last year that I loved and want to share with you as you plan your room for the next school year.
Let's start with these Amazon chairs.  I use to have the stools from IKEA and they lasted about three years and then got somewhat shaky.  They were white and although the color stayed pretty nicely, they had some marks on them.  When I saw these chairs on Amazon and saw the color choice (one being lime green  – one of my theme colors), I started thinking if I should change out the stools for these.  These chairs are smaller, stackable, and sturdy (I can sit in them and feel comfortable at 5″10 and too many pounds).  I can fit many around my smaller round table because of their size.  I love them and the kids really seem comfortable in them!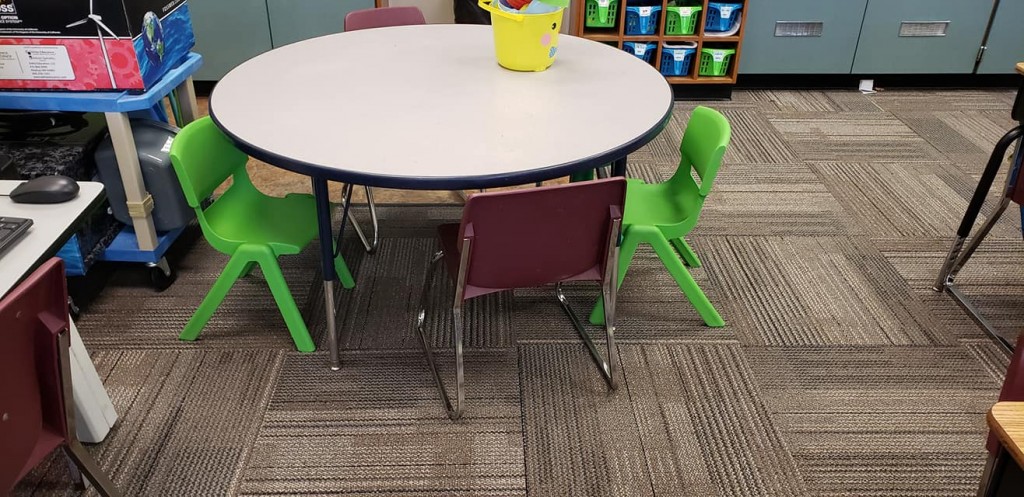 Look how nicely they stack too.  If you look in the next picture of my classroom ready for summer, you will see them in the corner by the windows.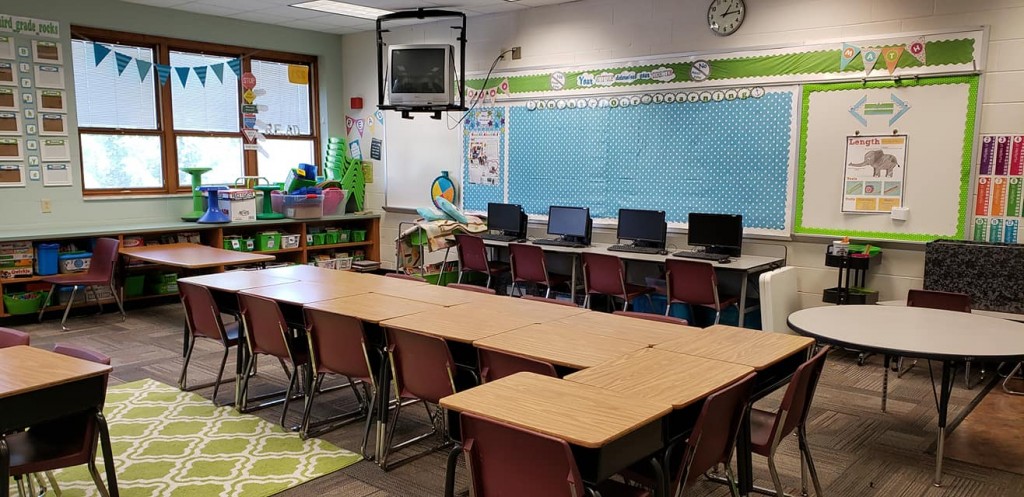 I am super happy with these chairs.  You can view them on Amazon by clicking here.   You get six chairs of your color choice.  They come in a large box and you just pull them out of the box and they are ready to go.  No putting these babies together.  I love when I do not have to make my son build things for me!!!
Ok, my next addition were my two rugs this year.  I will admit that each year for the past four years I have bought new rugs each year.  They usually start to curl get weird looking and it bothers me and I suck it up and buy new rugs.  This year I am not getting new rugs.  These will still look great and they are not curling or bunching.  So, I am keeping them for year two.  You can see the green rug in the picture above and then the blue rug below…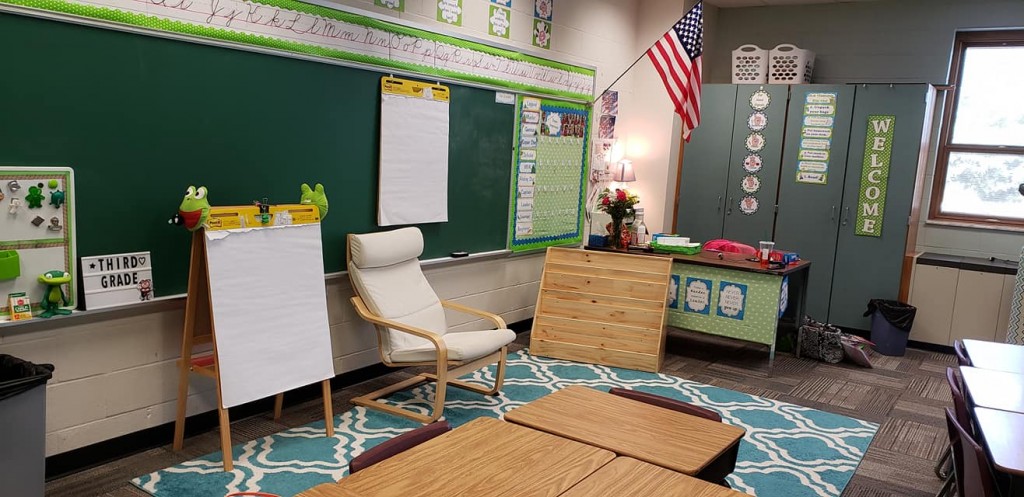 Both pictures show what the rugs look like after a year of use.  I am super happy to save over $200 this year and not buy new rugs…  I am sure my janitor is happy he does not have to lug these rugs out!!!  You can learn more about my rugs on Amazon by clicking here! 
See that empty book shelf in the picture above?  That is another favorite purchase this year!  I use it to house my read-alouds as we read them during the year (top shelf) and then on the other shelves I add books that match the subjects I am currently teaching.  You can see the shelf full in the picture below…
I love being able to display all the fun reading we do!  You can learn more about these shelves by clicking here!
Last year I covered by bulletin boards with tablecloths!  They are awesome.  No fading and I get a lot of compliments on them.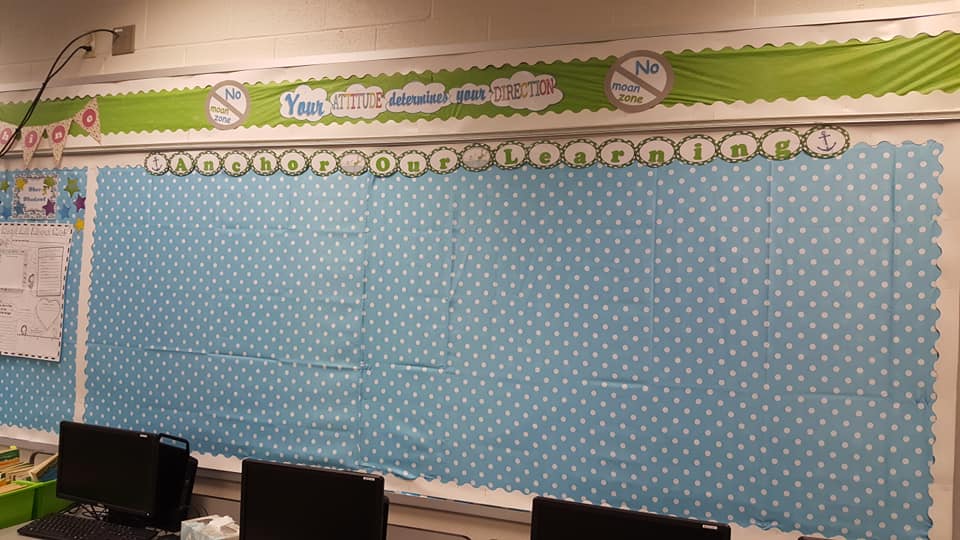 I purchased the light green and the light blue for my boards.  I love how they turned out.  Amazon appears to be out of the two colors I ordered.  They have a yellow color available and hopefully they will bring back these two colors.  Click here to learn more on Amazon!   You can see in the picture below my green tablecloth on my super improver board.  I even used it to cover my desk (which is in a picture above).  I use a hot glue gun to make it stick to the desk.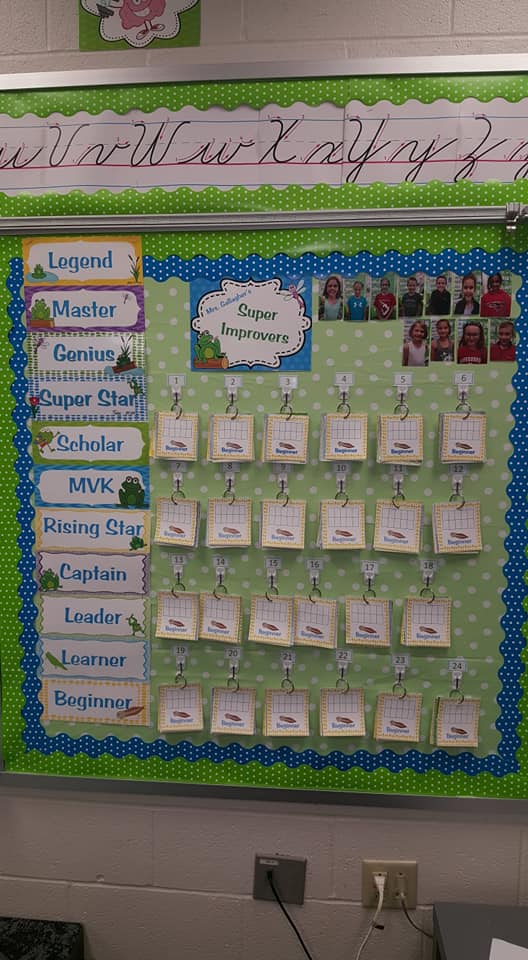 I have a few more additions to my classroom décor that I will share in another post.
What things in your classroom did you add this year and love?
Google+