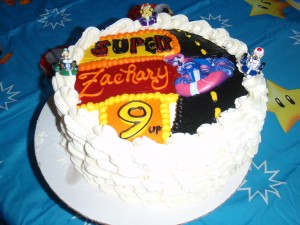 Yet another birthday has come and gone in our house… this year we went low key.  My son opted out of a kid party for a larger gift he REALLY wanted…   He is super happy – but mom missed the BIG kid party!
There was no Spiderman, Star Wars, or Lego craziness…  Just a little visit from Super Mario.
The cake was even easy and I feel a little guilty, but this was the first year in the 9 birthdays my son has had that I did not make the cake.  It was from a local bakery – Bartram and it was deadly good and worth every penny!  I am so glad it is all gone!!!
I did however make Star Cookies to match the Mario Theme.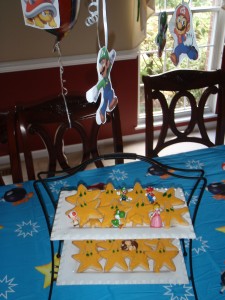 Aren't they cute?…  Check out the little figures!
I got those at Amazon.  Click here to see them and these little Mario Cars were a hit too!
It's hard to find Mario plates and decorations at local stores.  I got plates on Amazon.  I also bought my son a Mario sheet set for his bed.  The table cloth is actually his sheet that will eventually go on his bed.  I loved the way the bright blue made the room happy!  Plus a Mario balloons and some homemade decor. and you are set to make a little Mario fan smile!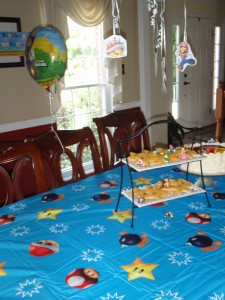 Check out these Mario Party Ideas…
Free Printables Mario Birthday Coloring Page!
Tip Junkie Shares Many party ideas and the link includes many free printables for your party!
If I would have had a kid party for my son, it probably would have looked like the fun at this link…
http://www.behemothgaming.com/2011/05/02/the-super-mario-party/
Be sure to check out Amy's PArty Ideas too…  Too cute not to look at!
For the educators… hmmm???  A Lesson Learned.
Hopefully you found an idea or two for your party!!!!
Google+