You have until 5pm Sunday to get this set on TPT pack of great centers for JUST 3.00.  It will return to 7.99 after Sunday… So hurry and be set for fun fall learning in your k-2nd classroom.
CLICK HERE TO ORDER BEFORE THE SALE ENDS! 
Fantastic Fall Games for your Centers, Incentives, or Classroom Party Time. Also great to leave for a substitute for extra literacy and math skill practice. So much fun learning—the students won't even realize they are learning. Easy to set-up. Games are also great for independent student use. Laminate for years of learning fun.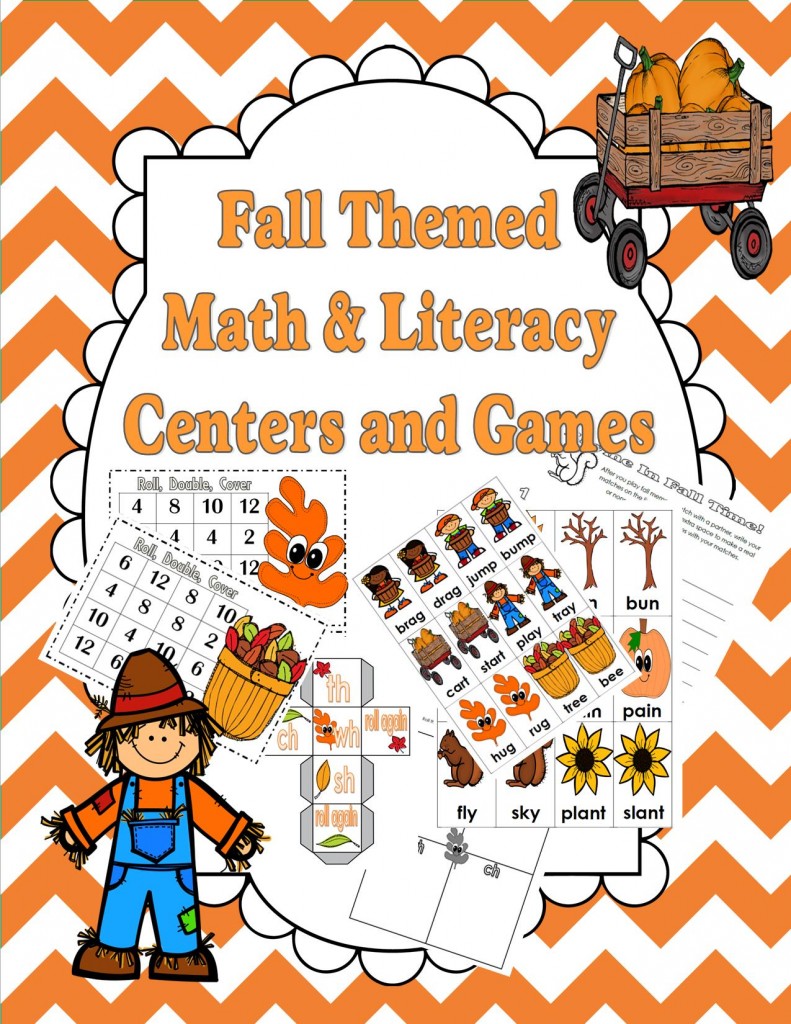 Below is an index of all the fun found in this set. All files are recommended for grades 1 and 2. Some files in this set can also can be used in some Preschool and Kindergarten Classrooms.
Pages 6 to 8 (Fall Roll, Double, Cover Dice Game) – Play in small groups or place in center. Student rolls the dice. Doubles the roll and covers that number. Play stops when someone has 4 in a row.
Pages 9 to 11 (Leaf Digraph Game or Center) – Print dice for players. Page 7 is a record sheet. Page 8 is another record sheet that requires coloring.
Pages 12 to 13 ( Falling for ABC Order Center) – Page 9 cards are printed. Student puts them in ABC order. Page 10 is the recording sheet.
Pages 14 to 16 (Rhyming in Fall Time Memory Game and Center) – Print pages 11 and 12, cut shuffle and place face down, students select a card and try to make a match. If they make a match they keep their card. If they do not make a match it is the next persons card. Person with most matches in the winner. Page 13 is a recording sheet to use once all matches are made.
Pages 17—19 Adding Up Apples Game) – Two player game. Directions on page 16 recording sheet.
Pages 20 to 27 (Fall Bingo and Matching Game) Directions on page 17. 12 different playing cards. Print and use for years.
Page 28 to 30 (Ten Apples on Top Game) – Great adding game for a fall center or a fall party. Directions on page 25.
Page 31—(fall Bump Game) Directions provided. You supply dice.
Page 32— (fall cover up) Directions provided. Supply dice.Follow my blog with Bloglovin
Google+