I fell in love with Pete when I first read Pete the Cat I Love My White Shoes.  It's such a fun Read Along.  I suggest you watch the video of the reading before you share the book with a group.

A new Pete the Cat Book Was Just Released!!!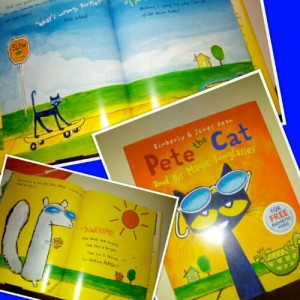 Pete the Cat and his Magic Sunglasses!!! 
 I love the feel good message this book ends with.  In true Pete the Cat fashion it makes you want to get up and dance!
In Pete the Cat  and his Magic Sunglasses we find Pete a little blue till he meets grumpy frog driving a motorcycle.  Guess what, today Grumpy Frog was not grumpy.  He had on cool blue sunglasses that makes the blues go away!  Pete puts on the glasses and sees thing in a new way!  Life is ALL GOOD again for Pete.  He goes along the way meeting many different sad animals that also try on the sunglasses and become happy.  After sharing the cheer with many animals Pete ends up breaking his sunglasses and learning a great lesson from a Wise Owl.  The Owl reminds Pete that he doesn't need magic sunglasses to see things in a new way.  He reminds Pete to just look for the GOOD in every day!  Owl's advice works!!!
The animals in this book are too cute and so fun to look at.  The text is catchy as always and the illustrations just suck you in to Pete's world!  I am so happy to see another GREAT Pete book that I can share with my favorite kiddos young and old!  Kuddos to Kimberly and James Dean on another awesome book!  This is a must have for your Children's Literature book shelf!
Stop by Making Learning Fun for Awesome FREE Ideas to Match Pete the Cat – click here!
Check out HarperCollins for some Free Printables!
Check back in a few month and I may have some Catty ideas to match this book because I will be doing a Cats and Dogs Unit with Pre-K later in the school year!!!
Google+