I made a flour based puffy paint to use with a Gingerbread craft this week.  I love that you can add spices to make this paint smell yummy and thus the craft will too!   Here is my recipe!!!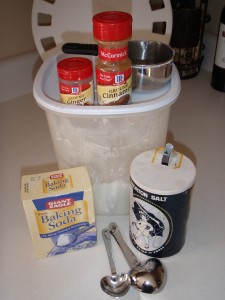 1 Cup of Flour, 3 tsp Baking Powder, 3 tsp salt, and pinches of Ginger, Nutmeg, and Cinnamon!
(after mixing the above I added water till in was a thick liquid)  You can add food coloring to make colors, but I just wanted a more cookie like color so I did not add any color.  This stuff smelled yummy – I was tempted to taste it!   I put it in the Wilton squeeze containers as seen below to store my "paint" in.  The kids also used these to squirt them onto their craft.

Make sure you tell them to make a light squeeze to start.   I suggest that the kids practice a few squirts on another surface before you put it on your craft.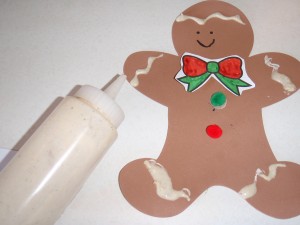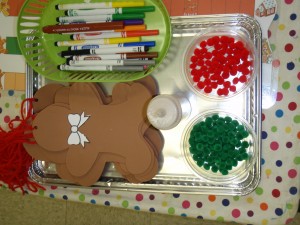 We made the above Gingerbread Cutie.  I got them i packs of 8 at the Dollar Store.   The bows are just printed out and glued on in advance.   The kids color the bow to their liking.  They add buttons (colored pom-poms) and thread a ribbon through the top to hang it.  Here are some finished creations…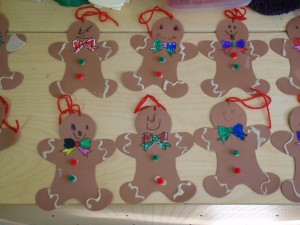 Aren't they cute and colorful?  They smell sweet too!  They need about 10 hours to dry.  So leave them at school overnight and they are set to take home or hang around your room!!!
We had lots of fun hunting for a plush Gingerbread around the preschool and we were lucky enough to find him sleeping in a crib!  Phew.  We also iced cookies this week with chocolate icing… Yep I am brave or maybe stupid…  I had some very chocolate covered Pre-k kids.  lol!  This is a new experience for me for sure.  But they had fun and the parents seemed to be okay with chocolate covered kids.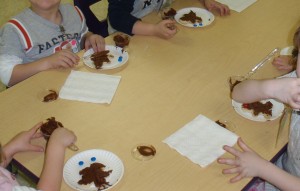 We also practiced a new poem – Printables for the poster below are found in this packet.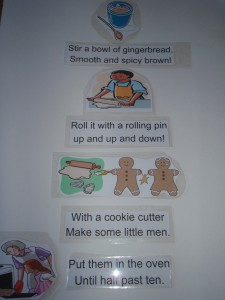 The kids had fun with the shape puzzles found in this packet.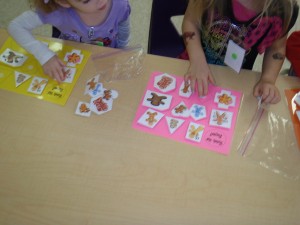 We pretended we were Gingerbread Babies…  They loved jumping into a body of the Gingerbread Baby!!!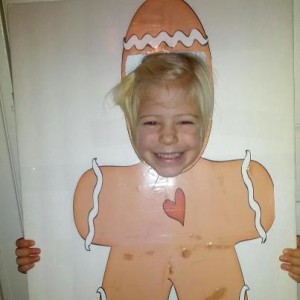 We acted out what the Gingerbread Baby said to all the animals.  We also used this poem I wrote adding two kids names to the poem…
Gingerbread ______  off you ran!
Yelling catch me if you can.
________ ran after the little treat!
But he quickly gave up and took a seat!
It was another fun Gingerbread Friday!
For more Gingerbread Ideas – Click here!
Please support Teaching Heart and shop our store!!!
Google+