I am super excited to share some awesome pictures of Halloween dinner ideas.   The first set of pictures below are from a dinner done by my friend Christa.  The second set is a dinner done by my mom.   There are some great ideas here to get you ready to plan your own Halloween dinner!
My friend Christa made a Halloween dinner last year that really deserves to be featured on a cooking show.  Seriously, I think this meal could be on the set of Silence of the Lambs; thus, I have to quote the movie often through this post…  LOL!
Christa makes a truly amazing terrifying Halloween dinner…  Take a look for yourself.
"Good evening, Clarice."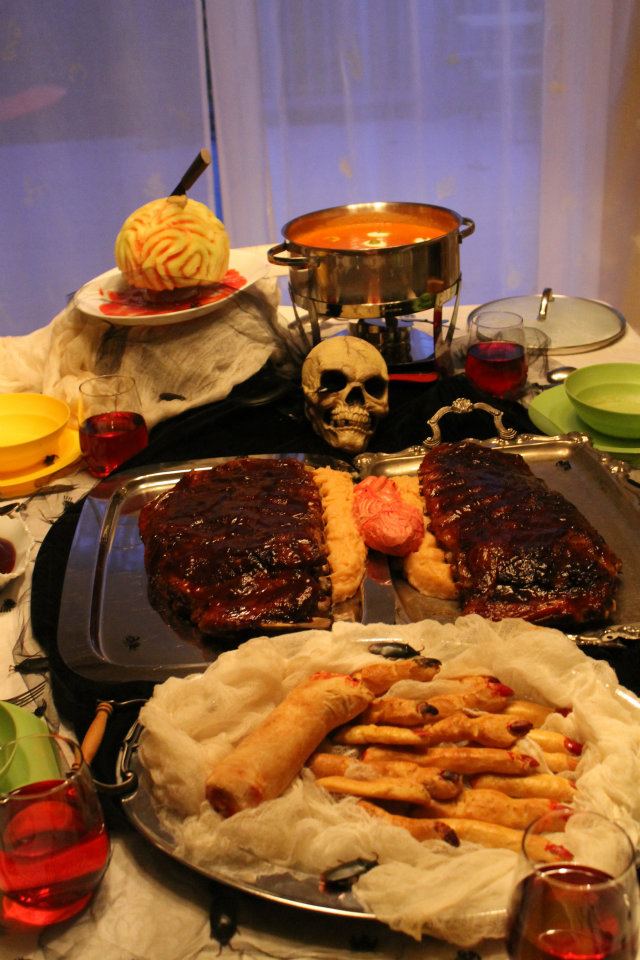 "A census taker once tried to test me. I ate his liver with some fava beans and a nice chianti."
Brain anyone?   It's a watermelon!!!   Here is a tutorial on making a similar brain.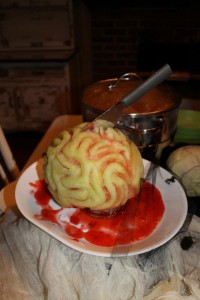 The "Eye see you Tomato Soup" is mozzarella balls with olives.  Here is a similar recipe.
Is that a finger in my soup????  YUMMY!!!!


"I'm having an old friend for dinner."  Ribs anyone???
You can find a similar recipe here.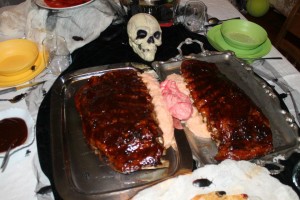 I love Christa's Halloween Dinner!!!   Thanks Christa for allowing me to share it with my readers.
Next up are some ideas from a dinner my mom put together!!  My kids loved this!
Mummy dogs with mustard eyes.  Made with crescent rolls.  Here is a recipe for the YUMMY MUMMY!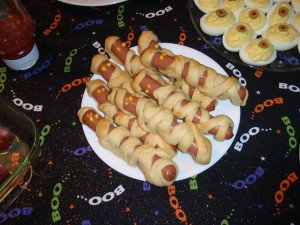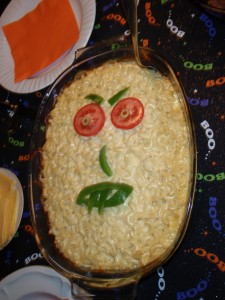 How about some Mac?   If you eat his mouth first you won't hear him scream when you eat the rest…  He's looking at you!
Apple Teeth!  You can see a recipe for these by clicking here.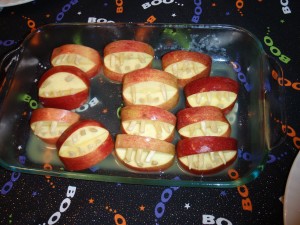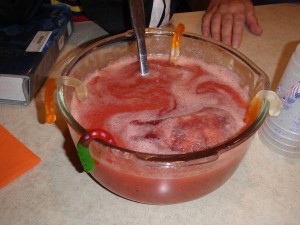 Wormy punch!  I took this a little late – but she froze some in the shape of a hand.  So there was a hand floating around.
Below are DEVIL EYES!!!   Spooky stuff!!!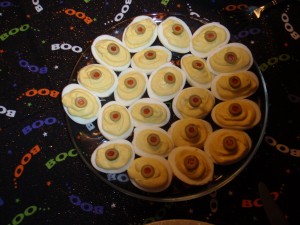 Of course you need to top it all off with Candy Corn Pudding!!!   Full yet?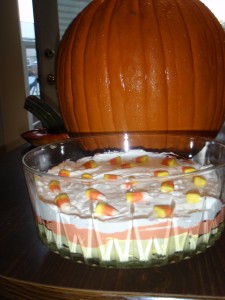 Here are some more links to interesting dishes…
Shepards Pie – it's rather ghostly!!!
I hate meatloaf, but if you like it you may want to try and make a Meatload Hand.
Flesh Worm anyone?
My son love tacos…  These monster tacos would be a hit!
"You fly back to school now, little Starling. Fly, fly, fly. Fly, fly, fly."
Google+