We have been having lots of fun with Scarecrows lately.  Here's some more fun for you witha  free printable dice game.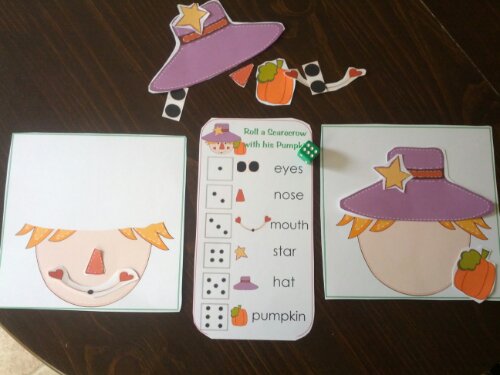 Just made this roll a scarecrow game for you to download for free.  Just print out and use.  I would cut out the pieces for each player and laminate them so you can use the game for years to come.  I suggest children play in groups of two. 
 Before allowing the children to play with partners, I plan to teach this to pre-k whole class by first using a large dice.  As a class I will pick a student to roll the dice and we will add to the scarecrow until we have rolled our complete scarecrow head and pumpkin.  Then after they have gotten the idea of how to play, they can then play with a partner. 
This is also a great game for a Halloween party…  If you are a room mom, you may want to try this one out!
Click to download the Dice Game!!!
Click here to join us on Facebook. 
Click here to See more Scarecrow Ideas…
click here to check out our scarecrow packet!!!
Check out our Scarecrow Pinboard.
Google+