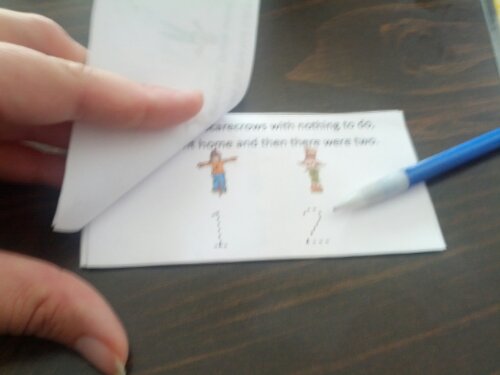 In October, I will be teaching a PreK Thematic Scarecrows Unit!   I had lots of fun creating printables to use with the unit.  I have 8 pages of free printables to share today!!!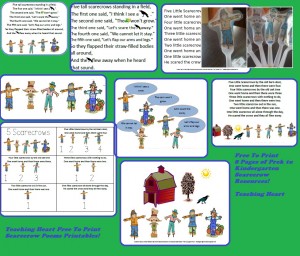 They are printables you can use with different versions of the Five Scarecrows Poems…. 
 If you like them, you will love my Falling for Scarecrows Theme Packet found by clicking here!!!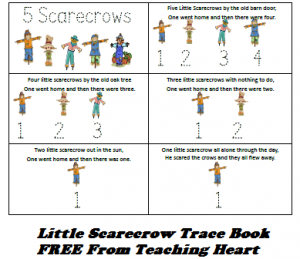 The first free printable in the set is a little counting book.  Student traces the numbers in the story! 
You will also find props to make the five little scarecrows.  Aren't they cute?  I just laminated them and hot glued them to a plastic utensil.  Now I have little puppets I can use to retell the story with!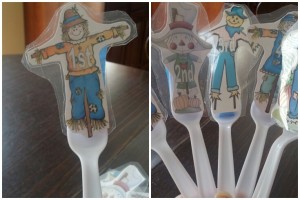 You will also find a few more pages of goodies to use with the Five Little Scarecrow Poems.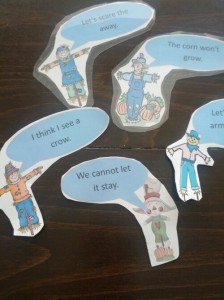 I hope you will able to use this with your children or students!   Five Scarecrows 8 Pages of Printables – Click to download PDF!
Be sure to check out our Scarecrow theme page for even more free ideas and printables!!! 
All sheets Copyright C. Gallagher @ www.teachingheart.net 2012 –
Where stated on sheet and used with permission
Graphics Copyright Microsoft Office
Creative Clips by Krista Wallden http://www.teachersnotebook.com/shop/CreativeClips
kpmdoodles http://www.teachersnotebook.com/product/kpmdoodles/autumn-fun-digital-clip-art
https://digiscrapkits.com/
Google+