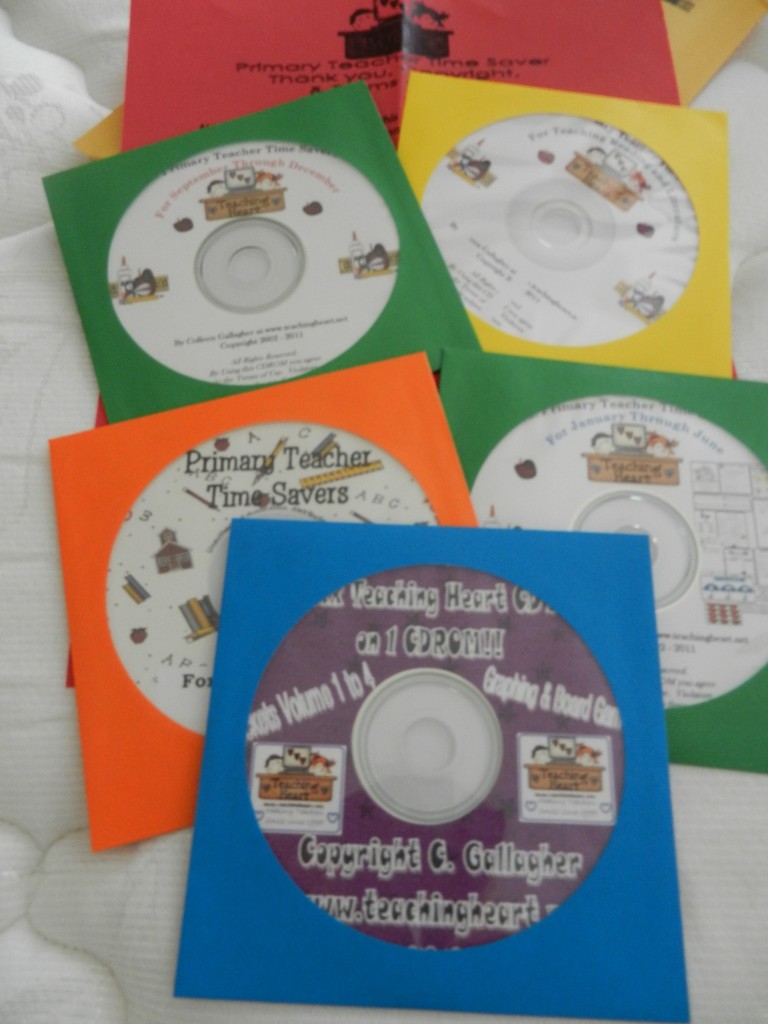 Here's the way to make sure you are ready for back to school…  See the set above???  It's Five CD's with almost everything sold on Teaching Heart.  You save big when you buy it all together and you get it on five CD's….  1,000's of pages for so little!!!  It's a great deal!!!   Join the 100's of teachers that have this set!  Don't be left out!
Samantha Morgan Says; "…I cannot thank you enough for the set of activities I purchased from you a few months ago.  I have gotten my money worth over and over again.  It is my go to resource.  I just pop in a CD and I have ideas and resources galore and all ready to print and use.  I use at least one item every day of the year.  I love how a majority of the files can be modified to meet the needs I have in my classroom.  I have had many teachers in my building comment on the activities I use from your CDROMs.  I have shared your site with so many and even had another teacher in my building purchase the set and she has told me it has saved her hours of planning and thanks me daily for suggesting it.  I hope you continue to make more and someday have a brand new set in bulk!.."
1.) Primary Teacher Time Savers For Back To School and Beyond! – click for index and free samples
2.) Primary Teacher Time Savers For September Through December! – click for index and free samples
3.) Primary Teacher Time Savers For January Through June! – click for index and free samples
4.)Primary Teacher Timesavers For Teaching Reading & Literature!  – Click here for Index and Free Printables
& Teaching Heart Packets;
5.) ALL OF OUR PACKETS MENTIONED Below: (click here to learn about our packets)
End of The Year Packet , Winter Packet, FALL & HALLOWEEN PACKET,
The St. Patrick's Day Packet, Valentine's Day Packet, Spring Packet, T
he Penguin Packet, The Back To School Packet, Snowman and Gingerbread Friends PDF kit, T
hanksgiving PDF Email Packet , Spring Fun / Sing For Spring 2008 Packet, It's Cold Outside Packet,
1ooth Day of School, Leap Day Packet or Froggy, Ground Hog Packet, WOW Weather, and Caterpillar Bug Packet (17 packets on 1 CD!!!)
AND!!!
6.) Classroom Graphing Center Packet CDROM – Click here to learn more about this set and download free printables!
7.) Any Skills Game Boards – Click here to learn more about this set.
Best part is that if you bought all of this separately, you would pay over $300.00 – with this deal you pay only $199.00
If you would rather purchase some of the sets, please visit our shop here. 
It has to be the best deal of the summer. 
Get it early is the summer and you can start printing,  cutting, and laminating now.
Thank you for supporting Teaching Heart.  Proceeds help keep Teaching Heart online and sharing free printables – Trusted for over 10 years!!! 
Google+