Well, it has been five days of fun!  13 chances to win!  I wish I could give everyone who entered a prize!  You really deserve it for a year well done!  I hope you find yourself lucky when winners are revealed.
Today marks the last day to enter this, this, and this.
The other items up for grab will be ending this weekend…  Click here and scroll through all the prizes.  DO NOT MISS the AMAZON $100.00 chance for sure!!!
I have one last prize up for grabs…  It's a Teaching Heart Tote bag filled to the brim with learning fun!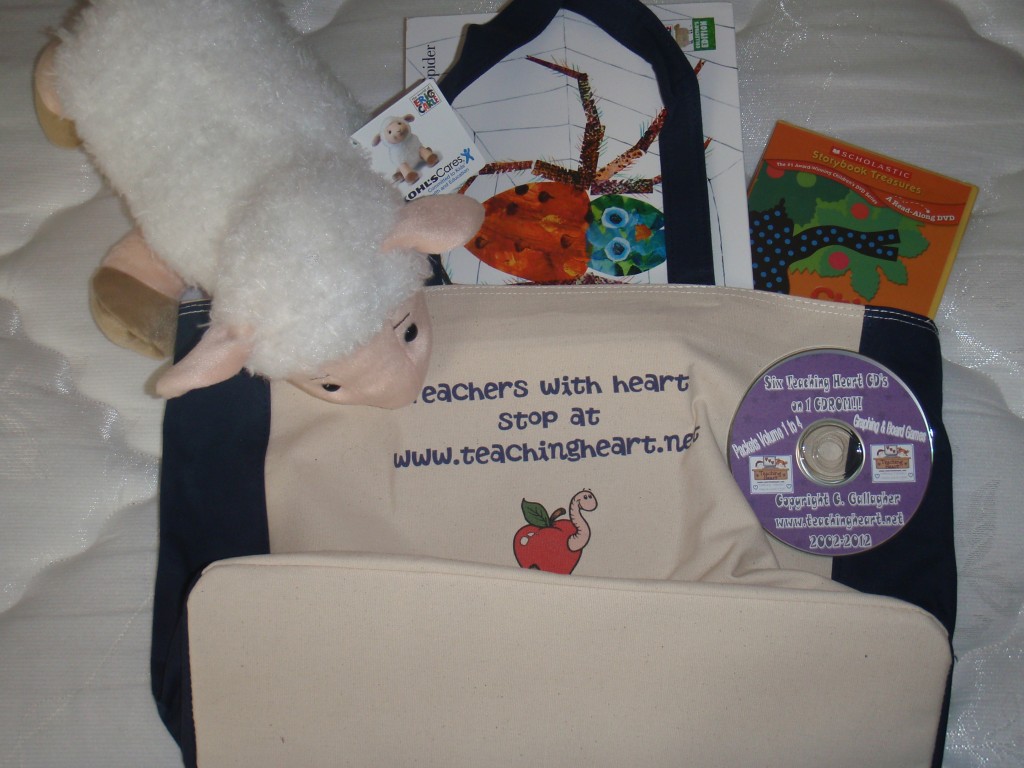 You get this awesome bag, the hardback Very Busy Spider Book, A plush lamb, the Scholastic DVD Chicka Chicka Boom Boom, and a Teaching Heart CDROM that contains 100's of resources!!!
THE CDROM INCLUDES
 ALL OF OUR PACKETS MENTIONED Below: End of The Year Packet , Winter Packet, FALL & HALLOWEEN PACKET, The St. Patrick's Day Packet, Valentine's Day Packet, Spring Packet, The Penguin Packet, The Back To School Packet, Snowman and Gingerbread Friends PDF kit, Thanksgiving PDF Email Packet , Spring Fun / Sing For Spring 2008 Packet, It's Cold Outside Packet, 1ooth Day of School, Leap Day Packet or Froggy, Ground Hog Packet, WOW Weather, and Caterpillar Bug Packet (17 packets on 1 CD!!!)
AND!!!
Classroom Graphing Center Packet CDROM and Any Skills Game Boards
This prize is valued over $200.00!!!! 
Learn more about the products here!
(Your entry will be void if you do not follow these rules: (1 winner will be choosen and contacted in June)
-NO MORE THAN 1 entry per person
-Last entry day is Mon. May 28th
-You must like Teaching Heart's  Facebook Page – click here
-Subscribe to Teaching Heart via Email – click here (Be sure to confirm this subscription via your email.)
–Click here and then follow this blog.
-Fill out form Completely!!!

Visit out party sponsors: Mrs. Miner's Kindergarten Monkey Buisness – Krissy's blog, A Teacher's Treasure – Mor's blog,  Miss Kindergarten – Hadar's blog,  Empowering Little Learners – Jennifer's site, and  Clever Classroom – Emma's site
Google+