Did you see the post yesterday for the free printable Mom website template?  If not, click here and check that out. 
Here is another free Mother's Day Printable!  
First read, I'll Always Love You!

"Alex's mom says that she will always love him, no matter what. Alex still isn't sure. He doesn't want to get into too much trouble for the broken honey bowl! Even if Alex gets into a pillow fight, paints the baby all different colors, or pours oatmeal over his head, his mom says that she will always love him. Gentle text and sweet illustrations show the unconditional love a mother has for her son. This book will assure children that no matter what they do their parents will always love them. "
Disuss how Mom's always love us no matter what!!!
Then have your students fill out these hearts about their mom.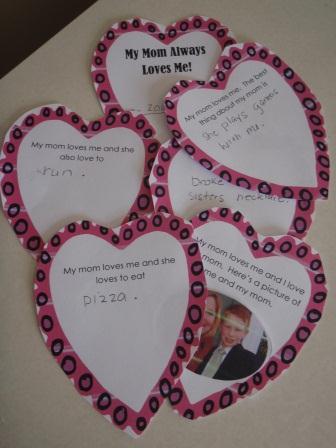 You can click here to donwload the printable. Students can finish the sentence with words and/or pictures.
On the last page, Glue a picture of the kiddo or mom and the kiddo or have the child draw his or her mom.   You can staple these together to form a little book for mom.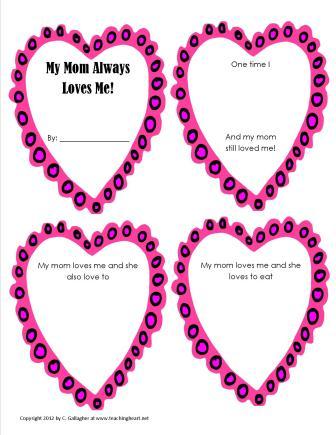 Hope you enjoy this free Mother's Day printable…
For more Mother's Day Ideas, check out our Mother's Day Theme page at Teaching Heart!!!   
Did you see the newest TEACHING HEART deal?  It is amazing….  Get a head start on next year….
If interesting, use www.teachingheart.net to find the purchase button.
One Click and You are Done!
WOW!!!!
WEB SPECIAL ONLY!!!
Get Most of What Teaching Heart Sells Sent in 5 CD's in one Click:
1.) Primary Teacher Time Savers For Back To School and Beyond!
2.) Primary Teacher Time Savers For September Through December!
3.) Primary Teacher Time Savers For January Through June
4.)Primary Teacher Timesavers For Teaching Reading & Literature

& Teaching Heart Packets;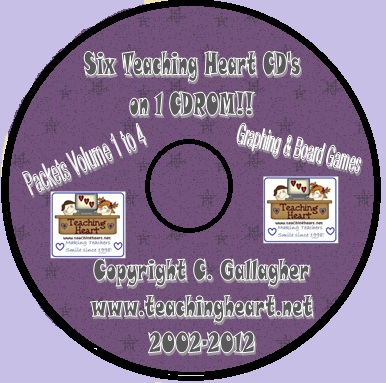 5.) ALL OF OUR PACKETS MENTIONED Below:
End of The Year Packet , Winter Packet, FALL & HALLOWEEN PACKET,
The St. Patrick's Day Packet, Valentine's Day Packet, Spring Packet, The Penguin Packet,
The Back To School Packet, Snowman and Gingerbread Friends PDF kit,
Thanksgiving PDF Email Packet , Spring Fun / Sing For Spring 2008 Packet,
It's Cold Outside Packet, 1ooth Day of School,
Leap Day Packet or Froggy, Ground Hog Packet, WOW Weather, and Caterpillar Bug Packet
(17 packets on 1 CD!!!)
AND!!!
6.) Classroom Graphing Center Packet CDROM
7.) Any Skills Game Boards
(DOES NOT INCLUDE – Any of the sight word packs!)
5 Cd's of EVERYTHING ABOVE!!!
WOW!
199.00
Save BIG – HUGE SAVING!!!!
Google+