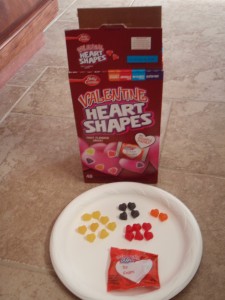 I was at Sam's Club today and ran across these fruit heart shaped snacks (also available at Amazon by clicking here)… 
If you have followed Teaching Heart for a bit, you know I love to spice up learning with food.  Keeps the kiddos interested and excited!  Plus they work so hard, it's nice to have a treat every once in a while.  I know, I know, some of you cannot use food at school to foster learning.  I have on my sad face for you!  Sorry!  I have plenty more ideas on my V-day theme page for you to use.  Click here and see!!! 
For those that can use a treat here and there, here's a free activity for you.  It's funny,  I have made so many of these over the years for the different seasons and/or fruit themed snacks that I had to spend 40 minutes searching my site and files to make sure I was not recreating a heart shaped fruit snack activity that I have already done.  LOL!!!  I have been at this for over 10 years now and it's amazing what I forget! 
So I have two activities…  one for Prek, K, and First.  It's a simple sort and count sheet.
I have one for the more advanced math students – Grades 1, 2, and 3.  They will need to create a graph, read it, and  answer questions about it.  Then, they are asked to look at a friend's graph and tally their friend's results, and finally finish up by comparing the two results!  Wowza…  That's a lot of learning in a little bag of snacks.
Below are pictures of the two sheets!!!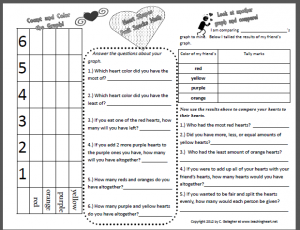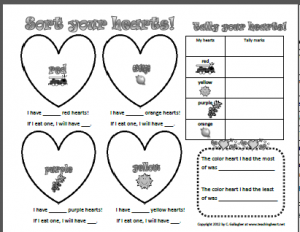 Download the sorting sheet by clicking here and download the graph and compare sheet here.
Like our printables?  Consider trying one of our products!  Click here to view our store.  All purchases help to keep Teaching Heart online and sharing!!!  Trust Teaching Heart – we have been selling quality teacher resources by Colleen Gallagher since 2002!  Need more VDAY ideas, try our theme page here!


Happy Teaching!!!
Google+