May your New Year be blessed!  I would like to Thank you for being a reader of the blog in 2011.  I hope to see you around often in 2012.  I feel blessed that you are here!  Thank you to all the Teaching Heart Customers who keep Teaching Heart online offering many free resources each month of the year!
Thanks to all who used the code in 2011! Today (Jan. 1, 2012) is your last day to save on Instant Packets…. Don't miss out!! January 1 only – 25% off total order. Use code new2012 at check out. http://teachingheart.cerizmo.com/ –
Tons of Themed Packets…  Don't miss out!  Our newest packet is the 100 Days Packet Seen Below…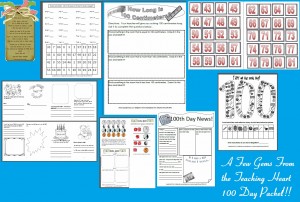 Fill up your cart and have a Happy New Year in and out of the classroom!!!! If you need New Years Ideas, click here!
Google+