I hope Santa was good to you.  Did you get any favorite treats in your household?  I thought I would share our hits in case you are looking for a quick gift. 
Hit with Mommy…
I got a Kindle Fire from my Mom and Dad.  Actually we got one, but I don't think my hubby has touched it yet.   It's awesome because I already have Amazon Prime and with that and the Kindle I have 100's of free goodies to use.  It really is an inexpensive version of the IPad!  I love it.  I have been playing Word With Friends and I have some of my magazine subscriptions on it now.  I downloaded the google reader app and I can read all my blog lists on the Kindle.  I just need to think of a new book to read and add that.  I downloaded a multiplication app. for my son and a sight word app. for my daughter.  I can't say enough about this little guy!  The children's books are beautiful on the Kindle Fire.  My brain is turning out all  the fun that could be had in the classroom with this baby!

Hit with Daddy…
He loves his pancake forms from William and Sonoma….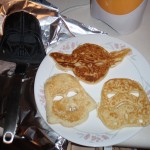 Garmin GSC 10 Speed/Cadence Bike Sensor – He already had the Garmin watch for running and loves it. We added this feature for the bike trips.

 Hit with 9 Year Old…
This is also a hit with Mommy and Daddy…  Two awesome games we all can't get enough of. 
Perplexus Maze Game and Qwirkle Board Game!  Both are mighty fine thinking games.  One of my son's teachers told us about Qwirkle and he said it was one of the best thinking games.  My son loves both games!  These would be great as gifts for teachers to use in their classroom…

 Hit with 5 Year Old…
My five year old loves to craft…  She spends hours a day at the table drawing, cutting, colorings, gluing, and just being crafty.  So she loved these two crafty gifts…
StoryCraft The Frog Prince – It's a book you add stickers to.  She loved this and after she was done she told the story herself.  Would be a great birthday present for a five year old.  We have a couple of these Be Good My Little Sandbox Play Sets.  My daughter got another one!  She can spend hours at the table playing with these… 
 So what were hits in your house that you are sure others will love?  I love hearing about gifts that will actually be used. 
Google+