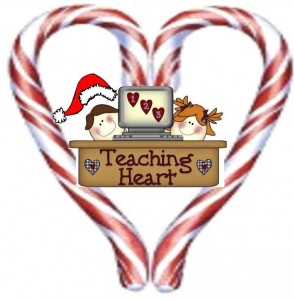 Teachers and parents all need a little extra spending money for the holiday!!!  So Teaching Heart is giving away a treat to 2 lucky winners!!!  The winners will get a $25.00 Gift Card to Amazon.com and 1 packet of their choice  from: http://teachingheart.cerizmo.com/ 
This contest is a little different in that you will be creating a present in the form of a printable to share with all Teaching Heart Teachers.   I figured this would be a great way to share our talents over this time of year!!  Plus it gives you a chance to win some goodies as well.
This is what you need to do to enter this contest.  (PLEASE READ)
Create an original printable using graphics from Microsoft Office only ( http://office.microsoft.com/en-us/images/ ) .  The printable can be a pdf, word,powerpoint,  or publisher file.  The printable can follow the theme of winter, penguins, candy canes, trains, snowmen, or gingerbread men.  Some of the printables will be shared on www.teachingheart.net for free download.  All submissions will be entered in a drawing to win a $25.00 Amazon Gift Card and Packet of Choice (2 winners will be drawn).  Plus I will select my favorite printable  for a surprise
giveaway!  You may enter as many printables as you like.  Each entry is worth one chance into the drawing.
Send your printable  to use it to cgallagher_1999@yahoo.com   by Tuesday, Nov. 29th to be entered in the drawing.  Please include your name, grade level, and an explanation of how to use the printable.  Winner will be announced by Dec. 5th on the blog!!!  The best printables will also be shared on that day for all to use and download for their winter planning!!!    SO everyone is a winner!!! 
Yeah and thanks to all that participate!  Usually I only get about 10 entries for contest where I ask for a creation or idea… so your chances should be good if you decide to participate!!!  good luck! 
Google+