I was in my daughters school this afternoon and we were helping the kids get ready for the Thanksgiving feast they would have on Tuesday.  They all had a chance to make turkey roll ups (a piece of turkey with stuffing in it), cranberry sauce, pumpkin pie (sweet pumpkin dip that they will stick cookies in), and a cornucopia.  The cornucopia was so cute, I had to share.  Basically it looks like the one below from this blog.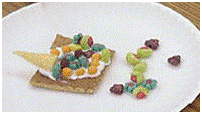 I took a picture of the one the kids made but it isn't a close up like the one above…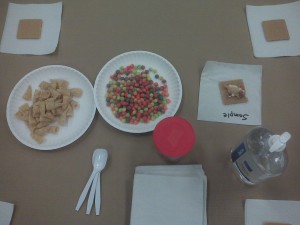 Here are the ingredients used and you can see the sample of the cornucopia in the background.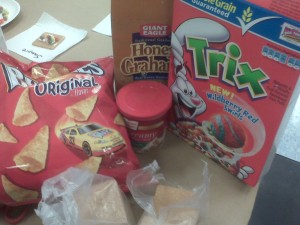 Basically use a graham cracker.  Place some icing on the cracker. The student places the Bugel on the cracker and then uses the Trix to fill the Cornucopia. 
MORE CORNUCOPIA FUN!!!
Cookies and Cups shares a smiliar cornucopia snack here.  It includes a snack bag free printable topper.
The Cupcake Blog Shares a cute Cornucopia Cupcakes!
Here is a fun coloring page!  Here is another one with printing practice!
 Cornucopia Activities From the Thanksgiving Packet (click here) – Six pages of fun cornucopia activities. Background information for the teacher, graphing activity with manipulatives, sorting activity, and a counting activity. (k-2).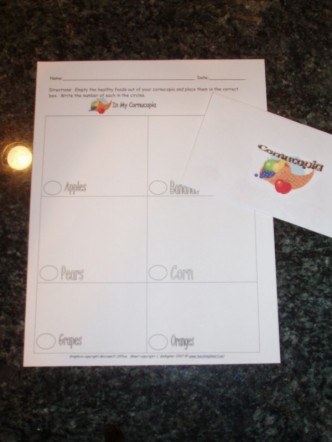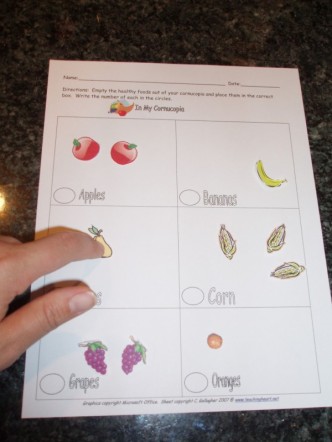 Also, check out this.  Print it and have the kids glue the correct number of trix to the cornucopia. 
For the 8 and up crowd, be sure to play the Cornucopia Game below!!! 
Have a wonderful Thanksgiving Break all!!! 
Google+