Looking for some engaging lessons to teach your students about main verbs, helping verbs, linking verbs, and verb tenses? My teaching partner and I created these lessons to excite our students about grammar. We have grammar sets for many of the third grade grammar standards. Verbs is one of our larger packets. We created it with a sports theme. In fact, each of our grammar sets is based around a theme. We have done very well on state testing due in part to these lessons. Also, our students love grammar time because of these sets! You can view all of our sets at our TPT store.
https://www.teacherspayteachers.com/Store/School-Of-Thought-Meets-Teaching-Heart
I wanted to focus on what I love about this verb set of lessons and activities!!! This is my second year using the set and my third grade students adore all the activities. Really, I am tricking them into learning about verbs because they are having so much fun learning that they do not know they are grasping needed standards.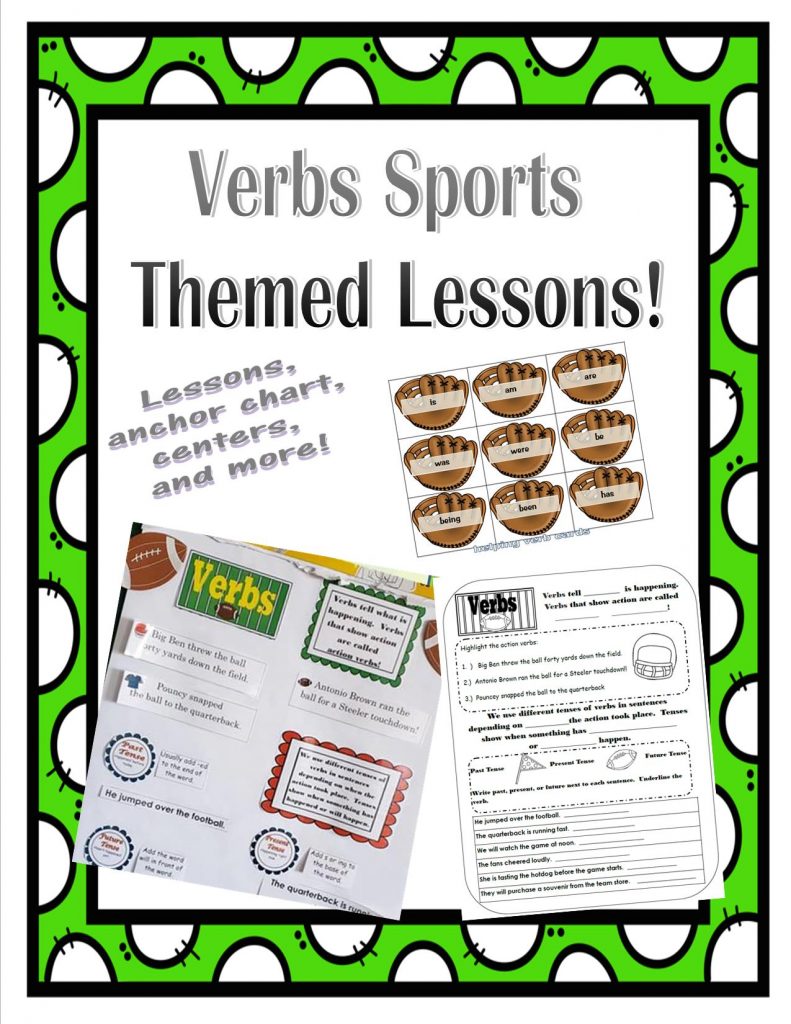 Each of our sets come with anchor chart pieces and then a matching student notebook page. This set actually includes pieces to make three anchor charts and three student notebook pages. My students love their language arts notebooks.
Our lessons always include ideas on ways to really engage students. In our verb tense lessons in this set we use the Children's book called The Great Fuzz Frenzy. It is a super cute story – you can see more of it on You Tube at
https://www.youtube.com/watch?v=zvmiMYmj6jU and you can get the book on Amazon at https://amzn.to/3e16p8P ! Tennis balls is a big part of this story and in our verb tense lesson we use tennis balls to create Minute to Win It Centers using Tennis Balls (I always borrow the tennis balls from the gym teacher). The students work in teams for chances to win some playing time. They love this!!!
This set Includes:

1.) Five days of detailed written lesson plans that include links to presentation ideas that engage students . All lessons are centered around a SPORTS Theme. Includes detailed explanations of how to use all of the files that come with this set.

2.) Files are organized by main verbs, linking and helping verbs, and verb tenses. You get three sets of activities to match each topic.

3.) Main Verbs / Action Verbs Set includes; detailed lesson, anchor chart pieces, matching student notebook page, team scorecards., and action verb center with center worksheets.

4.) Linking/Helping Verb Set includes; detailed lesson, anchor chart pieces, matching student notebook page, game printables for centers, and center recording sheet.

5.) Verb Tense Set Includes; detailed lesson, anchor chart pieces, matching student notebook page, and Fuzz Frenzy Center Minute to Win It ideas with recording sheet.

6.) A quiz that covers main verbs, linking verbs, helping verbs, and verb tenses.
You can learn more about this set at
https://www.teacherspayteachers.com/Product/Verbs-Sports-Themed-Lessons-and-Activities-5676221

You can see all our grammar products at our store:
https://www.teacherspayteachers.com/Store/School-Of-Thought-Meets-Teaching-Heart
Google+