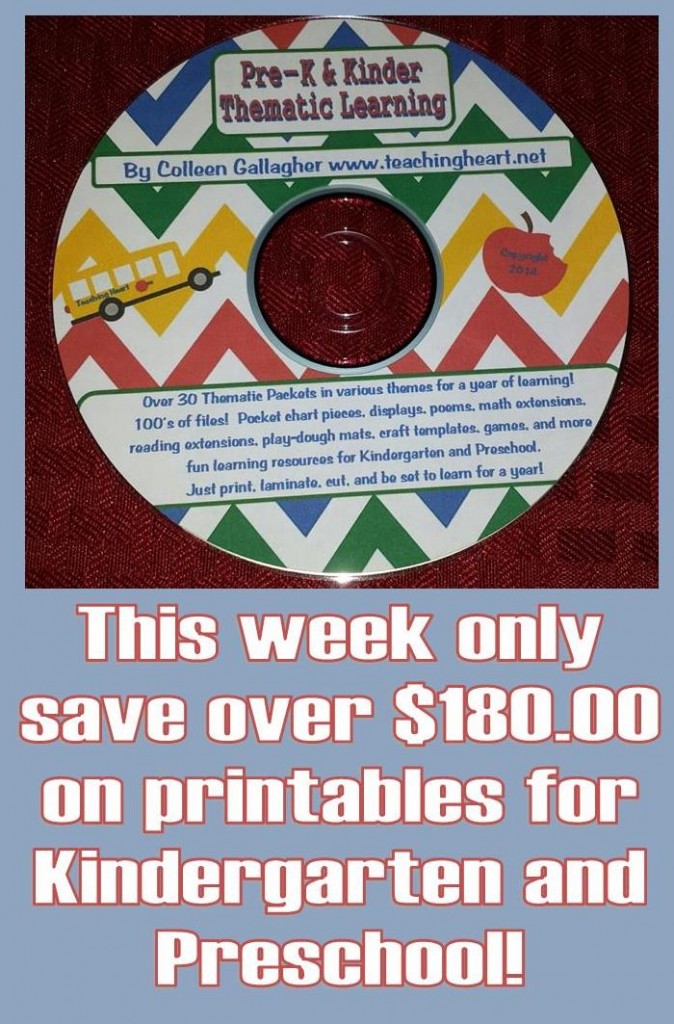 It took me over two years to write all this curriculum and it is finally ALL done.  I have been selling the packets as I create them and getting super positive feedback about each one from you all.  I figured I would combine all the preschool and kindergarten packets onto a DVD-ROM for those who want all of the curriculum I created for a very low price compared to what it would cost you if you purchased each packet individually (which you can still do).  If you purchase the DVD you will be saving over $140.00.  If you add up the prices of each item you will find that if you purchased each item individually you would pay over $280.00.  So here is a way to save BIG as well as get everything I have in Preschool and Kindergarten curriculum in one place.  It's easy to use – no unzipping.  Just stick the DVD-ROM into your computer and click on the theme you want and print the resource you would like.  Be sure to save the resource to use year after year.  Many of the files and hands-on manipulatives and pocket chart pieces that once you print, laminate, cut, and create them you will have them as part of your teaching GIG for years.  If you are new to Kindergarten or Preschool this year, this is a must have resource.  Look at all the printing you can get done this summer and be ready for the new school year…  Don't delay!!!
This week only I am offering a sale on the list price of the DVD.  The price of the DVD is regularly $139.99 (over a $140.00 savings) till June 17th it will be one sale for $99.99 (over a $180.00 savings).  This is a huge chance to get a huge resource at a deep discount.  Over 30 packets, 100's of files, and at least a years worth of teaching resources on one DVD-ROM!!!  Order today and get this one time savings!  Use the button below to save this week only!!!
$99.99 for the DVD-ROM!  You have till the 17th to take part in this deal!  HURRY! 

Single Classroom Use Only – Please contact Teaching Heart for Licensing Information if you plan to share files within your building
You can see a list of all the files you get through this set by clicking here!
Below are just some of the resources found in this set!
Google+