Taught my last day of preschool today! Two years of fun on Fridays – done! It was like planning a party every week. Plus I got to work with a great group of teachers! Packed up my belongings today and felt a little sad; but also happy to be moving towards entering Elementary teaching again. These two years in preschool taught me a lot… so much so that I thought it might be appropriate to write a list. Here's my top ten list of what I learned from teaching preschool.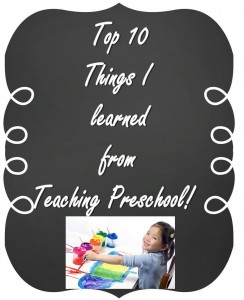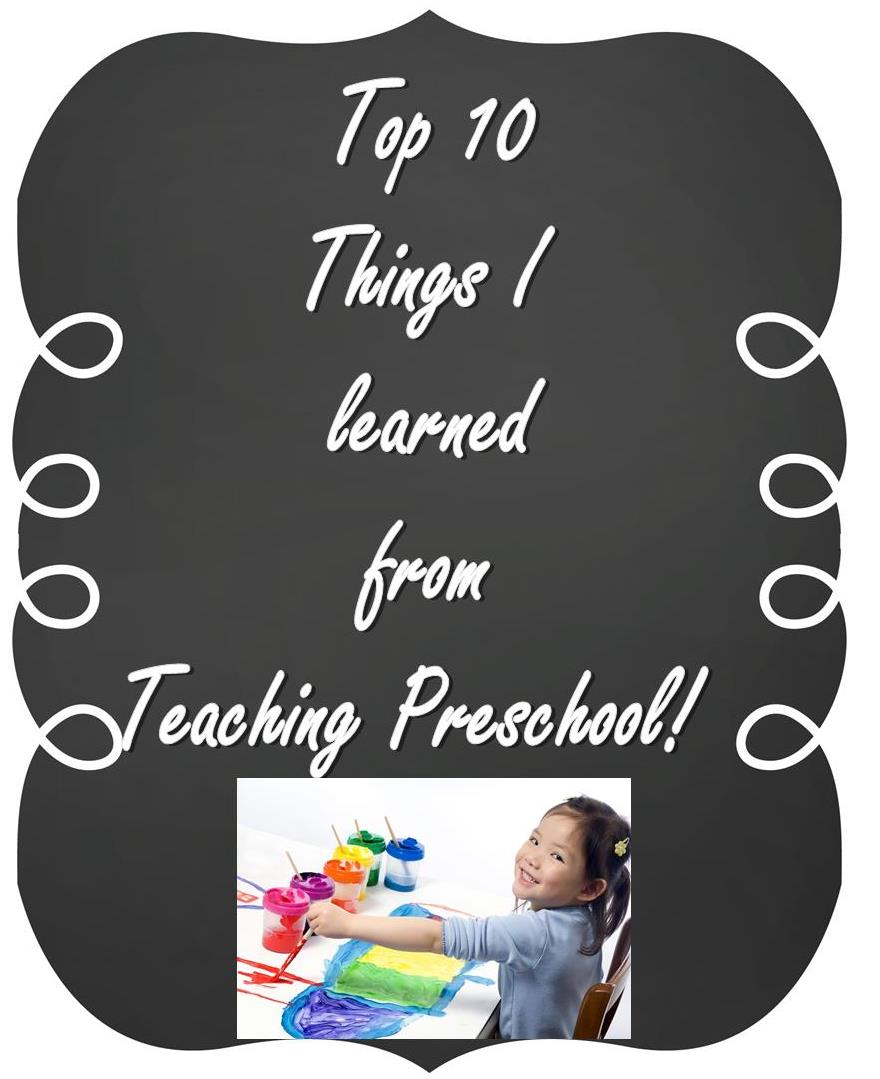 10. Teaching preschool is a workout. I trained for a half marathon this year and I seriously counted teaching preschool on Fridays as part of my training. Doing Laurie Berkner's Shake Your Body down song 2x a day combined with the fact that as a preschool teacher you only stop moving once during you 30 minute lunch. The theatrics alone that go along with job burn energy and calories!
9. Want honesty or even if you don't, preschool is the place to get it. Yes, I will never wear leggings and a big shirt ever again because a preschooler once asked me, "Are you having a baby too?"
8. Need a party planner? Call a preschool teacher. After working with many over the last few years I can tell you that preschool is a party where the teacher tricks the student into learning by making it like a party. Want to learn the letter B and the sound it makes??? We will sing about it, dance about it, eat foods that being with it, and make crafts to go along with it! It's a letter B party!!!
7. As with other teaching jobs I have had; being a preschool teacher is part theater. You should see a Preschool teacher act out the Mrs. Wishy Washy stories or read a Mo Willems book…   We could receive Golden Globe Awards.
6. Check yourself before you leave at the end of the day. Like the day I went to Sam's Club after work and the man behind in line asked if my butt always sparkled? Was he hitting on me??? no… I had sat in so much glitter that the back of my pants were covered in the stuff. Or the time I stopped at the store to quickly pick up Milk on the way home from school and the cashier said she liked my necklace and asked where I got it. I proceeded to tell her from Christopher and Banks. She laughed and said, I mean the one with the fuzzy bear on it????
5. Write down the cute and funny things the Pre-K students say. I wish I would have wrote down everything and then I could have written a book of Pre-K quotes… but one of my favorites had to have been last year during Lent (I work at a Catholic Church) while the fish fry was going on above us. As I was lining the kids up, one of my favorite students says, "Mrs. Gallagher, I smell God, it smells like God in here." Of course I said; "what?" and he repeated while pointing up… "It smells like God." Which then got the others kids talking about what they thought God smelled like. Another student turned to me and asked me, "What does God smelllike?" as if I would know…
4. Good preschool teachers have a God-given gift of patience. I don't count myself as a "real" preschool teacher so patience was something I had to pray for.
3. It's okay to do it again and again! Preschoolers learn from repetition and they want to hear that story again. They want to recite that poem again. They want to dance to that song again… Again is a good word in preschool.
2. The most important learning rarely comes home in a book bag. I can't send home the water beads that the kids loved picking bears out of and sorting by color. I can't send home my laundry basket and handmade masks the kids used to reenact a favorite book…
1. There's nothing better than a spontaneous hug or smile from one of your students that you often worried wasn't having fun learning until they reassured you it was ALL GOOD!!!
Google+