I cannot believe my baby girl is another year old and I am another year blessed with this sweet little girl.
I love making my kids cakes for their Birthday!  This year my daughter wanted an Olaf cake…  first place I went for ideas was pinterest of course.  I found this tutorial that was helpful.   I read it and then used some of the ideas in the post to create my cake.
First I baked 3 round cakes.  You can use a boxed cake or any cake recipe you like.  If you use a box cake use milk instead of water and an extra egg to make it a moister and firmer cake.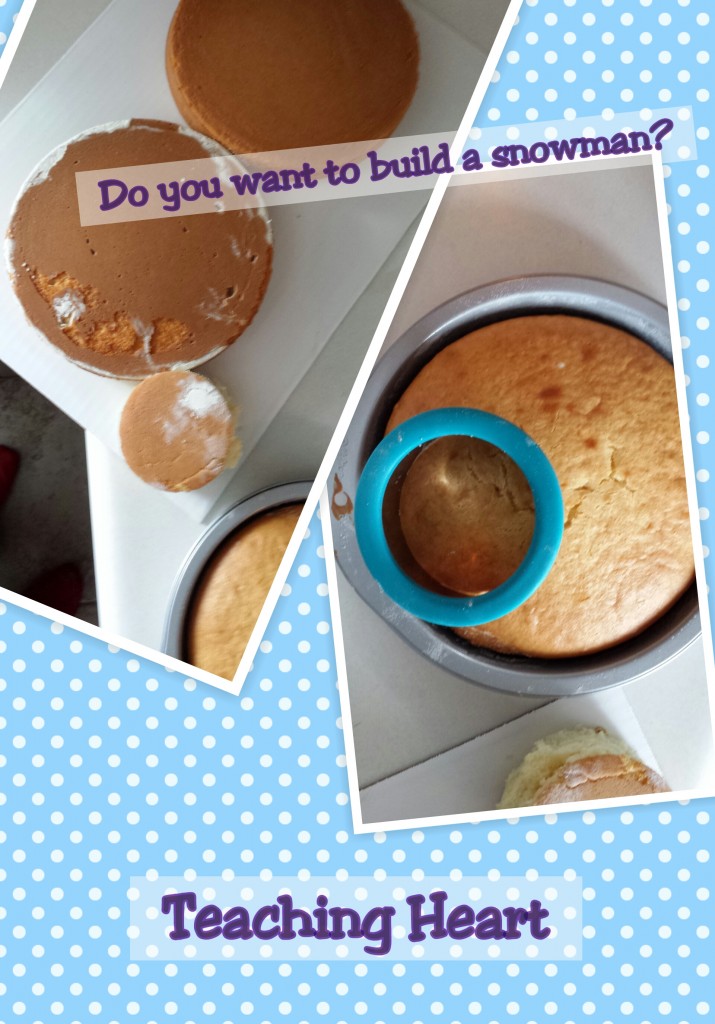 I used a circle cookie cutter to cut two circles out of one of the three cakes.  You will have a great amount of wasted cake you can either eat or throw away.  My kids enjoyed some of the unused cake with strawberries and whip cream on Valentine's Day.  After I cut the two circles, I halved them to form Olaf's two feet.
I also use a small section of the scraps from the third cake to form his center section.  I lines the two circles up.  Then I found a picture I liked of Olaf online.  I blew it up to the desired size and printed it out on two pages.  I used this as a template to cut the cake to make it Olaf shaped.
Above you can see how I laid the paper right on the cake to cut it.
I used this paper to pipe the black outline onto Olaf.  I would cut it in sections and put it on the cake and use a tooth pick to carve what I needed to pipe.  It worked marvelously!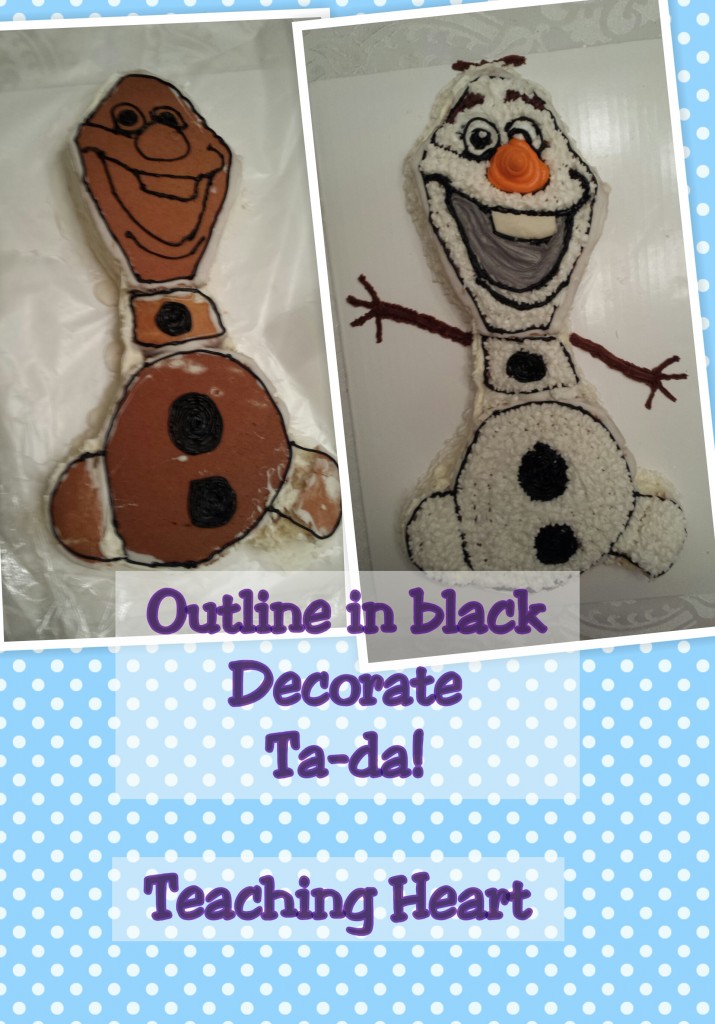 I iced the side of the cake with my favorite homemade icing.  Then I piped the black on with a small icing tip.
I used store bought Wilton decoration tubes in white, orange, and black to pipe the icing on the cake.  I used white fondant for Olaf's tooth.  To make the gray inside his mouth I mixed white icing with a little of the black and just smoothed that over the large mouth area.  For his nose I used a large round orange tip and just piled in on in a circle motion so it formed a cone!
I loved the way he turned out and best of all my daughter was thrilled!!!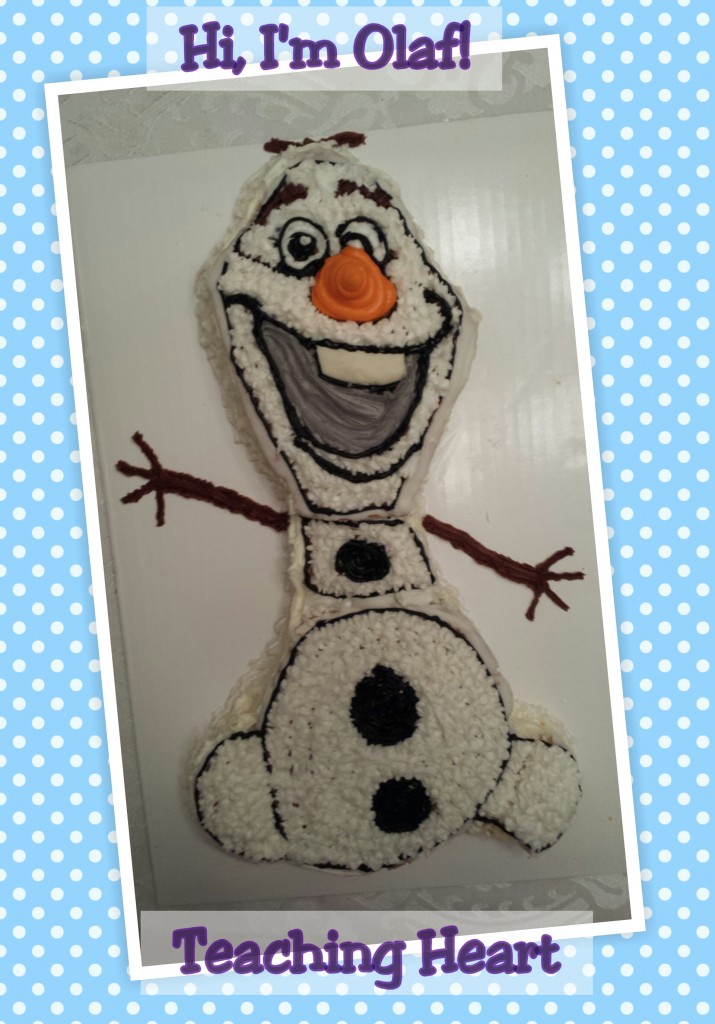 We also gave out Olaf themed Valentine's day Cards…
Below you can see mine and my daughters…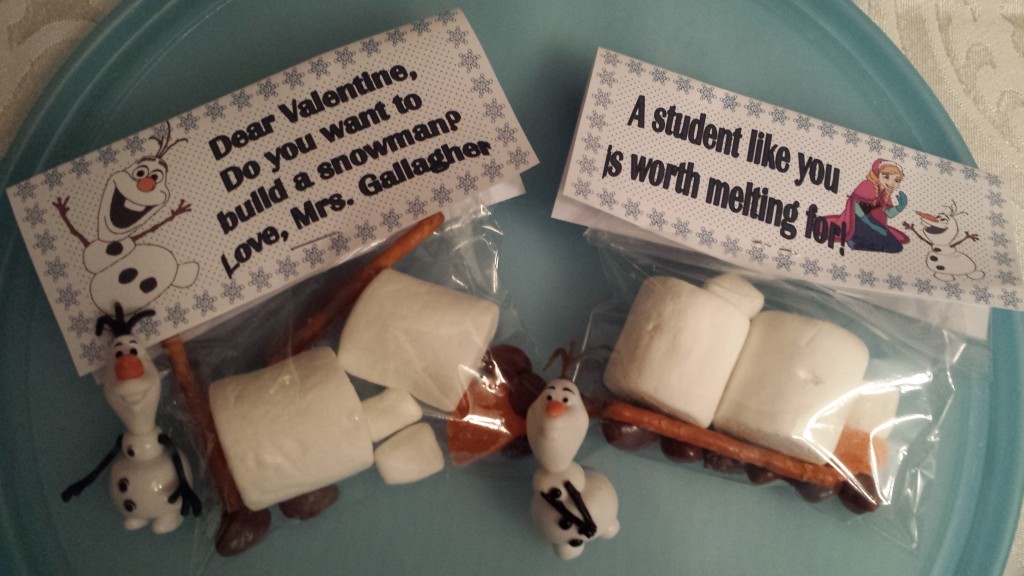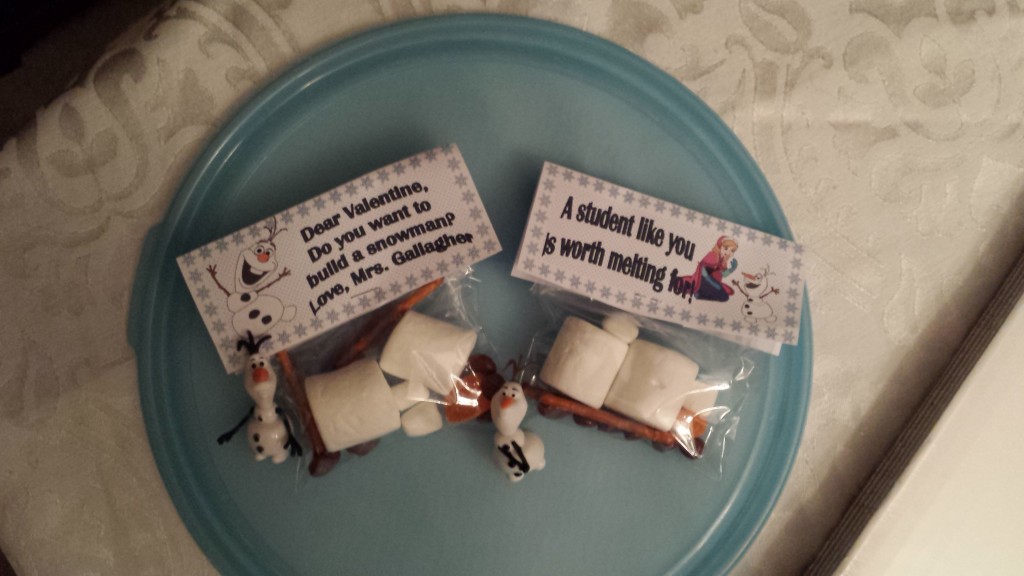 They were fun to make…  I wish I could share the printable, but the graphic is copyrighted and I cannot share because of that!  But it was easy to make.
We used pretzel sticks, two large marshmallows, orange candy, and raisins for pieces.  I have seen an orange tic-tac used as well as the little candy eyes for his eyes.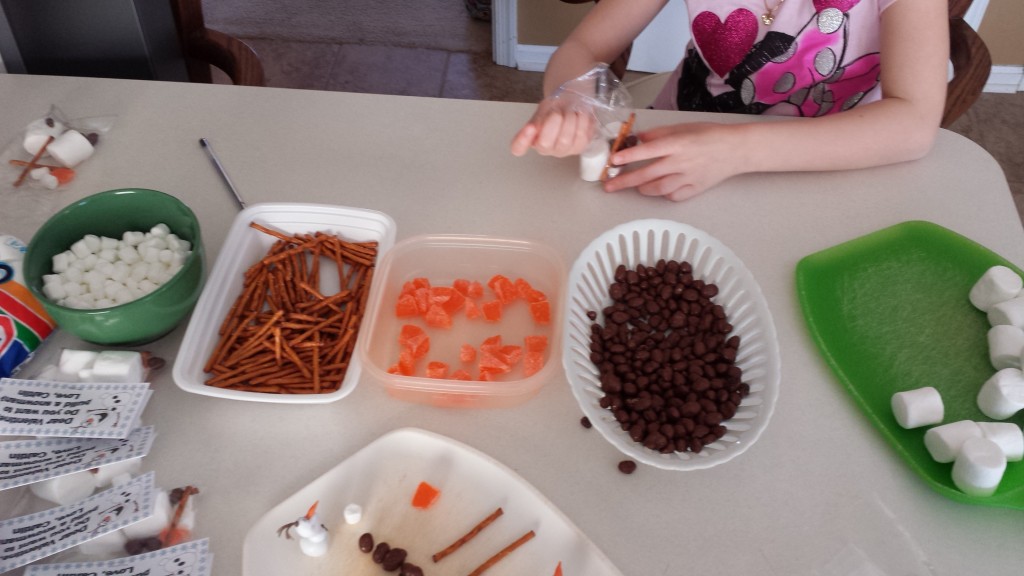 Lots to share in this post…  I love doing themed lunch for the kids and my husband  on Holidays…  Here are pictures of the Valentine's Day lunch I did this year…  The minion can be printed free at this site…
The lunch includes a Twinkie, strawberries, bagel with strawberry cream cheese, strawberry pudding, strawberry milk, and a heart chocolate…  not the healthiest; but sure to make a healthy smile!!
This post was kind of an overload of junk…  but I am lazy and did not feel like doing a separate post for these three goodies!
What fun ways did you celebrate Valentine's with your own children or students?
Google+