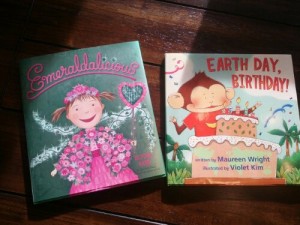 Earth Day will be here before you know it!  April 22nd…  I wanted to share two books that relate to Earth Day that you may enjoy reading to your class!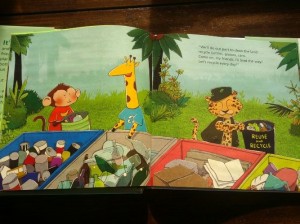 Earth Day, Birthday is a colorful story about Earth Day and Monkey's Birthday!  Only problem is, the jungle animals in the story are so into celebrating Earth Day they really don't believe monkey when he tells them repeatedly that it is his Birthday too!  He spends the story trying to convince his friends while his friends do wonderful things for the Earth. They plant trees, collect trash, recycle, shop with cloth bags, and start a compost bin.  What about Monkey?  You will have to read to find out! 
This is a wonderful book to use in a classroom for a read aloud children will love on Earth Day.  It is simple and to the point.  It gives clear examples of things we can do to make the Earth a beautiful place without ever mentioning Global Warming.  The personified animals and the rhyming text make this book very appealing to students.  A teacher could use this book as a way to start a discussion of ways we can help our Earth.  Also, each page rhymes and after reading students could return to the text and pick out the rhyming words.
My first grader enjoyed the book and loved the whimsical illustrations. The text was easy enough for her to read together.   She loved the main character the Monkey and really wanted the other animals to pay attention to him.
I highly recommend this book for a Preschool to Second Grade teacher who is looking for a fun and educational read for Earth Day!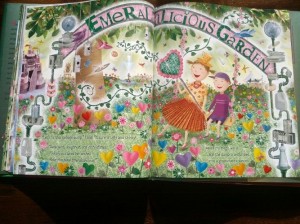 Pinkalicious is a favorite storybook character in my home and I often share it in the classroom.  When the beautiful new Emeraldliscious arrived it was quickly scooped up and read front to back.  I quickly realized that this book will make a great read for Earth Day in the classroom.  The rhyming text is always a favorite and holds the attention of the reader. 
The point to the story is all about recycling and reusing in Pinkalicious style which happens to come in the color green this time around.  Like the other stories in the series the illustrations and beautiful.  Lots of green and pink filled pictures.   However, no one turns the color pink or green in this book.  The story begins when Pinkalicious trips and breaks her tiara and wand.  Peter and Pinkalicious us pieces of the Earth to create a new wand.  We soon learn that this emerald wand is very special.  Peter and Pinkalicious find out how special it is when they end up at their favorite park.  Unfortunately, the park is covered with trash.  With the help of the magic wand, Peter and Pinkalicious reuse the trash all over the park to create quite a kingdom.  Eventually they lose the magic wand but they learn a way that they can keep making the world green! 

For More Earth Day resources, click here!
Google+