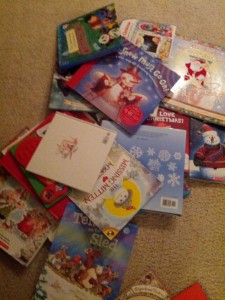 Are you in the Christmas Spirit yet?  It's getting close!
One of our favorite traditions as a family is pulling out all the Christmas books and reading them during Advent.
This year we added a new book to the collection that I have to share with you.  Luckily I have five copies of the book to give away too.
All signed by the author!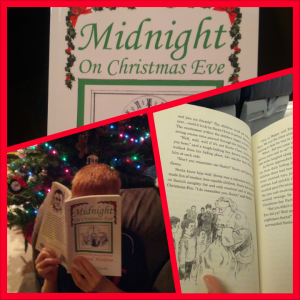 The book is a chapter book called Midnight on Christmas Eve, by Kevin O'Malley.  The story solves the mystery behind how Santa can have the time to deliver all the toys to all the children of the world at midnight.   My son (10 years) read the book first and loved it.  I then read it on a recent plane trip and could not put it down once I started reading it.  It's 97 pages of Christmas magic are sure to delight those who love a good Christmas story!   I now know how Santa does it all and even as an adult, O'Malley has me convinced that this is really the way Santa gets the long job of bringing never ending smiles to all the children of the world at Midnight on Christmas Eve.  O'Malley puts you right in Santa's world with his words and the illustrations that are found throughout the book.    Thanks to this new Christmas classic I finally have the answer to the question I often wondered about!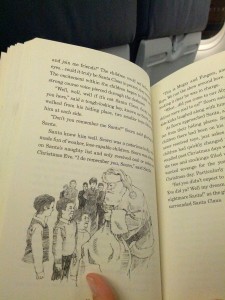 The book jacket states:  "An earthquake has revealed one of Santa Claus' closely held secrets, but it is fiercely guarded by a ghost …. the ghost of Barrister Thurgood Mistletoe! Legend tells us that centuries ago Barrister Mistletoe brought the biggest case of his life to Father Times' court to fight for Santa Claus, who needed more time on Christmas Eve night to deliver presents to all the children of the world. Father Time had an amazing solution and Santa Claus discovered why MIDNIGHT is truly something special and not just a moment of time on the clock. Father Time's solution leads Santa to one of his greatest Christmas adventures where he is confronted by forces who want to end the holiday of Christmas, and Santa can only be saved by the most unlikely heroes among us!"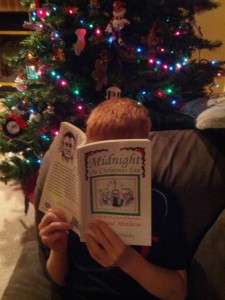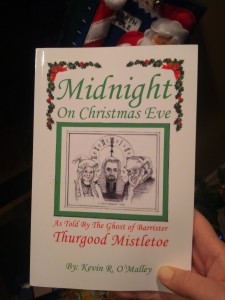 Midnight at Christmas Eve would make a great read aloud in a first through fifth grade classroom.  I haven't found many Christmas books written in chapter form and was excited to see this one!!!   I also can envision it being used in the classroom during holiday literature circles for independent group reading by fourth and fifth graders.  The discussion it provokes are fun and thought worthy.   My fourth grader who happens to be an avid reader – (Harry Potter. Lord of the Rings, and Kingdom Keepers Series topping his favorite collections), picked up the book and did not put it down till he was finished.  He loved it and gave it his five stars.  He loved the adventure and magic that filled the story and was quickly convinced that yes, Santa did for sure have the power to get all those Christmas presents to all the children in the world on Christmas Eve. My 10 year old and I are still talking about the book and my husband picked up the book tonight and is still reading as I type…    My son gave his copy to another friend who also loved the story and couldn't put it down.  The book that keeps on giving!   It gets you hooked after the first page and that is really what I love most about the book – another way to get the kiddos in my life excited about reading and on the path to becoming a lifelong reader.  I hightly recommend this book to add to your Christmas collection.  You will be glad you did and I know it will become a hit at your house and in your classroom.  YOU WILL LOVE IT – I did, my 10-year old did, my six-year old daughter did, and my husband is about to!!

Now is your chance to enter to win a copy of the signed book!  Five winners will be choosen  I want the copies to get to you before Christmas.  I will draw five winners on Thursday the 13th and send out on the 14th and 15th!
a Rafflecopter giveaway
Disclosure: The author offered Teaching Heart products in exchange of a review.  But the opinions posted in this post are true of the experiences found while reading the story.

Google+