I found the cutest idea to match the poem Five Shiny Crows at Mrs. Lee's Kindergarten (the blog is filled with super fun scarecrow themed ideas)!  I loved the idea seen here.  So I tweaked it and created a FREE printable you can use with the poem.   
Using the poem:
Five Shiny Crows
5 crows all shiny black,
Sat on a scarecrow's back,
Eating some most delicious corn … yum yum!
Scarecrow winked and shouted "Boo!"
Scared one crow and away he flew,
Now there are 4 black shiny crows, caw caw!
I created a craft type coloring sheet. Print it front to back.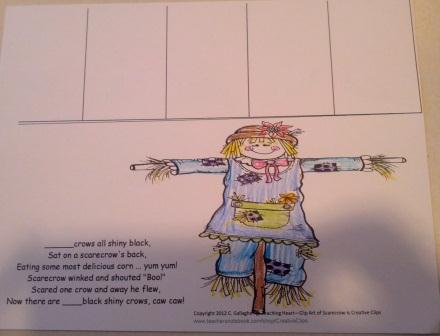 1.) Have the students color the scarecrow.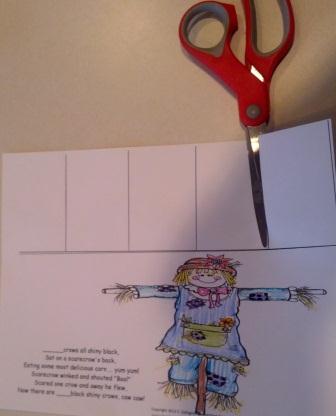 2.) Cut the lines above.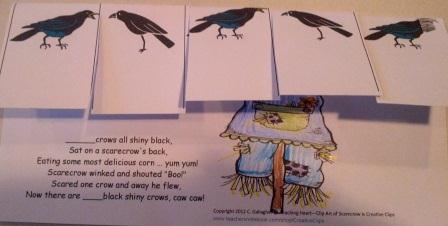 3.) Fold the crows over so they are now covering your scarecrow. Now you students can act out the poem together.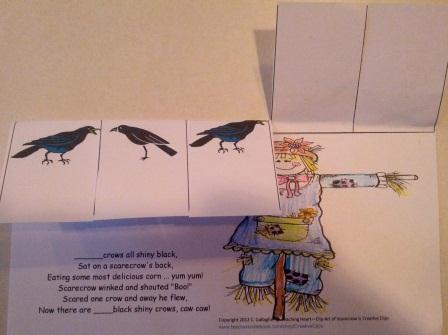 4.) Now read the poem and manipulate the crows as you go!
So much fun!
Click to Download the Five Crows Poem Sheet
For More Scarecrow Ideas – Click Here!
Google+