It's almost mid May!  This year has flown by.  How will you celebrate the End of The Year?  Will you find a special treat to give to your students as an end of the year surprise?  I have some ideas for inexpensive gifts ($1 or less) that you can make.  I also have a free printable that includes all the tags for each of the items.  You can download a FREE pdf file that has one of each of these toppers for the various treats seen by clicking here.   If you would rather a sheet of each tag, you can get that too in our End of The Year Packet – click here to learn more.  Here are some ideas for Do It Yourself End of the Year Student Gifts from the teacher.
Have a crazy and kool summer – Grab some Kool-aid packs and crazy straws (they had a pack of 10 crazy straws at the dollar store).  Attach my tag and you have a fun gift to send your students home with.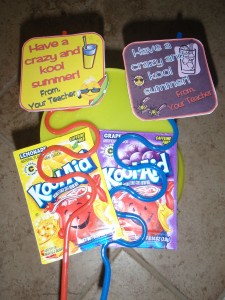 It's O-Fish-ally Summer – You can attach this tag to a pack of Swedish fish or to a pack of goldfish crackers.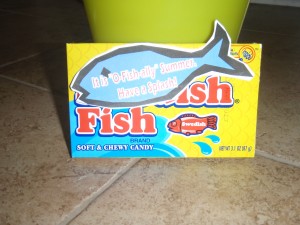 Have an Amazing Summer – The dollar store has a pack of four mazes.  Just put in a sandwich bag and staple on my tag.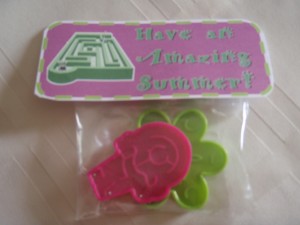 Ahoy, you were a smart cookie this year – Get a snack pack of Chip Ahoy Mini cookies and you are set once you print out the tag.  Your cookies will think this is a sweet way to end the year!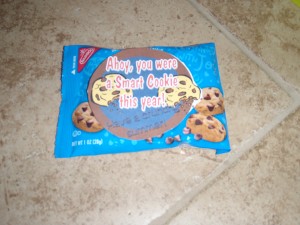 I hope you dig up a sweet summer – This is a dollar store sand shovel and some sweet tarts.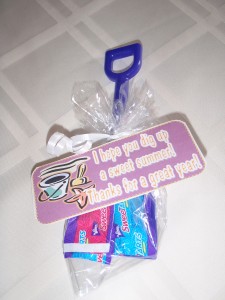 Thanks for always remembering to dot your i's… – Pack of dots and my tag and you are set!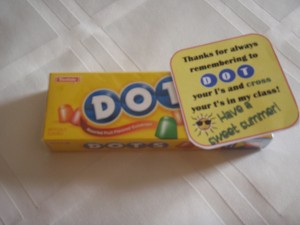 You were an all-star in our class.  Have a Ball this summer! – Found this jacks set at the dollar store.  I like how it said all-star on it.  You could use this tag with a beach ball too!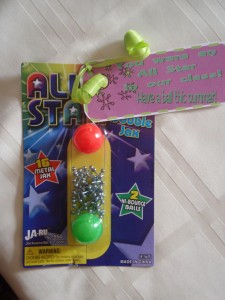 Or if you would rather an individual sheet of each tag, click here and order the End of Year Packet.  On the packet, the tag files come in both pdf and Publisher.  If you have Publisher you can modify the tags to meet your needs.  Plus there is a sheet of each tag.  With the packet you can print a page of the same tag of your choice.  The End of The Year Packet is so full of great printables for such a low price that these files are just an added bonus.   
You could make a basket of different items and randomly give them out to students…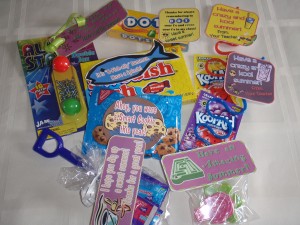 For more fun and free End of The Year Ideas, click here! 
Need a great gift idea from a teacher to a teacher?  I have a free printable tag you can attach to a wine bottle…  click here!
Thanks for stopping by! 
Google+