Here are two super easy recipes I put together for a couple of fun Halloween things my kiddos and I are going to this weekend…  Both recipes are so easy and fun!  No mixing of ingredients involved!  Fun treats to tray up for your Halloween Party!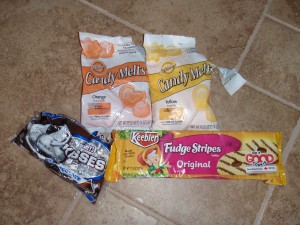 First up is a witch hat cookie.  All you need to make these is:
Candy Melts, Hershey Kisses, and Fudge Stripes!
(Hey if you are a personal friend of mine… NOTE THE TILE!!! – I MAY BE IN LOVE)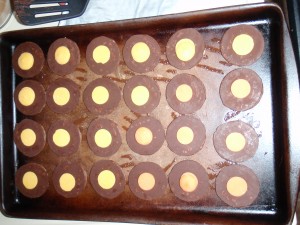 Place the Fudge Strips, stripes down on a cooking tray.  Add a candy melt color of your choice.  Place in a preheated 300 degree over for 2 minutes or until the candy melt is shiny.  Pull out of the oven and top with a Hershey Kiss.  Remove from tray and set on wax paper.  Don't wait too long to remove from the tray or the cookie will stick once the chocolate sets.
Ta-da!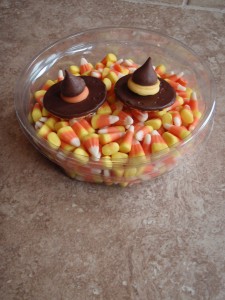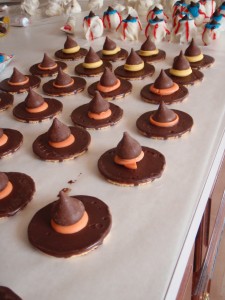 Told you it was easy.  Next super easy treat is a bloody eye ball.  These are dangerously good.
Here is what you need:
White candy melts
Donut Holes
Chocolate Chips (pupil)
Cookie Icing (Blue for the eye)
Red Gel (for Blood)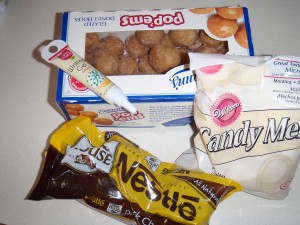 All you do is melt the white chocolate as directed.  Dip a hole into the chocolate and cover.  Remove the hole and place on wax paper.  Once cool (about 30 min), place blue cookies icing in center and top with the chocolate chip.  Add the red gel down the sides to make the blood.  My kids loved these!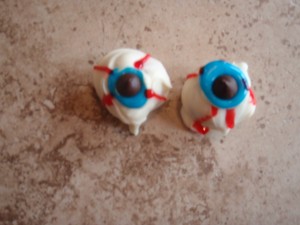 I see you!!!  Tray them up and you are ready to party like a monster!!!  Here is a picture of the eyes and hats my friend Tracy made.  I love her tray display!  🙂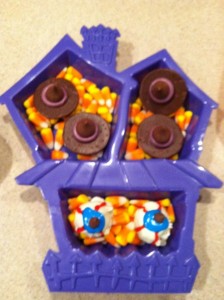 Need more Halloween Ideas for the classroom?  Click here for MANY!
Google+