YES… Christmas Break is here…  Time to recharge that teacher battery so 2016 can be as great as 2015.
With the help of my teammates at my school we celebrated Grinch Day on Thursday.  It was so much fun!!!  We did it the day before the Christmas party craziness and it was nice to have a day of fun… because on Friday I knew I had to give three assessments before the party and fun had to be had today.
You can see my schedule of events…  Everything I did I got from online or made myself.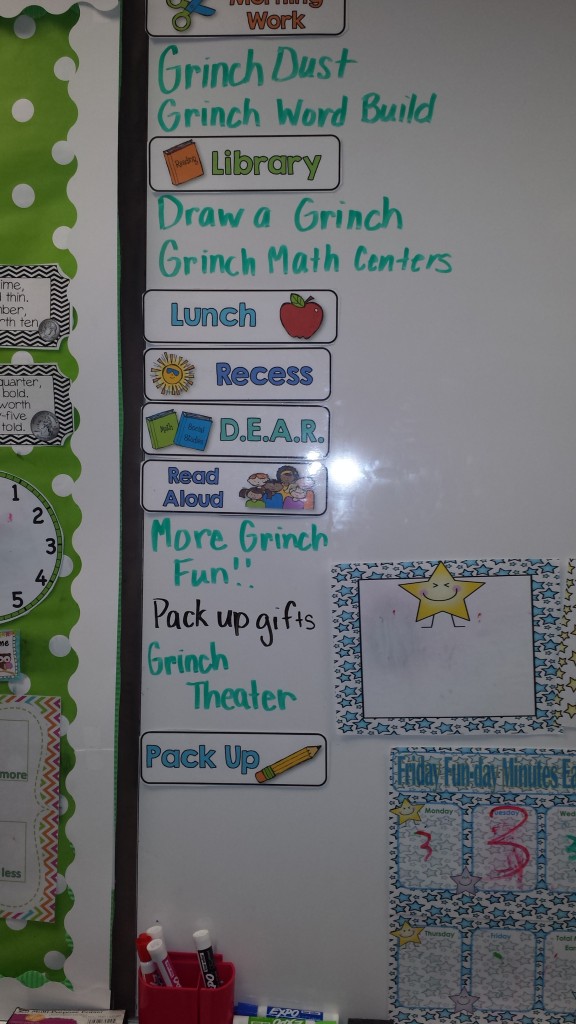 For am work they worked through math addition and subtraction problems.  I added Grinch coloring pictures I found online to the page.  They could color when they finished.
The Grinch Dust was a hit!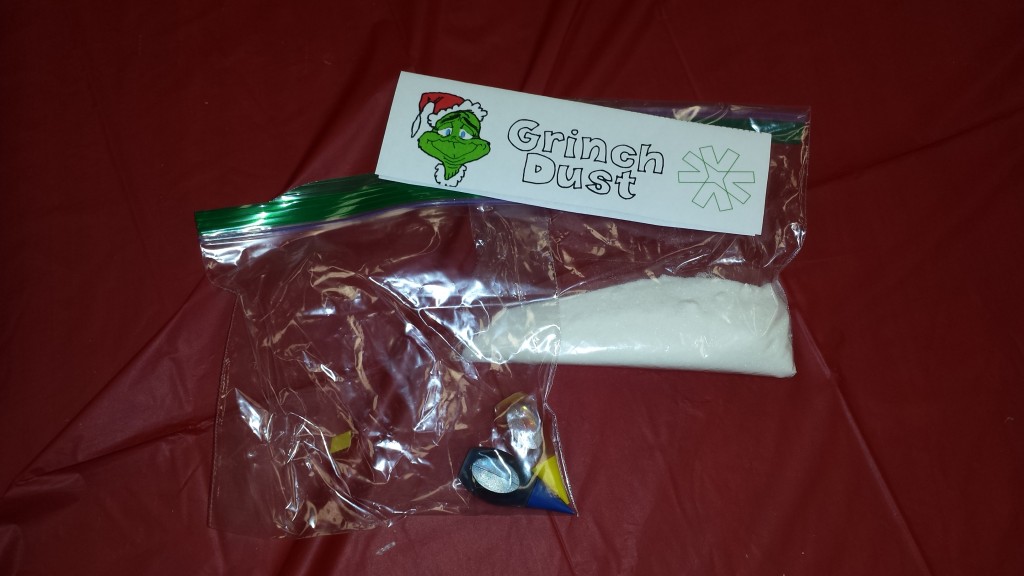 I followed exactly as stated on this blog post.  Click here to see! 
It was a great way to start the day!!!
Here are some of our finished products!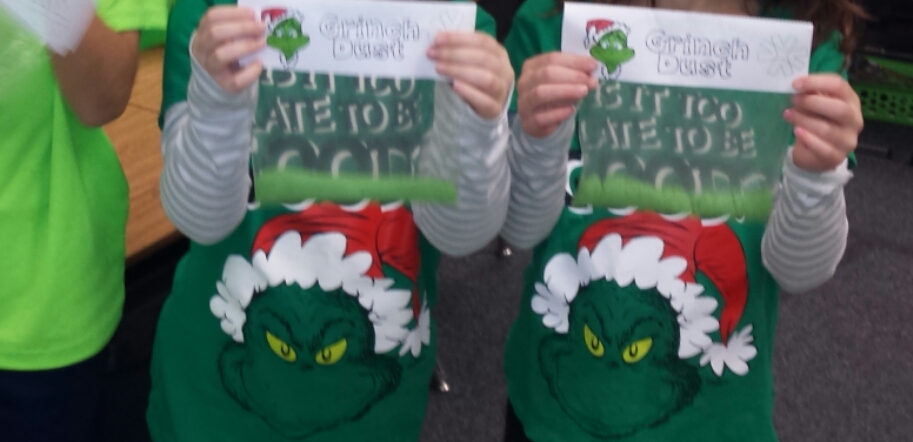 My class love to do directed drawing and they will often choose that as a class reward.  So I knew they would love to draw the Grinch!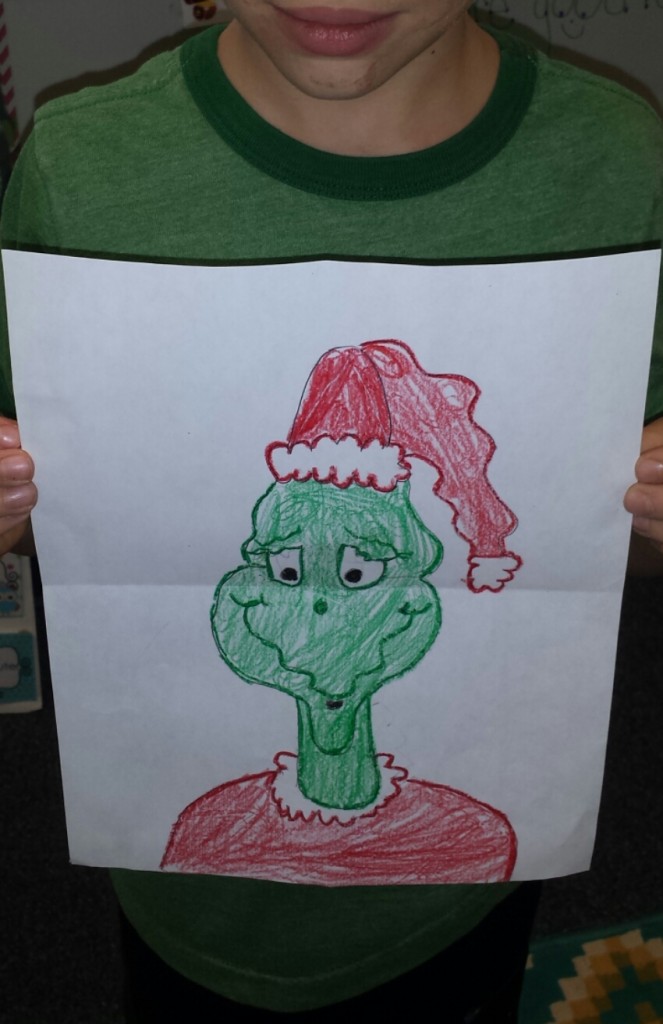 I am always amazed at how well their drawings turn out!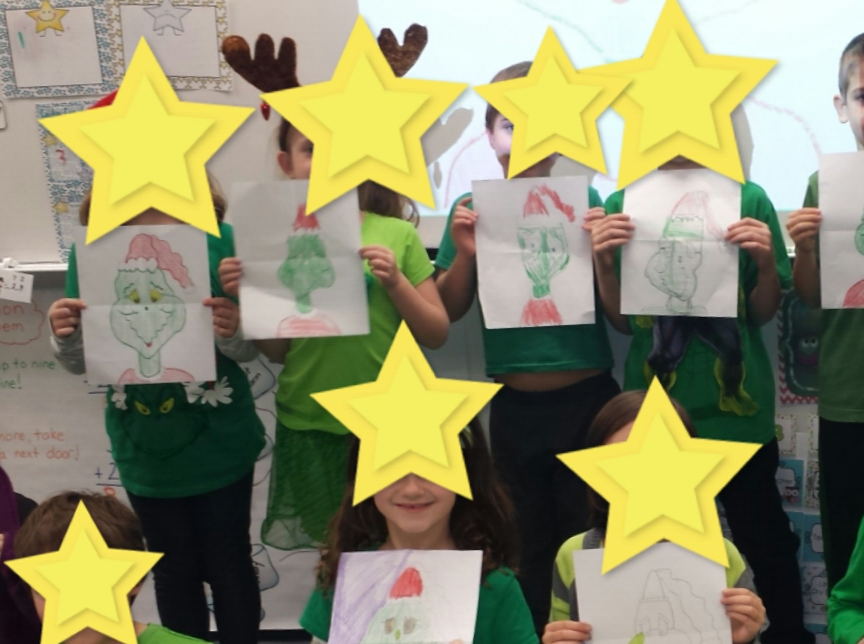 I followed this directed drawing (click here)… except we wanted to make the nice Grinch… thus I changed it up a bit!
Of course we read the book and discussed character traits.  We discussed how the Grinch at the beginning of the story changed.  We came to the conclusion that we all can be Grinchy sometime and that we would rather hang out with the nice Grinch!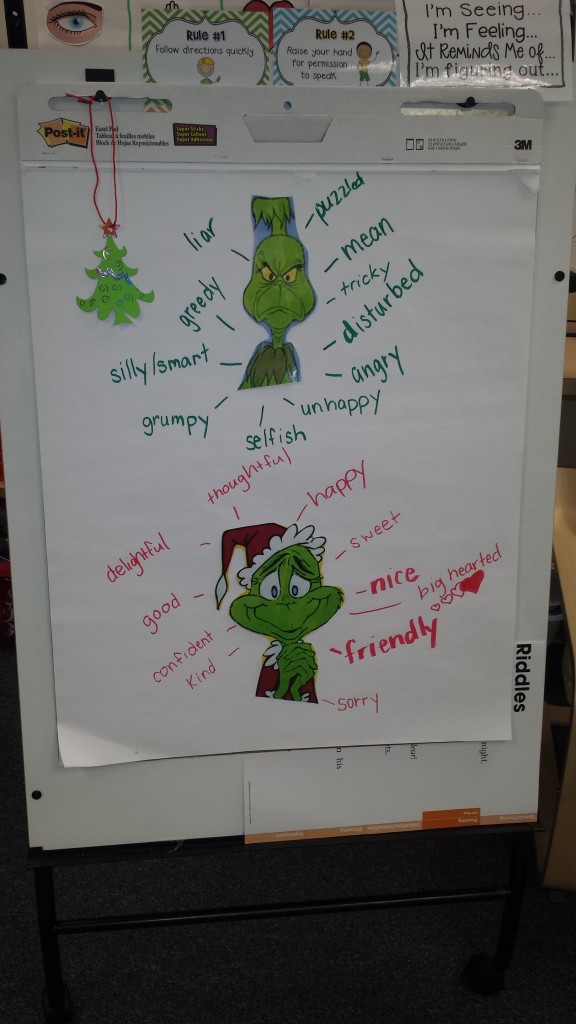 We made this anchor chart after we read.  I found two Grinch graphics online and laminated them so I could later tear them off the chart and use them another year.
You can see a Grinch tree hanging from the chart.  I bought those from oriental trading and we made those as well.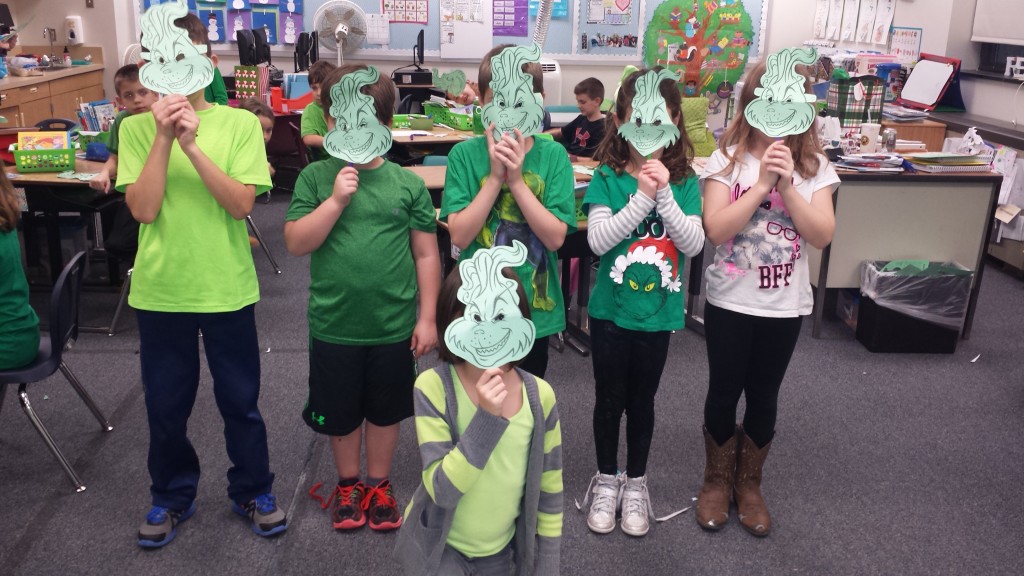 My teammate found the Grinch masks online and copied them on to green cardstock and we made masks.  If you click here, you can download the mask and other Grinch printables…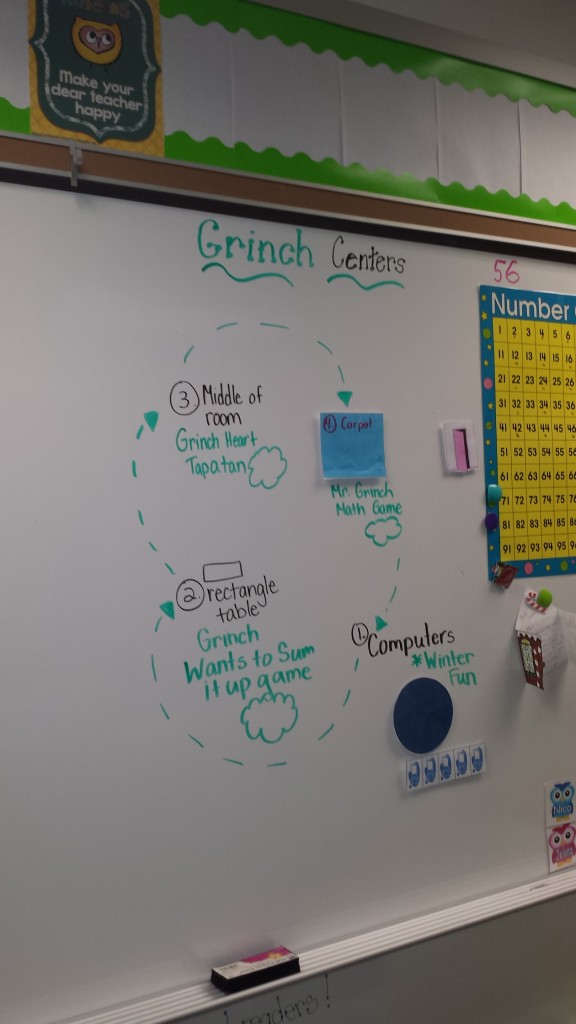 For math fun, we rotated through Grinch centers…  Our rotation is above.  Here are the games we played…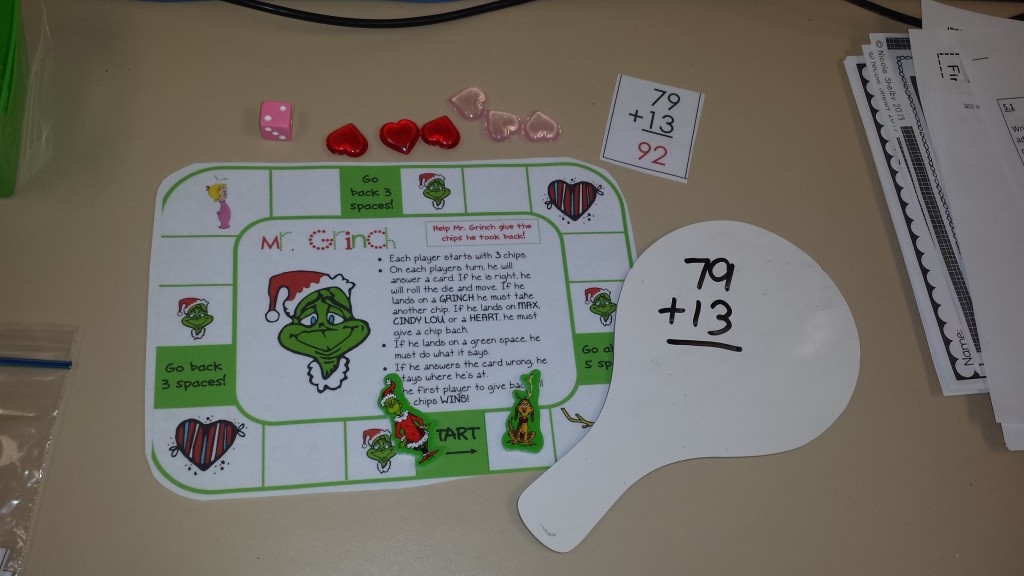 Mr. Grinch board game.  I printed the addition cards to use with this game.  I used hearts (dollar store Valentine's Day)  as the tokens.  The game pieces are foam Grinch stickers.  The Grinch board game I downloaded from here.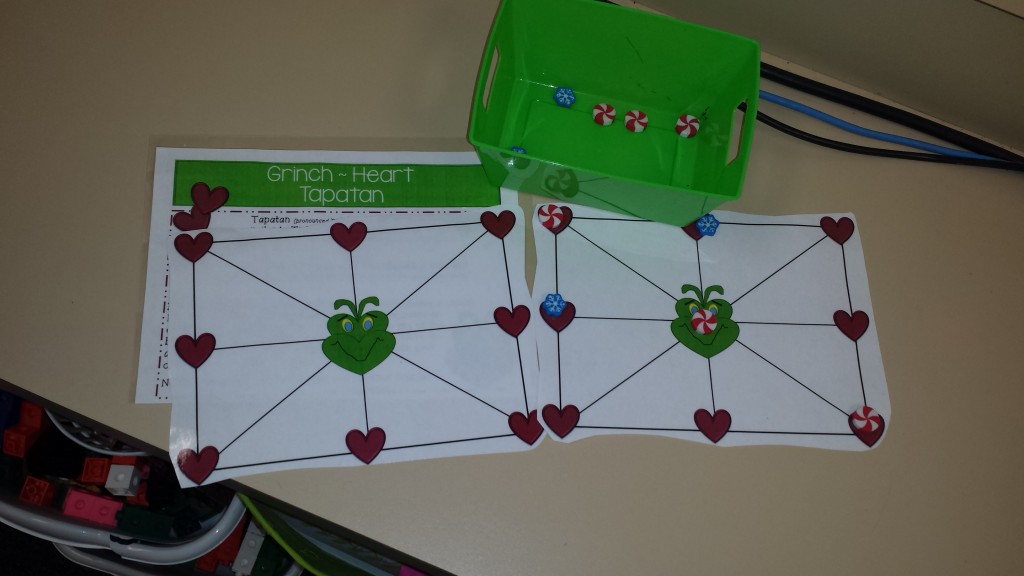 They loved playing Grinch Tapatan…  I used the erasers from the dollar store as markers.  You can download the gamebooard here.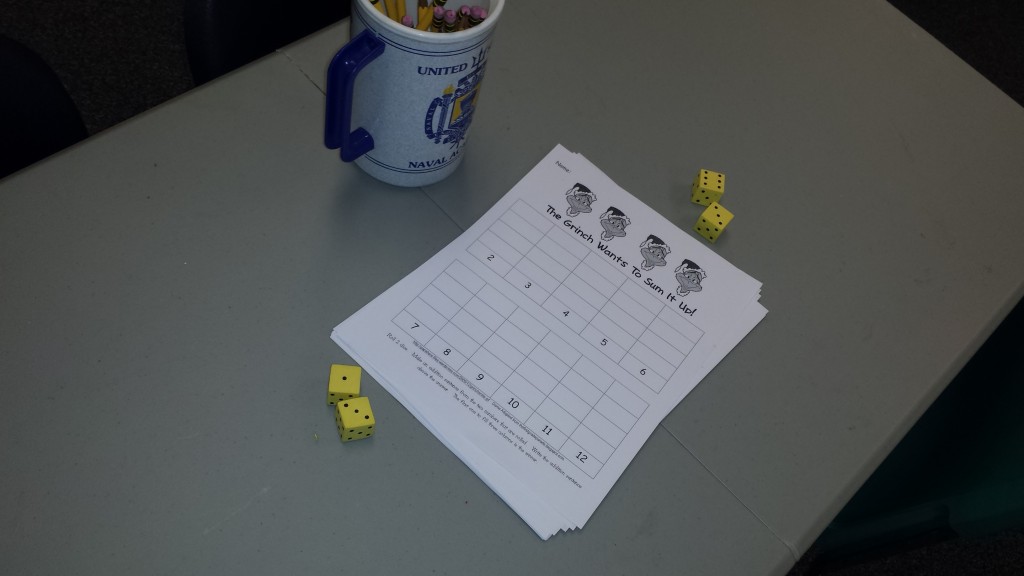 Finally they played the Grinch wants to Sum it Up game.  That can be found by clicking here!
To close up the day…  we watched the Grinch and I handed out these Grinch candy canes.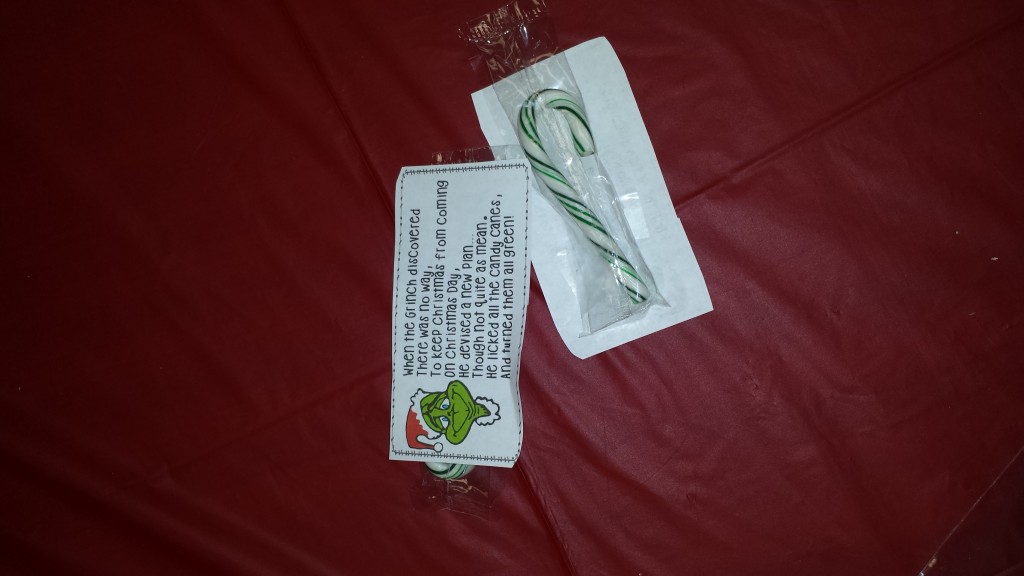 Here you can download some tags on TPT!
So thankful for all the free Grinch goodies online!!!  My teammate made a packet of printable Grinch activities for each student.  If you google free Grinch printables, you can find many printables to use on your Grinch Day!
Google+