Hey everyone!  Hope your New Year is off to a great start.  I am happy to announce that the Teaching Heart Facebook Fan Page is at 60,000+ fans.   If you are a fan, thanks for being there and if you are not, come join us.  As much as I love Facebook…  I hate that those who want to see all my posts on Facebook, will not…  because Facebook only let's you see some unless you click over to the page and scroll through it to see what they did not put in your newsfeed.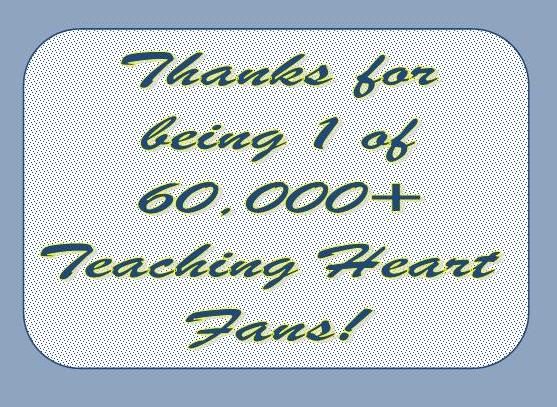 We will celebrate anyhow with a giveaway in this post… so keep reading!
Before I get to the giveaway I wanted to share an update and share some links that will be of great help to you over the next few months!
First the update:
As some of you know, over the last thirteen years (after teaching second grade and special education k-3) I took a break from teaching in the Elementary Schools and decided to solely focus on Teaching Heart and my family.  Doing that for 10 years and only that was great and I am forever honored that many of my free and paid resources are part of your teaching.  I also thank God for the opportunity to be a work at home mom all those years!  2012 and 2013 I tried something new and taught Preschool!   I learned a ton from teaching preschool and I created a new genre of products at the same time!  You can read my thoughts about preschool here.  As much as I loved teaching preschool and working on Teaching Heart part-time, I knew that my heart was pulling me in another direction.  Anytime I was in my children's elementary schools or visiting other elementary schools a little voice inside of me kept saying…  "you need to get back here in elementary, this is your passion, and this is where you belong".    Plus, let's face it…  Teachers Pay Teachers and Teacher's Notebook came around and my somewhat of a monopoly on selling Teaching Products since 2002 was no more and with all the choices now available my sales have gone down somewhat and my passion for creating isn't as productive.   I find myself buying from other sellers more now than creating!  Thus, it brings me to today!  This year I have made it back into the classroom…  not my own classroom, but the classrooms of many great Kindergarten through Fourth Grade teachers.  I am subbing for this year and praying next year brings me back to my own classroom!  I actually really like subbing…  There are many good days with a sprinkle of some bad ones.  Many more good than bad.  I am learning new things for teachers all over and that is fun.  Although the teacher in me wishes I could do it my way in my own classroom so if you want to pray I get a job next year… I would love you!
Teaching Heart, never fear… will never go away!  All the free stuff will always be free and I will add and update when I can.  As you can see so far this school year not as much updating has been going on since I am out of the home all day and then driving my two own children here and there after school.  But still I have managed to add some new goodies and even some new products.
An oldie but goodie created in 2014, my Valentine's Game Packet, was just updated with another great and easy to set-up game.  You need this set if you are throwing a V-day party for your classroom.  I love the new game added.  It is called Left, Right, Post Office!  It comes with three dice and all other materials to play.  You can be set-up to go in five minutes after you print the game out!  Directions are included in the game.  If you already have purchased the set, re-download it for the new game to be included.  If you don't have the set, you can get it at my E-Junkie store or you can get it at TPT here.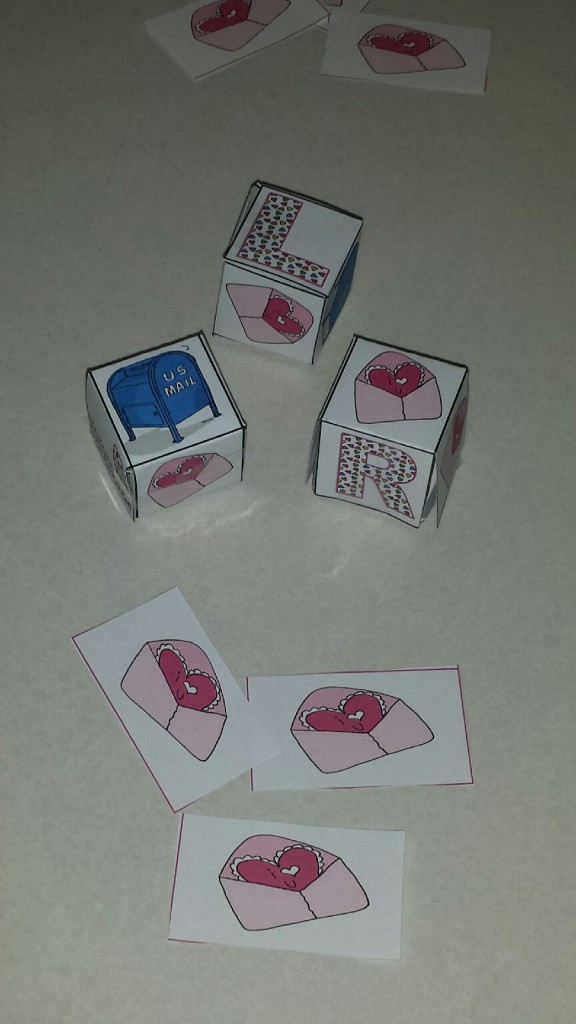 So planning for this month and Feb.  Here are must stop places for you to check out to make your planning easier.  Many free ideas and free printables to be found!
Snowman Ideas, Printables, and More!! – Click Here!
You will love the Penguin Themed Ideas here!
Mitten Themed Ideas – So Many Here!
She is up to it again… swallowing snowy things!  Click here to see the Old Lady!
You will be so happy to visit this Valentine's Day Page…  TONS of resources – Click here!
Martin Luther King Ideas, Printables, and Resources…  Click here for MLK!
Yes the 100th day will be here soon!!!  Click here!
President's Day Ideas – Click Here!
You should find tons of resources at the above links!  Enjoy!
Last but not least…  60,000 + fans!!!  Time for a giveaway…
Just for being a Facebook Fan you could win one of these…
1 person will win a $25 gift card to Amazon.
3 people will win a $12 dollar gift card to my E-Junkie Store.
Get it, that's 60+ in prized to celebrate 60,000+ fans!!!
Please use the Rafflecopter below to enter!  I will pick winners on Thursday, Jan. 15, 2015.
Google+