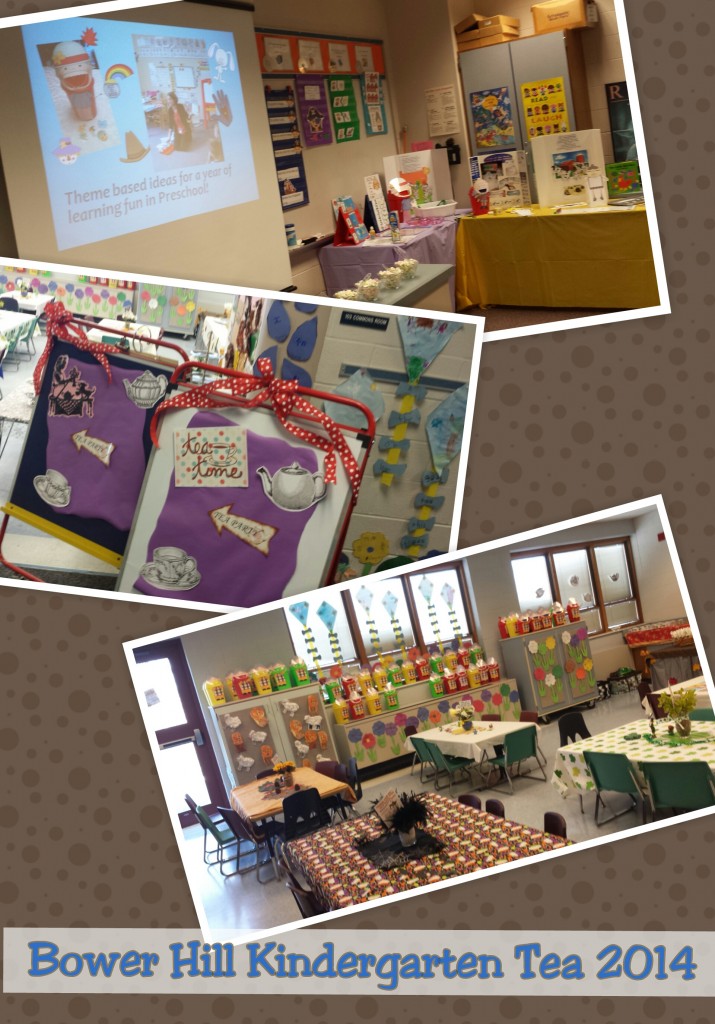 What a special treat to be the presenter at the Bower Hill Elementary School Kindergarten Tea in Peters Township, PA!  The Kindergarten Teachers, the Principal, and the PTA really strive to make this event such a fun and resourceful day for local Preschool and Kindergarten teachers. I am so excited to share the wonderful pictures I have from the day!!!   Perhaps it's an idea your school may want to try!
The Peters Township School District has presented the tea for years to local preschool teachers that feed Kindergarten students into the district.  It is their way of showing their partnership between the preschools and Elementary School Teachers.  It's such an awesome feeling knowing that a school district cares about the kiddos they will eventually see even before they are officially their own students.   It truly is a marvelous outreach idea.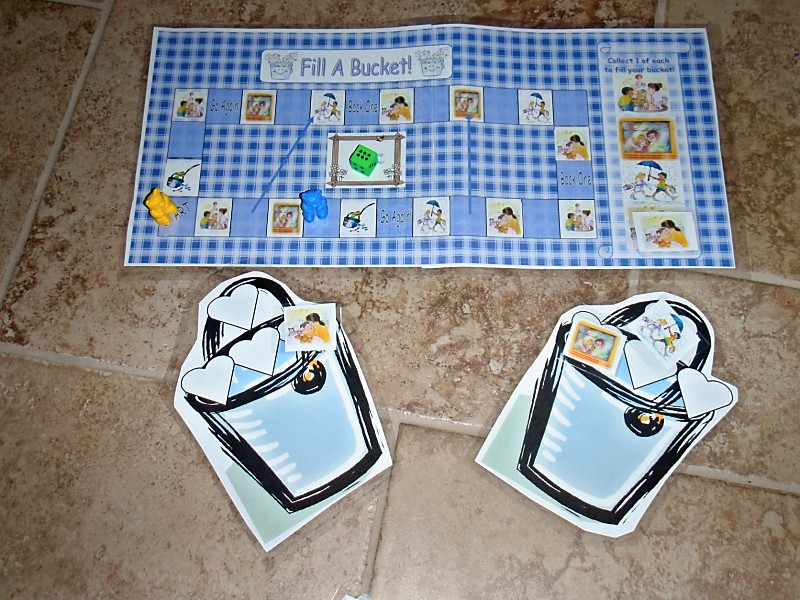 Over the last few years I have been so lucky to help take a part in this tea.  A few years ago I shared activities I created to go along with the Bucket Filling books – You can click here to download the files I created. 
Two years ago, I shared the Caterpillar Apron and a CDROM with my Buggy Files on it!  You can see pictures from this tea and more Hungry Caterpillar files here.
This year I was asked to present using the theme, Rocking Around the Calendar with The Old Lady.  The theme was based around the old lady books by Lucille Colandro   and I tried to share many ideas through the year where they could use the old lady they were given seen below (Held by Mrs. Piatt)!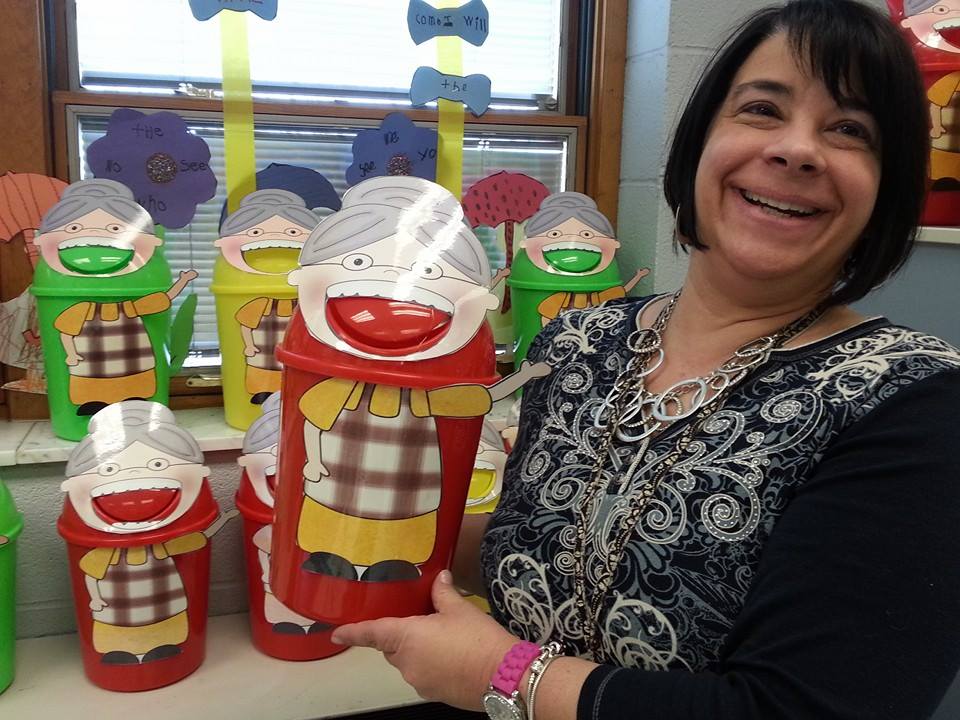 Each participant took home my Old Lady and a DVD filled with all the Preschool and Kindergarten packets I have created over the last few years…  That's over $200.00 worth of files that they got for free because I love PA teachers and Bower Hill Elementary!!!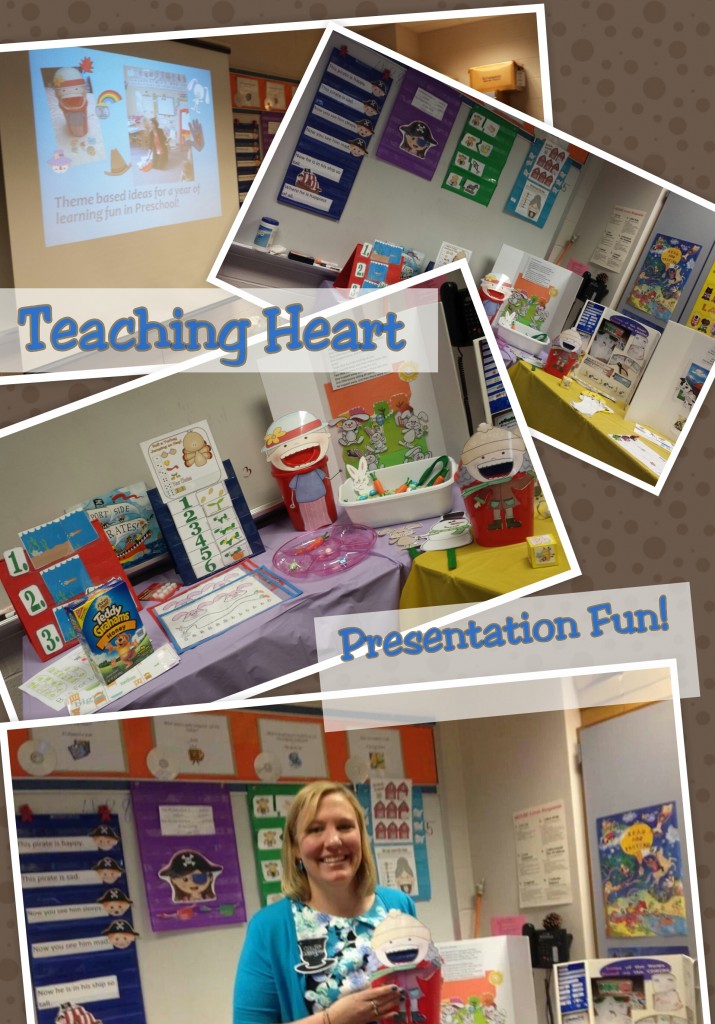 During the presentation part of the tea, I shared some of the 100's of resources they could create using their new files found on their DVD.  Big thanks to one of my best friends (Amy Trax, from Tender Sheppard Preschool at the Bible Chapel)  for letting me use her as the model for the cover of my Power Point Presentation.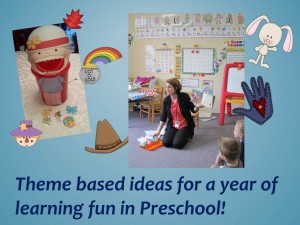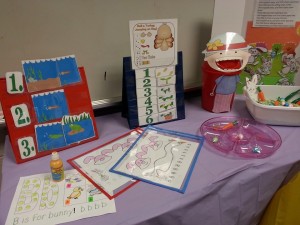 For the presentation, I picked a few of the treats on the DVDROM they now owned.  The activities I shared matched each month we teach.  I shared these resources in hopes this would show the teachers some new ideas and resources they could use in their classrooms with a click or two of a mouse.  We rocked around the calendar sharing themes that would be great during the given months.  Pocket chart resources, poems, play-doh mats, manipulatives, teacher made games,  and so much more!  Yee-haw!!!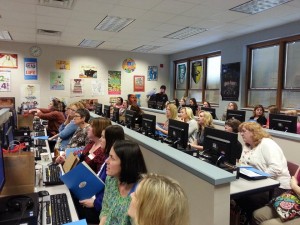 You can view my Power Point from the presentation to see what I shared.  It's only a small sample of all the goodies found on the DVD they received at the tea.  Click here!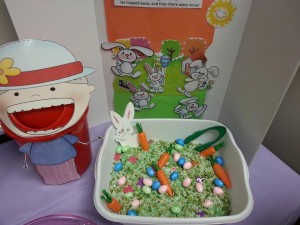 I enjoyed sharing ideas with this group!  I hope that the resources I shared will make their jobs a little easier and will help them to create kiddos that love to learn because as you know, Preschool Teachers pour the foundation for a lifelong love of learning!!!
You knew this was going to be a great day as soon as you opened the themed invitation…  check it out!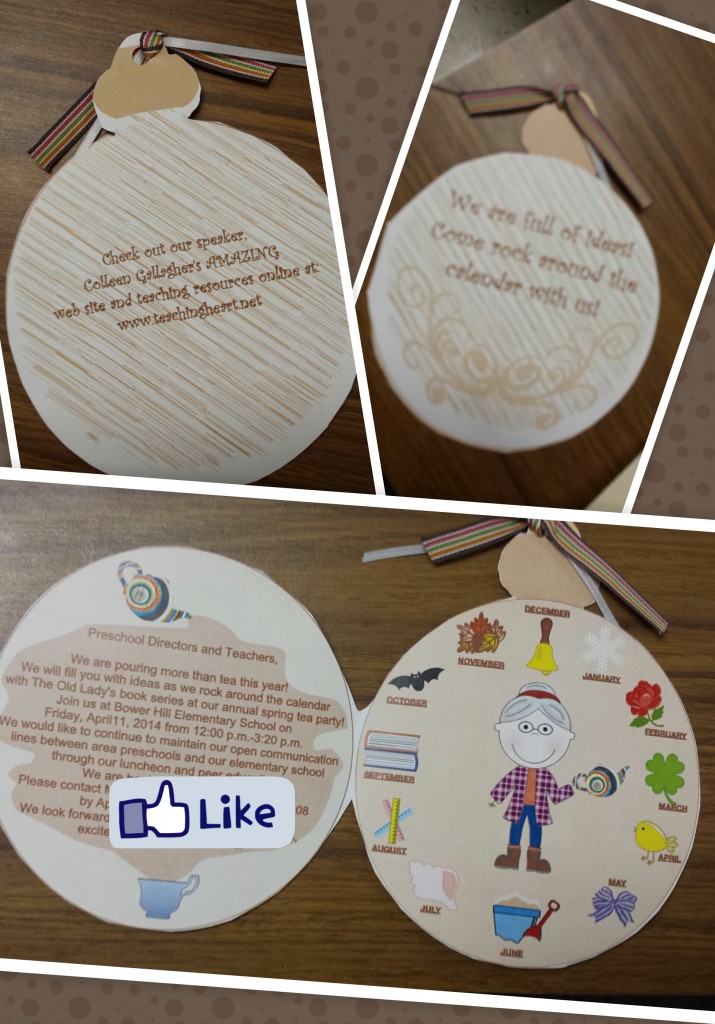 Before the presentation, teachers were greeted with a fun theme all centered around the Old Lady Books.  The PTA did such an awesome job with the two food tables… Just look at them!  If you are from Pittsburgh, doesn't the dessert table remind you of a cookie table at a wedding?  So awesome!!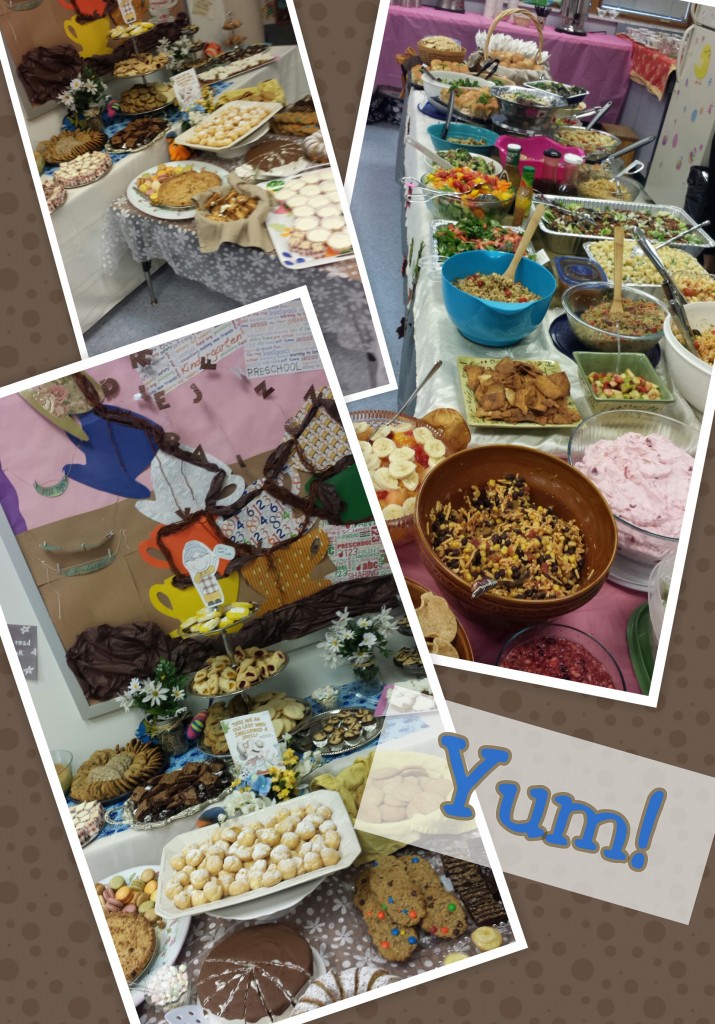 The decorations done by Kirsten, a Kindergarten mom from the school, made me so excited.  I love how each table matched the books.  Just check out some of the tables.  I was truly in love with this set-up!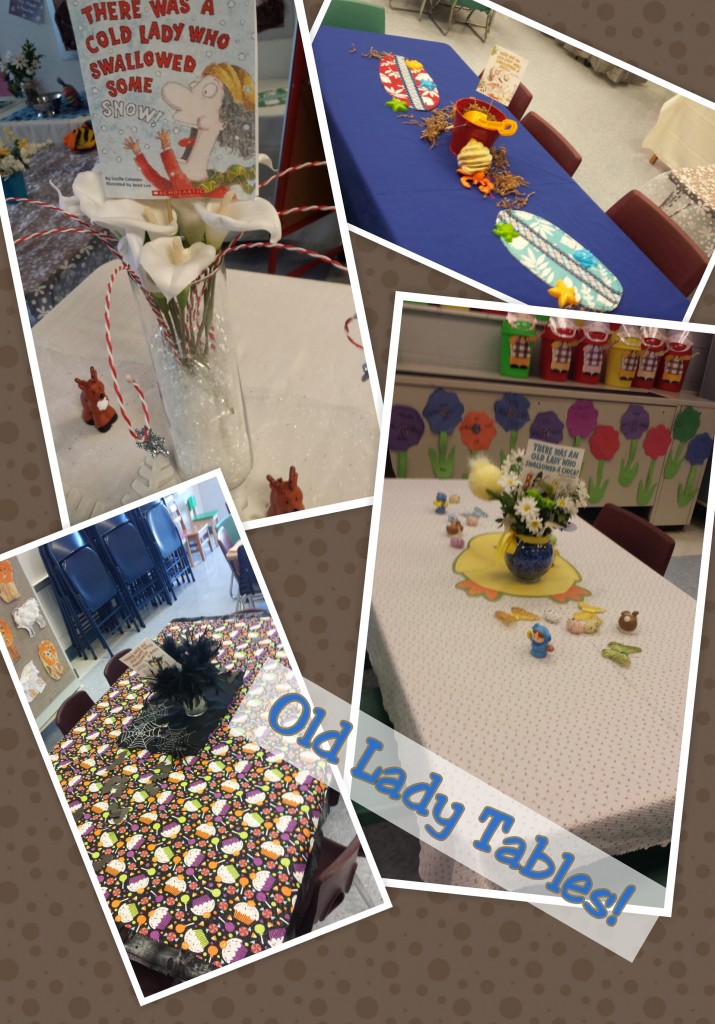 The Bower Hill Kindergarten Teachers changed reading series and not only did they give away my goodies (The CDROM and Old Lady), they gave away Big Books from their old reading series, each participant also received a new book from the Old Lady Series, and everyone went home with Hula Hoops and activities to use with the Hula Hoops!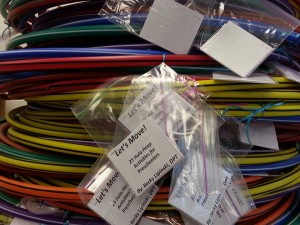 The day felt a little bit like an Oprah show.  Although no cars were given out – but BIG books were and that is almost as good as a car, right???   Here is a picture of two of my favorite Preschool teachers with me from St. Ben's holding some of the goodies they got at the event!  It was so fun and I love that the Preschool my children came from and that I taught at the last two years could benefit from this!!!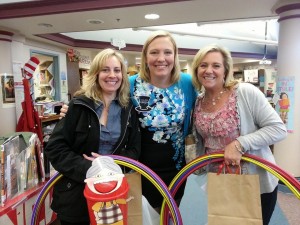 Be sure to like the Bower Hill Library and Media Facebook Page – click here!!  Myra, the librarian at Bower Hill is above awesome and she shares outstanding resources for parents and educators, plus it is fun to see what other schools are up to.   I highly recommend you like her page!  I also need to thank Myra for her help with setting up my presentation as well as many of the pictures from this post!   Go like her Facebook Page!
I also shared with the  teachers some of my favorite Preschool Links such as;
Pre-K Pages— www.pre-kpages.com
The author of this site shares many free ideas.
Making Learning Fun— www.makinglearningfun.com
Tons of free printables to match many themes.
Pre-Kinders—  www.prekinders.com
Teach Preschool— www.teachpreschool.org
Always amazing ideas from the author.
Hubbard's Cupboard –
www.hubbardscupboard.org
Includes Christian themed ideas.
Dr. Jean – http://www.drjean.org/
The Learning Station Songs:
http://store.learningstationmusic.com/
Links to the packets the Teachers at the Tea Received on Their DVD:
Old Lady Files that include Templates to Make Her As a Sound Muncher!     /     Bunny and Easter     /     Fairy Tale Fun Part 2     /     Fairy Tale Fun Part 1     /     Pirates
Valentine's Games     /     Snowman     /     Christmas     /     Turkey Time          /     Farm Fun     /     Leaf Theme     /     Apple Themes     /     Pumpkin     /     Happy Birthday Moon
Lady Bug Themed     /     Bee Themed     /      Caterpillar to Butterfly     /     Cowboy Wild West     /     Bugs     /     Rainbow Fish     /     Rainbow Themes     /     St. Patrick's Day Games
Froggy Fun   /   Polar Express     /     Gingerbread     /     Scarecrow    /   and more….
Now back to finishing up my last two Pre-K packs (Cats/Dogs and Teddy Bears coming soon) before I move on to creating more first and second grade resources since my last two years were mostly focused on Preschool and Kindergarten.  Stay tuned!
Google+