Oink, Oink – We had some fun with pigs today in Preschool!  Starting with our fun craft  – An Easy Piggy Balloon Craft.  Templates used for the eyes and nose of the pig come from the Teaching Heart Farm Packet – found here! 
I blew up all the balloons in advance – thank goodness I have a lot of hot air…
The kiddos colored the ears and the nose.  They cut them and I helped them tape them on their balloon.    Then they added a mouth and eyes!  They loved these little guys…  They are pretty cute if I do say so…  what do you think?  Out of 24, only one popped before the end of the day.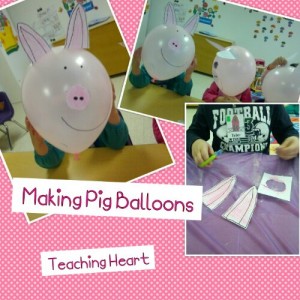 We also made pig noses so we could get into the piggy action with some pretend play.  These were super easy…  just one egg section of an egg carton.  I pre-cut the carton and punched holes and strung elastic.  The kiddos painted them with pink paint.  They added the nose holes with a black marker.  They loved these as well…  They all looked really cute too!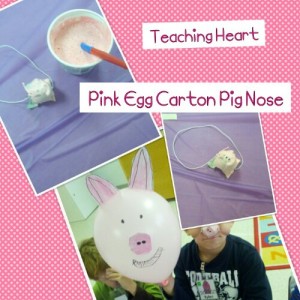 Of course we had to enjoy a piggy snack.  We made pink cupcakes.  I made the cupcakes in advance (pink cake mix) and pink icing.  I added the ears (Wafer cookies) and the kids added the noses (marshmallows) and eyes (chocolate chips)!  I thought it was cute when one of the boys said to me..  "Mrs. Gallagher, my pig tastes nothing like ham or bacon!"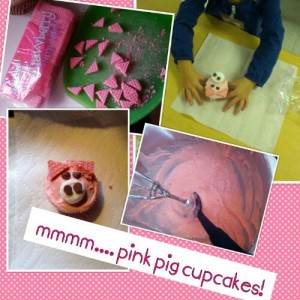 We learned the piggy mud finger play found in my farm packet here.  After we did the finger play a few times and saw it acted out on the manipulative ( all pieces in the farm set here), we completed the piggy little book (in farm packet).  The little book helps the kids count backwards like in the finger play found in the set.  As the children turn the page of the little book a pig disappears.  Great to take home when they are done.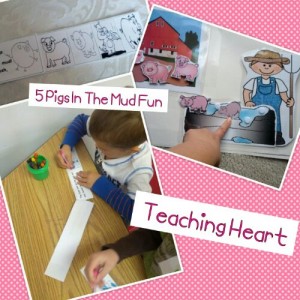 We also completed some farm centers… Patterns, counting puzzles, and more – all from the packet found here!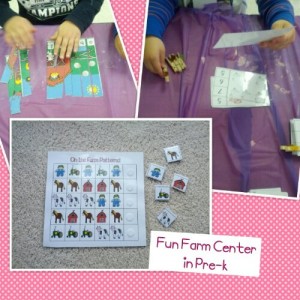 It was a fun day with the pigs in pre-k!  Get our new farm packet here! 
Google+