This year in third grade faith formation and last year I made the easy Decade Rosary with my class.  The idea comes from Catholic Icing!
You can read about it by clicking here!
 Our class book talked about the story of the Visitation.  We discussed the story of Elizabeth and Mary and how Elizabeth was the first human on Earth to honor Mary.
The words that Elizabeth speaks to Mary when she sees her coming are the very words we say when we recite the Hail Mary.
I had the kiddos watch this short video of the visitation.
I also watched this myself before my lesson and it was helpful in adding to the discussion.
I suggest you also read The History of the Rosary here.
"Of all the prayers, the Rosary is the most beautiful and the richest in graces; of all it is the one most pleasing to Mary, the Virgin Most Holy."
(Pope St. Pius X)
A decade of the rosary is a grouping of prayers that consists of one "Our Father" followed by ten "Hail Mary" prayers.  It's a great introduction to a full Rosary.
This decade Rosary craft is perfect for introducing children how to pray the Rosary.  They really enjoy this craft and praying the decade.
I have them select a pipe cleaner and 10 beads.  They take those materials back to their seat and string them together.
Then I show them how to put together the rosary and cut off one end.  They select another bead and add the cross to finish.  Again, better visual directions can be found by clicking here!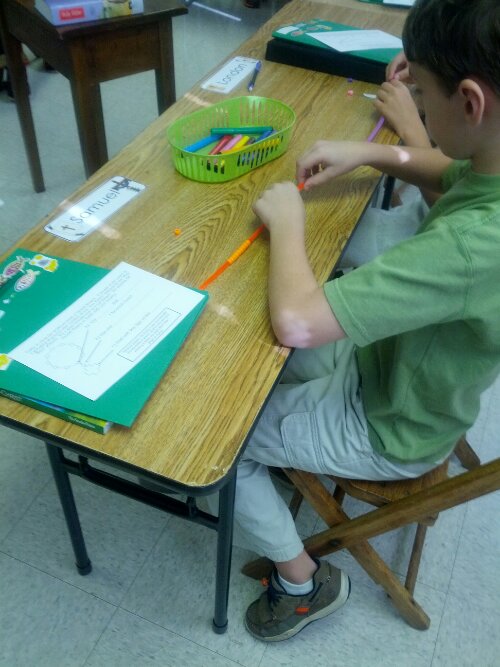 Before we used our new Decade Rosary to pray a decade, we completed a little activity sheet that would go home with the children.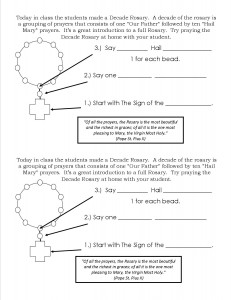 Click here to Download the Rosary Decade Activity Sheet!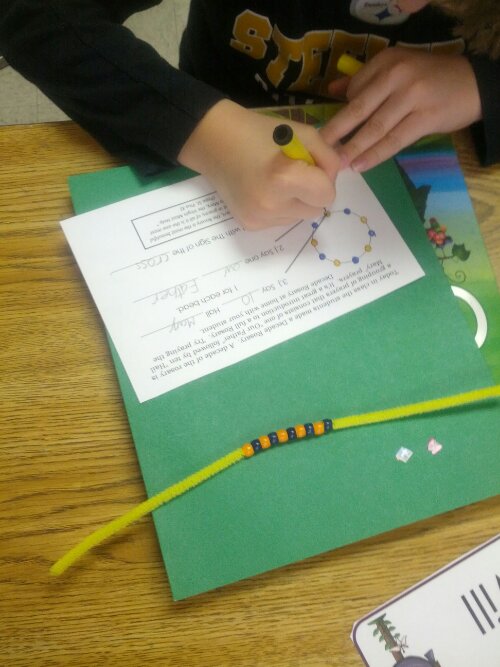 Below is a picture of a Rosary Walk I thought was so cool when I found it this AM on Johnson Party of Five…
Doesn't this look fun?
Hopefully these ideas will inspire you to teach your kiddos to pray with the Rosary!
Google+