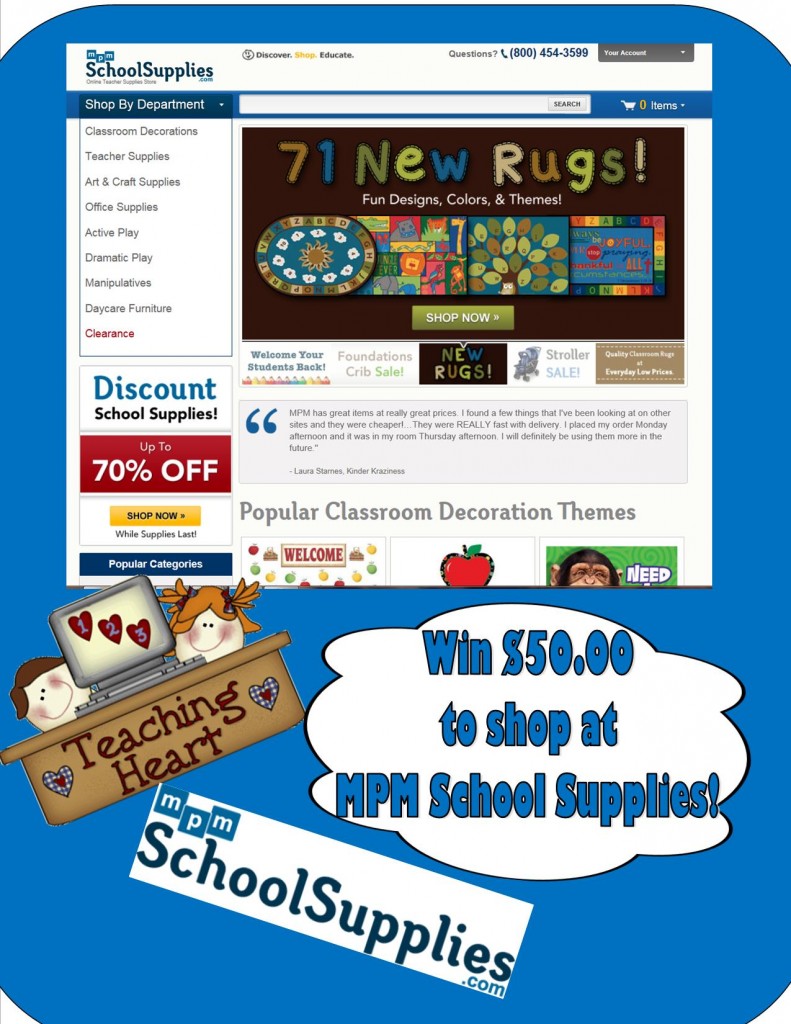 Got to love a teacher store online that is constantly supporting teachers with their generosity!  I have done giveaways in the past with MPM School Supplies and they always want to DO MORE FOR YOU!!!   Now that is a company with a Teaching Heart – Don't you think???  Not only do they have a Teaching Heart, they have the best ONLINE TEACHER STORE!!!!   Really, great prices, big selection, and awesome customer service.  Want to shop their store?  Want to win a free $50.00 to buy whatever you want?  Of course you do and you can use the Rafflecoppter below to enter – please be sure to follow each rule when you enter as those who do not will be removed from the drawing without notice… there are many ways to get entries in… the more you do, the more you get a chance at $50.00…
I know many of you are already looking around the shop and thinking… I want this and this NOW.  Well go buy a few things now and use this Teaching Heart 10% discount code: www.mpmschoolsupplies.com/redeem/1306FBSC0ES2 – Offer expires in a week from today!


MPM School Supplies is part of an educators network called "The Making Smiles Network".  This network was built to provide easy access to resources, materials, and support so educators can focus on positively affecting the lives of the children they serve.   The MPM teacher supply store is loaded with more than 25,000 products and more items are constantly adding. Teachers can find supplies for all age groups, from infant to preschool to high school!
Now enter where you can below…  I will pick a winner from all entries on Saturday!  Good Luck!
a Rafflecopter giveaway

Google+