Woot, Teaching Heart recently hit 7,000 Facebook Fans.  Are you a fan? If so, thank you!  If not, click here and like us!!   Today I have a giveaway to celebrate 7,000!  I have decided that the next time we will celebrate a Facebook milestone is when we reach 10,000 and then 15,000!!!  So enjoy this Facebook Milestone Giveaway and look forward to a BIG giveaway when we hit the 10,000!  I am dreaming we do that before school starts up!!  It's a BIG dream.   🙂  Cross your fingers.
To celebrate MPM School Supplies sent me shopping so I could tell you about my experience on their site!  They also were kind enough to give me a $25.00 gift card to giveaway to one lucky winner as well as 15% off for the first 25 Teaching Heart fans who order from http://www.mpmschoolsupplies.com/redeem/S1206F8X48JXP  – so order now and get the discount!

MPM School Supplies is part of an educators network called "The Making Smiles Network".  This network was built to provide easy access to resources, materials, and support so educators can focus on positively affecting the lives of the children they serve.   The MPM teacher supply store is loaded with more than 25,000 products and more items are constantly adding. Teachers can find supplies for all age groups, from infant to preschool to high school!
I spent a little over $50.00 and here is what I got: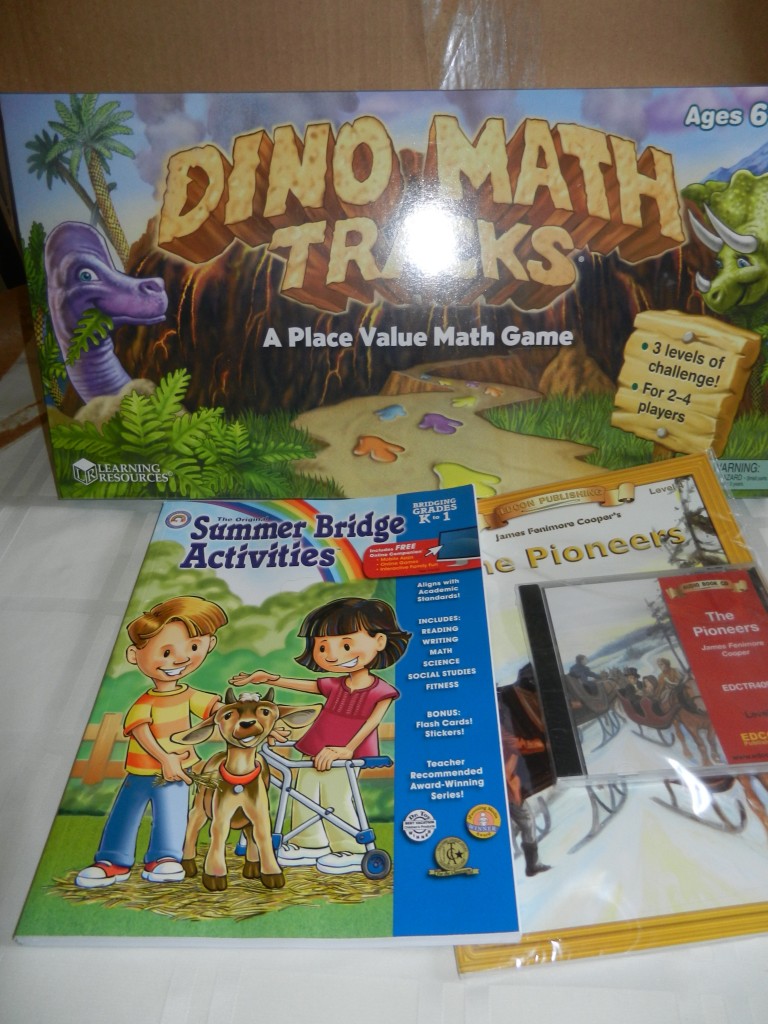 I got my daughter a Summer Bridge Book for extra practice over her months off.  I also ordered a Dinosaurs Math Game.  Finally, I purchased The Pioneers The Classic Series Workbook & CD Level 4.0-5.0.  It is perfect for my son to use over the summer months!  I love it so much that I may have to go back to buy more of the Classic Series titles,  click here to see some more great titles that include a CD and workbook.  And if you order, be sure to click through http://www.mpmschoolsupplies.com/redeem/S1206F8X48JXP to get 15% off if you are one of the first 25 orders.
My shopping experience was great.  MPM has a large selection.  Everything education related… like;  Teacher Resource Books, Fun Learning Games, Pocket Charts, Bulletin Board Resources, and Classroom Furniture.  And that is only a little sample of all that is to be found on the site.  Use their search box on their site to find all sorts of Teacher Goodies that you did not realize existed!!!  It's like a little piece of heaven for Teachers who love hitting up Teacher Stores!  They even have a clearance section!  Bonus, you don't have to get out of your PJ's to shop!
The website is easy to use and safe!  I purchased my items and received them in a few short days.  All were nicely packaged.  Communication between myself and the company was easy and they were very polite and quick to answer any questions.  I would rate my experience with five out of five stars.
Like, I said you can shop now and save 15% by going to http://www.mpmschoolsupplies.com/redeem/S1206F8X48JXP .
Also BELOW you can have a chance to win a $25.00 Giftcard.
Here is what you need to do to qualify for the drawing:
1.) Make sure you like Teaching Heart on Facebook – Click Here
2.) Make sure you are subscribed to Teaching Heart via email – Click Here – Be sure to confirm by clicking on the link through your email.
3.) Visit http://www.mpmschoolsupplies.com/ and tell me one item you would buy with the $25.00 gift card.
One Entry Per Person.  More than one entry or not completing the three steps will result in your name being removed from the drawing.  Winner will be selected from a random number generator.  Last day to enter is: Wednesday the 20th.  Winner will be contacted on the 21st.  Remember to follow the rules or your entry will be void.  So read this post well before you fill out the form!  Thanks!
Ok, you are ready to fill out the form!  CONTEST CLOSED! 
Disclosure: MPM School Supplies offered Teaching Heart products and certificates in exchange of a review.  But the opinions posted in this post are true of the experiences found while shopping at MPM.
Google+