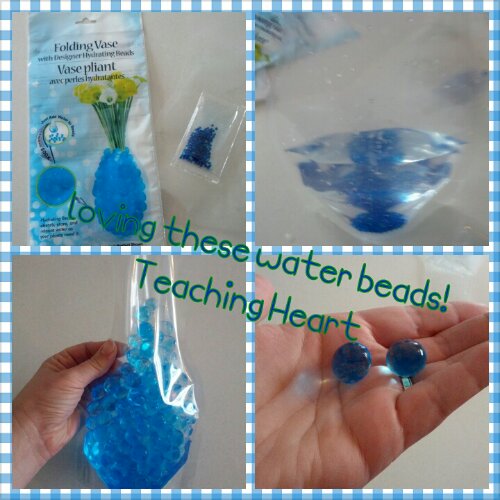 Have you seen the water beads above?  That are so neat and non-toxic!  I found them at the dollar store – you can get them on Amazon too!  If you look at the first picture in the square above, you can see how tiny they start out as.  Then you add water and in six hours they are the size you see in the last two pictures.  They feel slippy and squishy.  They are really cool!  I guess the idea is you use them as water in your flower vase (the beads come with a baggie vase which is preety neat)?  I haven't tried the flowers – but hmmm…. maybe something fun for spring!
 I wanted to make a frog sensory bin for the kids to explore as a center during a frog theme.  I was going to fill it will the fish tank rocks and then I saw these at the dollar store.  I grabbed these and three squared bins.  I wanted to make one bin for each child at the center.  Below you can see how each bin looks!
Be sure to click here to check out our Frog Packet!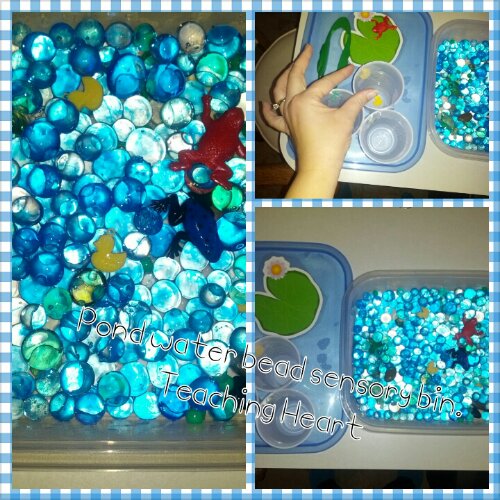 Aren't they fun?  The kiddos need to find four things in the bin and put them in the marked cups.  The plastic frogs will go on the Lily pad.  They need to put green beads (Frog-lets), yellow ducks (dollar store), and clear white stones/ tadpole eggs (dollar store) into the correct cup. I was originally going to have them use the kid tweezers to find all of the items…  but the water beads make everything a bit slippy.  So I will have them use their fingers to find the items.  Plus they get to feel the water beads, which are so fun to touch!  The beads will hold the water for over 48 hours and will start to shrink….  all you need to do is add more water and they return to full size…  I think I am in love!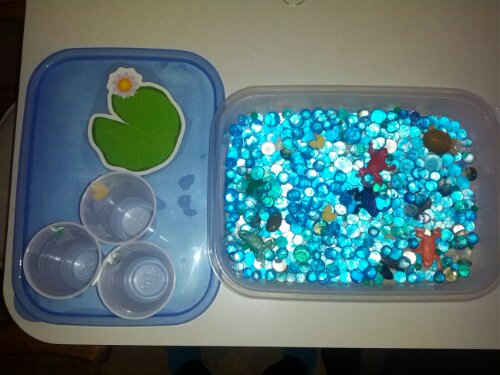 Google+