Scarecrow Tune: I'm A Little Teapot
I'm a little scarecrow Stuffed with hay,
Standing watch in my field all day.
When I see a crow I like to shout:
"Hey, Mr. Crow, you'd better get out!"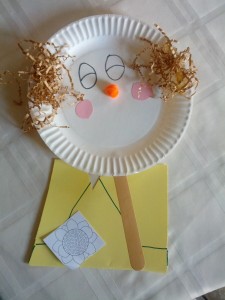 Grab a Popsicle stick and a paper plate.  Then get a few items to use as a hat, nose, and hay!   Put it altogether and you have a Scarecrow Paper Plate Puppet!   I put together the hair, cheeks, nose, and eyes for the Pre-K class.   They will cut the hat, color the flower,  color the eyes, add the mouth…  When they are done it may look something like this….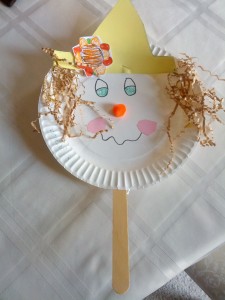 Once you are done you can have some fun dancing around with your scarecrow…   We love the Dingle Dangle Scarecrow Song below…

Click here to join us on Facebook. 
Click here to See more Scarecrow Ideas…
click here to check out our scarecrow packet!!!
Check out our Scarecrow Pinboard.

Google+