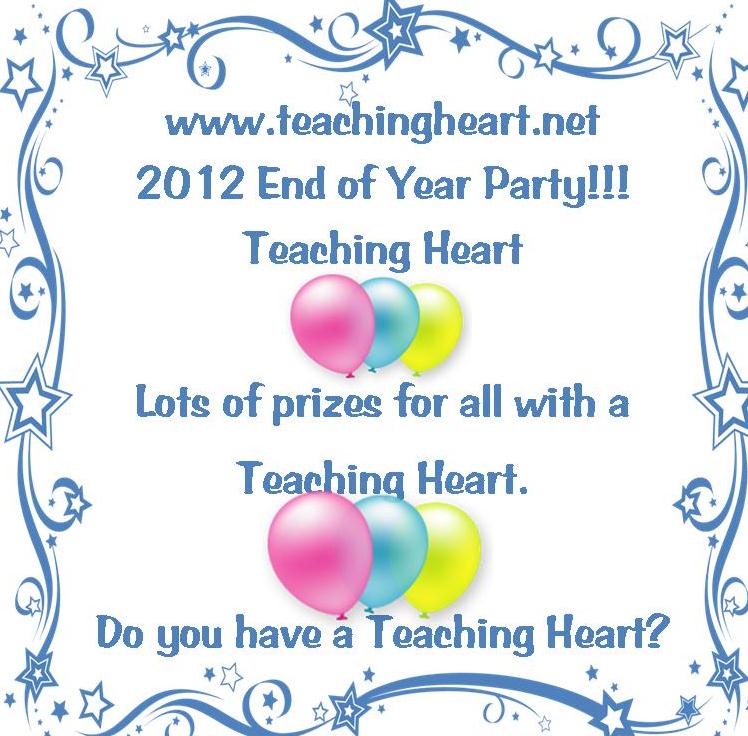 Thank you to all who took part in the End of the Year Party.  From the sponsors (Krissy, Mor, Hadar, Jennifer, and Emma) and to my two girls (Beth and Rebecca) who shared some fun prizes!  The party is over and it's time to hand out the prizes.
First, if you would like to take part as a Sponsor at our Back to School Party at the end of July, please fill out this form by clicking here.  If you have an Etsy shop with an item you would like to giveaway at our party, please fill out this form by clicking here.  If you have a Children's book or another non-printable (DVD, Education Product, Etc.) item you would like to give away at our party, click here.  I will be contacting the selected participants at the end of June.  Don't miss your chance to shine and thank teachers with "teaching hearts".
Feel free to check out Teaching Heart on Alexa and we are currently a 4 (above avergae) on google for page rank –  (http://www.alexa.com/siteinfo/teachingheart.net ). 
Now for the prizes!  Each person was selected using a random number generator.  I have contacted all the winners via email.  If you won a prize from the sponsors or from Beth and Rebecca, look for an email coming from them as well.  DRUM ROLL!!!
#12   Story Spinner  – Cheryl Ener
#14 Literacy CD  – Annette Formella
#33  Beach Décor  – Karen Reese
#27  – Numbers   Teri LeCompte
#1  – Pete the Cat – Maria Youngblut
#9  – Rebecca Designs – Susie LaBelle
#44 – Grace In Abundance – Sally Riley
Teaching Heart Prizes!!!
#120  – Teaching Heart Bag Giveaway – MArla
#2 – Kelly  Brown       Dolch Pre-Primer Sight Word Packet
#7 – Sarah Camp                    I would like the Any Skills Board Game 🙂
#8 – Tina Stagliano Parent                   "I would love the PTTS for Back To School, definitely a must have.
#75 – Angie brown Adcock                    Back to school packet
Woot, woot…  GUESS WHO WON BIG!!!   $100.00  GIFT CARD – Amanda Dover
Thank you to all who played!  Come back in July for our BAck to School Party!  More chances to win more goodies!!!
You all rock – Colleen
Google+