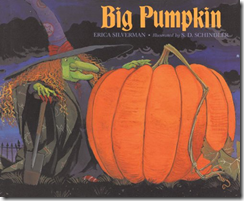 Over on the Teaching Heart Facebook page I asked the fans to tell a name of a children's book they would like activities to go along with…  We had lots of requests and I picked one (and another I will share soon).  First pick was activities to match BIG PUMPKIN, by Erica Silverman.  The Facebook Fan who requested this was: Raeneda Garcia!
Three free printables to match BIG PUMPKIN!!!!
Big Pumpkin is a fun Halloween story about a witch's big pumpkin and the creatures that try to help her pick it. It has a fun, repetitious rhyme and a cute message about the importance of working together.

 I wrote this little poem to summarize the story:
The Witch Planted a Seed.
The Pumpkin Grew like a Weed.
It grew and almost touched the sky.
The witch wanted to make some pumpkin pie.
She said, "This pumpkin is mine."
But it was too big for her to pull off the vine.
A ghost tried.
A vampire tried.
A mummy tried.
No luck, and the witch sighed.
Along came a bat.
He saved the day just like that.
Working together is so much better!
Then I created a cut up sheet.  Students can cut out each sentence a glue it to another sheet to make their own poem.  Or have them copy the poem into their poem journal and illustrate.  Have children highlight the words that rhyme in the poem.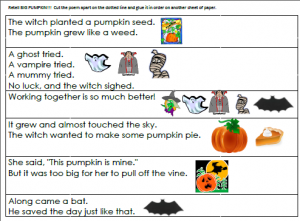 Click here to print the cut-up.

Big Pumpkin Report:  Fill this out after students read the book in small groups or as a class.  Independently for grades 2-3.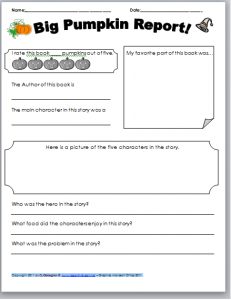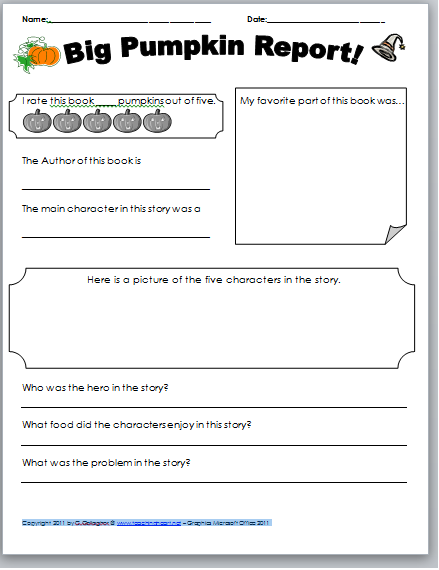 Click here to print the report.
Here is a book report for PreK-First.  Click here to dowload.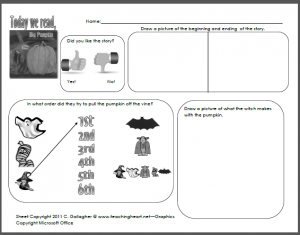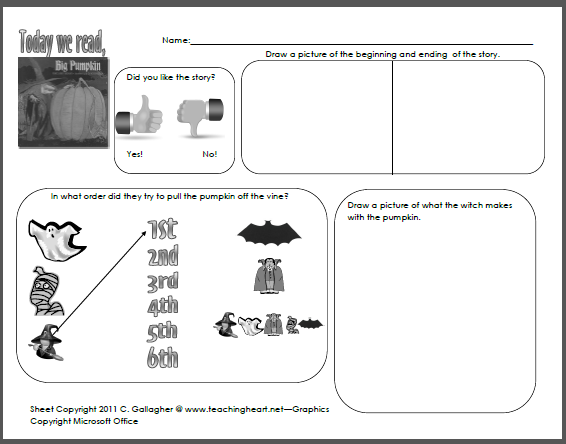 Need more pumpkin themed ideas???  A must see page on Teaching Heart is the pumpkin page, it is filled with ideas that would go along marvelously with this great BIG PUMPKIN book!!!
Have a second?  Could you click a vote for Teaching Heart???
Google+