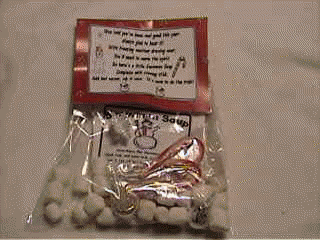 Snowman Soup is basically hot chocolate with a cute snowman twist. A poem like the one below is attached to a bag with a hot chocolate packet, candy cane, and marshmallows.
When it's so cold that
you holler and whoop,
It's time to bring out
the Snowman Soup!
Pour the packet in a mug.
Add marshmallows too.
And throw in these kisses
that are special just for you.
Now add some hot water
and use the cane to stir it.
Sip slowly and soon you'll
feel the warm winter spirit!
This year I made up a more personalized version for my son & daughter to hand out tho their friends and for my son to give as his special treat to his classmates. It is below.
The supplies I used are below:
Purchased the Wilton Lollipop bags at Michaels for around $1.99 for 15. I like these bags because they have little ties already on them.
Little snowflakes to attach to the outside of the bag came from Michaels
The chocolate covered candy cane stick and the marshmallows were purchased at Oriental Trading
The hot chocolate is just regular packets with labels I made placed on both side. I purchased computer sticker paper and printed the labels on the paper.

The outside I attached this personalized poem:
When the weather in (place name of town here) is frightful,
Snowman Soup can be delightful.
So, Snowman Soup I am sending your way,
Because having you as a kindergarten classmate has made my day!
Being a Kindergartner at (place name of school here) – can't beat it.
Being away you will probably need something to warm that "(mascot name here)" spirit!
Snowman Soup I have here!
Enjoy & I will see you next year!
Google+