As I mentioned in my last post, I have been teaching Virtual for a few weeks now since my school closed until the New Year. I am working hard to keep online teaching before Holiday break similar to how I would end the year in the actual classroom.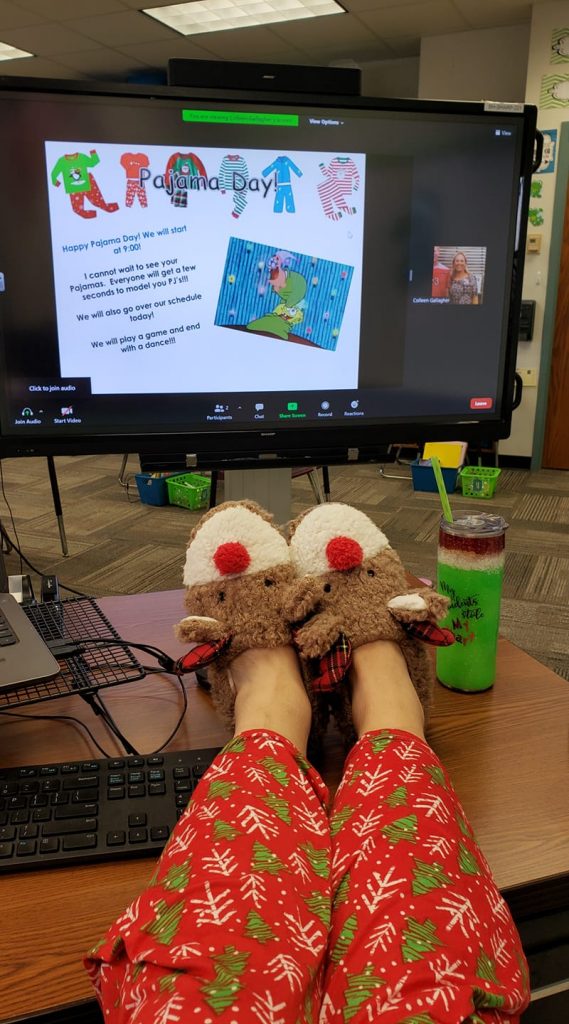 Today, we worked in winter PJ's! The kiddos modeled their PJ's and we danced to a few Just Dance songs to get the wiggles out! Plus we performed in our PJ's too!
Since I have been at my current school I have performed the Christmas Carol with my third grade classes each year. I read this Children's Book as an introduction and we often compare character traits of Scrooge and Grinch! I use the script from this pack every year. It is simple and to the point – perfect for third grade! I usually break the kids into two casts and they act it out complete with music, backgrounds they make, chains for Jacob Marley, and student technical add-ins.
This year, I modified this quite a bit so they could perform some of the play online. Usually I spend a week practicing this play with the students and we perform on Facebook Live for parents. This year we did two read throughs of it after reading the book – click here. We also watched this version on YOUTUBE – click here. Then, each student made a 1 minute 30 second FLIPGRID video of their favorite part of the play using puppets from a TPT pack (click here for that packet). I was so excited to watch all their videos tonight… they turned out so cute. I posted an example on the Teaching Heart Facebook Page – Click here!
I miss the real play, but this sure was fun and took me days less of planning to make it happen online… I hope your last few days in your classroom are going well!
Google+