I love you!  Yes, you… My readers!  Thanks for being such a great group of thankful parents and teachers.  I love posting free printables and hearing how they have helped you and how well they work in your classroom.  You all are always filling my bucket!  I thank God everyday for giving me Teaching Heart back in 1998 and blessing me with so many online friends.  My how time flies…  never thought Teaching Heart would be going 15 years strong!  It's because of you!  Thanks and may God bless you in and out of the classroom.
Now…  I and five of my favorite teacher blogging friends and some other people out in cyber space want to thank you for a great year!  I love the teacher blogging community.  There are 100's, ok 1,000's of Teacher Blogs out there now.  Back when I started in 98, I think there were like 10 of us.  LOL!  And maybe seven of us originals are still going.  Thus, I asked five of my NEW favorite Teacher Blogs to give me a hand to honor you and your 2011-2012 academic year!  The first five I asked for help said yes!!!  So you know they rock and I hope you will hop over to their blogs and thank them for making a party for you!!!!
Before I tell you who they are I want you to know that all the prizes (one is $100.00 Amazon gift card) were made possible because of them!!!  SO GO THANK THEM and check out their blogs!!!  Which one is your favorite…  Leave a Facebook comment below to let us know!
OK, HERE THEY ARE – THE BEST OF THE BEST WITH TEACHING HEART'S!!!   Do me a favor and follow their blogs and Facebook Page if you haven't already!   Let them know Teaching Heart sent you!!!
1.) Mrs. Miner's Kindergarten Monkey Buisness – You must follow Krissy's blog and check out her Facebook Fan Page.  She posts great ideas in both places!  She also has a Teacher's Notebook Store you will want to check out too!
2.) A Teacher's Treasure – Click on over and follow Mor's blog and her facebook page!  She has a great Teacher's Notebook Store too!
3.) Miss Kindergarten – You will want to look at Hadar's  blog and Facebook Page!  She has a Teacher's Notebook Store too!!!  Be sure to check out her summer bucket post!!!
4.) Empowering Little Learners – Go take a look at Jennifer's  site and Facebook Page.   Checkout her May Freebies Page too!
5.) Clever Classroom – You will enjoy Emma's site and her Facebook Page.  Be sure to look at her shop too!
Thank you ladies for having a Teaching Heart and joining the party!!!
Also, wanted to give a shout out to my girl Rebecca at Rebecca Designs.  She will be giving away a treat as well.  Her bird nest necklaces were a hit with all of you when I posted them on Facebook.   Check out her Etsy store!  Pick out a Mother's Day gift for yourself…
Beth from Grace In Abundance has also joined the par-tay!!!  Check out her Etsy Store…  Cutest things.  Wait till you see what she is giving away.  Better go like her Facebook Page.
And you know me… Colleen!  If you aren't a fan on Facebook, click here and join me.
Below are the dates of the BIG PARTY….  I suggest you stop by everyday that week.  SO MANY GOODIES To give away and not to mention a chance at a $100.00 shopping spree at Amazon.com!  Do not miss it!
PS.  Drop me an email if you are a blogger interested in participating in our Back to School Party and I will get you on the list to contact when the time comes.  cgallagher_1999@yahoo.com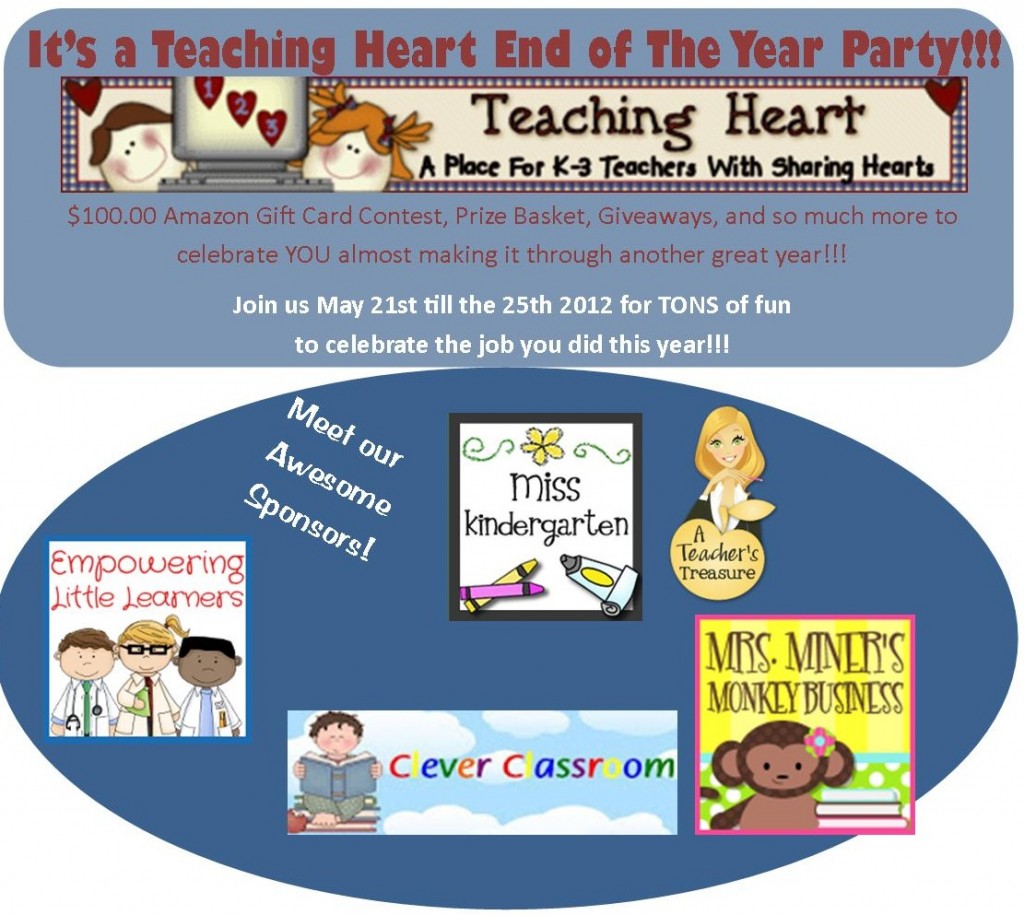 Google+