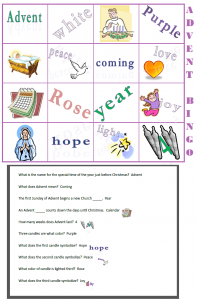 The last few Sundays in my Faith Formation class we have been discussing Advent and doing activities to teach the third graders more about the season.  This week as a review we will have some fun and play Advent Bingo.  I just made it and you are welcome to the printable to use at home or at school.  There are two files.  The first is a set of 10 Bingo Cards.  The second file is your calling strips.
Print calling cards – click here!
I also wanted to share a few great resources I found online for this time of year and celebrating advent!  First off I love this coloring page of Saint Anne to remind us of the Immaculate Conception.  It is a Catholic Icing original!  Love Catholic Icing!!!
I also wanted to tell you about a book we recently read "Strega Nona's Gift" , and it is a great read. The book tells all about the customs on St. Nicholas's day, St. Lucy's day, Christmas Eve feasting, New Years Day, and it ends with the feast of the Epiphany. Love the illustrations too!!!
 
 Other Links I think You Should Check Out!!!
Travel to Bethlehem Art Project -Advent Countdown
Also be sure to Check out this Children's Book for Advent!!!

 Good Deeds and Sacrifices for Baby Jesus- Make an Empty Manger
Here is a favorite Christmas Toy in our house.  We have had it for years.  We got it when my daughter was two.  I pack it away every year with the Christmas Decorations.  When it comes out after Thanksgiving it is well played with and my daughter is now five.  MUST HAVE!!!

 Catholic Blogger Toolbox shares many Advent Ideas.  One Idea you will find is a FREE printable Advent File Folder Game seen below.  We have played this in the classroom and it was a fun learning game!!!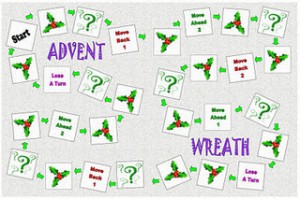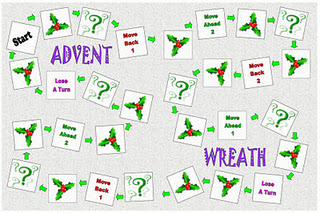 Also have to shout out for my favorite Chocolate Advent CAlendars.  I order one each year for all of my Godchildren.  Love these from Vermont – USA!!!

 Hope you are having a wonderful Advent Season!!
Google+