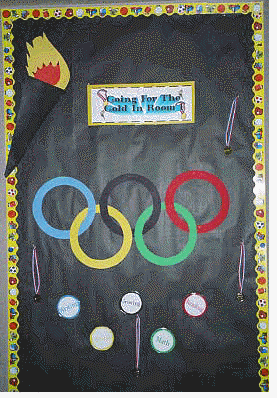 Just a few idea to use with your classroom or kiddos over the winter Olympics!
Get black sheet paper and cover a bulletin board with it. Place a sports boarder around the board. On a computer generate a red, white, and blue sign with the title, "Going for the Gold in Room 1!" Make the Olympic Rings out of Oaktag. Make a Tourch and Flame out of oaktage. Purchase pretend medals at a party store. Make five smaller circles on a computer and place the words, writing, growing, learning, reading, and math in each circle. Place this all on a bulletin board!
Math Ideas:
– Make bar graphs for the gold, silver and bronze medals won for each country. You could also graph students favorite Olympic Sport.
-Take brain breaks to measure student jumps, throws and running speeds
Language Arts:
-Read various books on the Olympics
-Have students write a poem about the Olympics
-Have students write a speech about winning the gold medal.
-If I were Olympic Athlete…
-Brainstorm ideas of what it takes to be an Olympic Athlete. Students list and illustrate the ideas.
-Put the sports names in ABC order.
-Write a news report.
-Take a picture of each students head. Have the student cut out their head and then draw the body of what sport they would like to compete in. Make sure they include an Olympic background behind their drawing. Below the drawing you could have student write about their time at the Olympics.
Arts and Crafts
– Use pipe cleaners to have students create their own Olympic rings
-Make Olympic Torches your students can eat… Use a sugar cone and whip cream. Sprinkle yellow sprinkles on the whip cream and you have torch the students can eat.
-Have an oreo Olympics:
Oreo Stacking
Oreo Relays
Oreo Rolling
Oreo Eating
5 Free PDF Printables From Teaching Heart
Click here to see and download the rest off of Teaching Heart!
I have created this page in honor of the 2006 Olympics and due to the large volume of requests from Teaching Heart Teachers who were looking for Olympic ideas to use in their classrooms. Here you will find ideas, printables, and great links that will help you create an Olympic Theme/Unit in your classroom. A special thanks to the teachers who sent me the great links to include on this page
Links off of Teaching Heart worth visiting!
Olympic and Winter Olympic Fuse Bead Patterns
Winter Olympic games to make and play with friends
Mazes, Word Searched, Dot to Dot, and lots more!
Google+