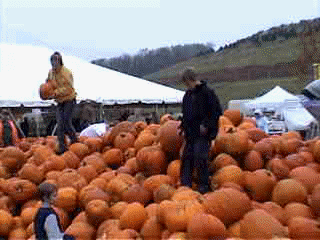 Have the students estimate the pumpkins weight, then actually weigh the pumpkin. To make it more difficult - use a bathroom scale. First the students weigh themselves and then they get on the scale with the pumpkin. Have the students subtract the first weight from the second to get the weight of the pumpkin!

Estimate the circumfrence of the pumpkin by having the students cut a piece of yarn that they think will fit around the pumpkin. Sort pieces by too short, too long and just right

Carve a Pumpkin Online

Use the five senses to describe the pumpkin...It looks like________. It feels like_______. It smells like_____________. etc.

Compare pumpkins to apples. Use a Venn Diagram to do this!

Pass out cards with numbers on them, have students glue seeds to the given number.

Use pumpkin seeds to make a picture.

make a KWL chart of pumpkin facts.

Making Words:
Give each student the letters
p, u, m, k, i, n
Now ask them to make the following words!
1 ink 2 kin 3 nip 4 pin 5 pip
6 pun 7 pup 8. punk 9. pink 10. mink 11. pump 12. pumpkin


She Swallows a Pumpkin In This Story!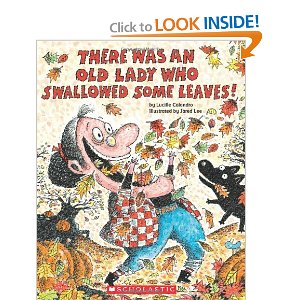 I used the pattern found in this packet to make little old lady puppets for all my students. All I did was print the pattern and glue the body to a small white bag (purchased from Michael's). I stapled the head to the top of the bag. When the students drop an item into the old lady's mouth, it falls into the bag. So fun!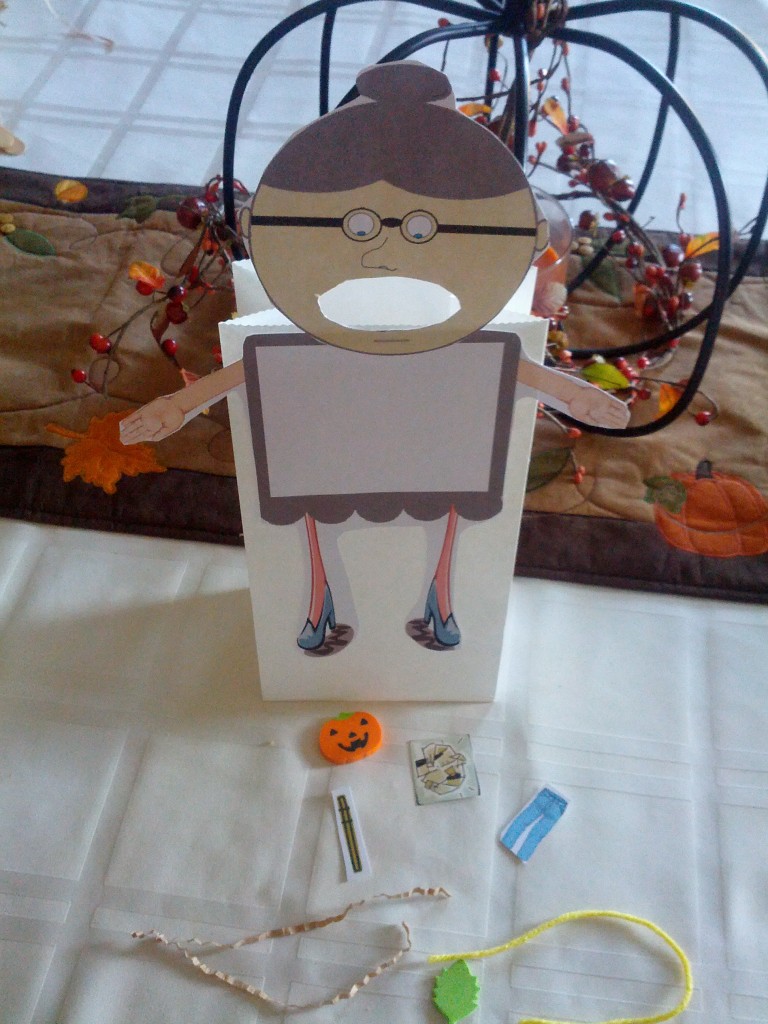 I used the printout of the shirt, pants, and pole found in the packet… but I used string for the rope, leaf foam stickers for the leaf, filler for the hay, and a pumpkin eraser for the pumpkin.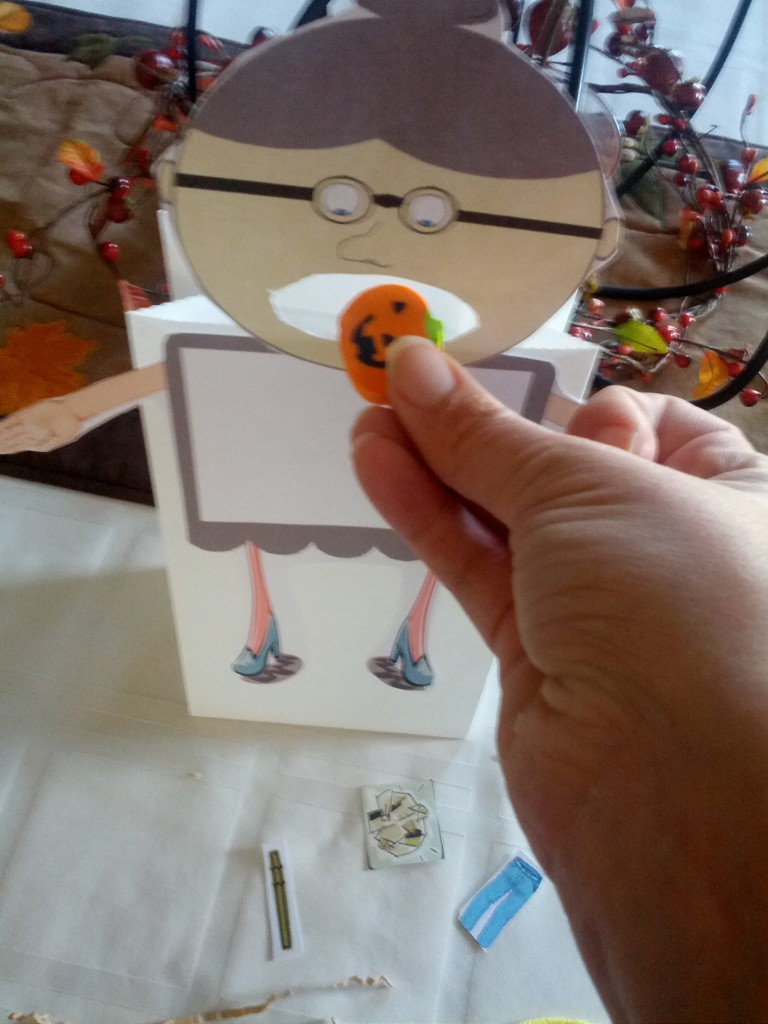 Once they retell the story with friends at school they can take it home for so much more fun and retelling practice.
When doing a unit on pumpkins it is fun to discuss
how they grow. Our Preschool and Kindergarten Pumpkin Packet
has pocket chart resources, little books, puzzles, and more to help you
teach about the pumpkin life cycle. The pictures show you some examples!

Click here to get these printables and more at our store!

Pumpkin Facts!
Most pumpkins are various shade of orange, but did you know that some varieties are yellow, white, or even other colors?
Most pumpkins weigh about 15 - 30 pounds. Still, some weigh as much as 800 pounds.
Spookly the Square Pumpkin...


Make some Pumpkin Smelly Play-dough!
My Favorite Recipe can be found here: : http://tinkerlab.com/diy-pumpkin-pie-playdough/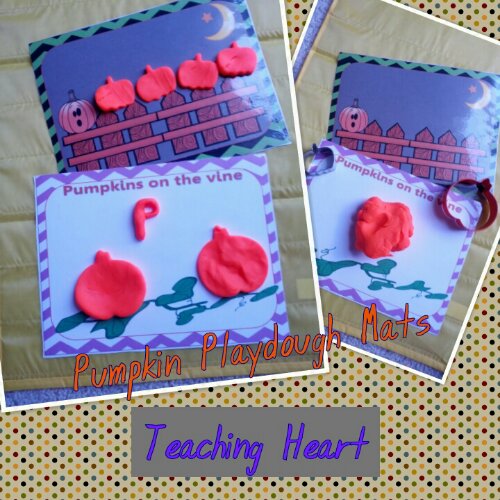 The mats seen in this picture are from this packet - click here to learn more!
Meet Spookley
– the friendliest square pumpkin in the patch! He's not your ordinary pumpkin. Spookley is different from the rest of the pumpkins. All of the other pumpkins teased Spookley until he proved that being different can save the day! Kinda like a Rudolph the Red Nosed Reindeer for Halloween.

| | |
| --- | --- |
| | Spookly Maze, Word Game, and Word Search Activity Sheets! |
| Watch the story here. | Other ideas: Pick out rhyming words in the story. Talk about shapes, sizes, and colors. Patterns with different colored pumpkins |
| | |
Here's a super easy treat to share after reading the book. Spookly Marshmallow treats! Just dip the mallows in orange candy coating and top with a green tick-tac. Attach this printable to your treat and you are ready to hand out Spookly!
Marshmallows , Green sting Twizzlers (vine), Orange Candy Melts, and Thin Pretzel sticks.

Super Easy… Just melt the Candy Melt. I put the Marshmallows in a Lollipop stick. Dip the Marshmallow in the orange. Add the pretzel stick (halved) and a piece of the green Twizzler for the vine!
They set pretty quickly (about an hour). Then you can wrap them.

I think they turned out pretty cute! I will share them with some of my favorite Pre-K Kids
Spookly the Square Pumpkin Craft using a plastic recycled baby food container
It is filled with pumpkin cloud dough. You can see how to complete this craft by clicking here!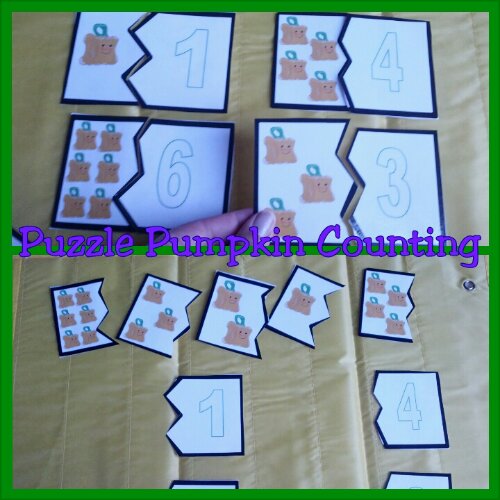 You can click here to get these Spookly Counting Puzzles 1-6 in our Preschool and Kindergarten Pumpkin Packet!

Pumpkin Poems, Songs, and Fingerplays
Song: "Five Little Pumpkins"

Five little pumpkins sitting on a gate,

The first one said, Oh, my it's getting late!

The second one said, There are owls in the air!

The third one said, But we don't care!

The fourth one said, Let's run and run and run!

The fifth one said, I'm ready for some fun!

Then Woooo went the wind

And out (clap) went the lights

And the five little pumpkins rolled out of sight!

Peter, Peter, Pumpkin Eater

Peter, Peter Pumpkin Eater

Had a wife and couldn't keep her.

He put her in a pumpkin shell

And there he kept her very well.

Mr. Pumpkin
(tune: Where is thumpkin)
Mr. Pumpkin, Mr. Pumpkin,
Eyes so round, eyes so round
Halloween is coming, Halloween is coming
To my town, to my town.

I'm Dreaming Of The Great Pumpkin
(Sung to: I'm Dreaming Of A White Christmas)

I'm dreaming of the Great Pumpkin
Just like I do this time each year
When he brings nice toys to good girls and boys
Who wait for him to appear.

I'm dreaming of the Great Pumpkin
With every pumpkin card I write.
May your jack-o-lanterns burn bright
When the Great Pumpkin visits you tonight.
~Source unknown~
Activities to match "Five Little Pumpkins"
The poem below is loved by Preschool and Kindergarten Students.
Our Preschool and Kindergarten Packet which can be purchased here,
has many activities, pocket chart pieces, little books, and more to go along with this poem.
Click here to see the packet with the items below...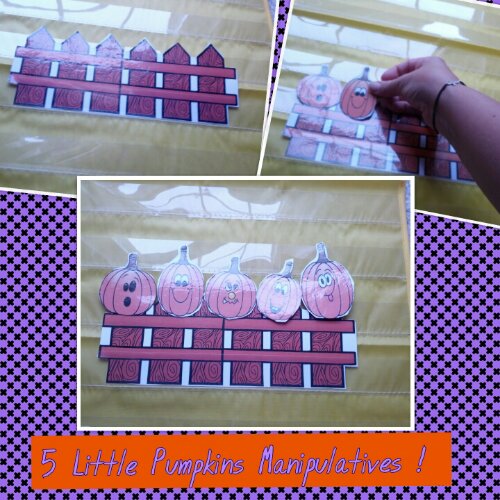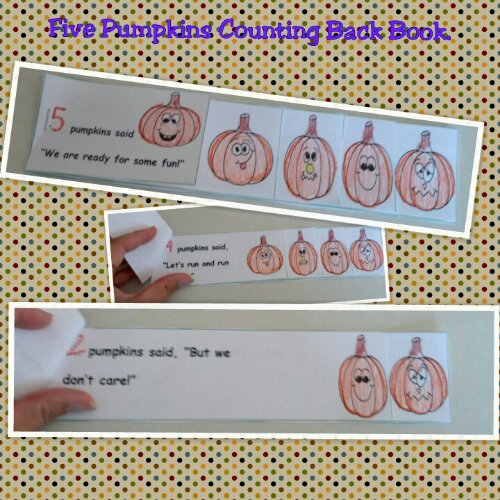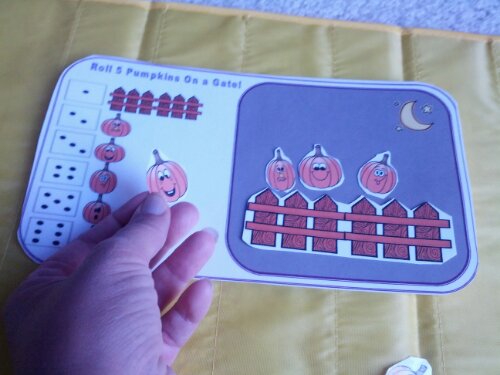 Five little pumpkins sitting on a gate,
The first one said, Oh, my it's getting late!
The second one said, There are owls in the air!
The third one said, But we don't care!
The fourth one said, Let's run and run and run!
The fifth one said, I'm ready for some fun!
Then Woooo went the wind
And out (clap) went the lights
And the five little pumpkins rolled out of sight!

Three free printables to match BIG PUMPKIN!!!!
Big Pumpkin is a fun Halloween story about a witch's big pumpkin and the creatures that try to help her pick it. It has a fun, repetitious rhyme and a cute message about the importance of working together.

I wrote this little poem to summarize the story:
The Witch Planted a Seed.
The Pumpkin Grew like a Weed.
It grew and almost touched the sky.
The witch wanted to make some pumpkin pie.
She said, "This pumpkin is mine."
But it was too big for her to pull off the vine.
A ghost tried.
A vampire tried.
A mummy tried.
No luck, and the witch sighed.
Along came a bat.
He saved the day just like that.
Working together is so much better!
Then I created a cut up sheet. Students can cut out each sentence and glue it to another sheet to make their own poem. Or have them copy the poem into their poem journal and illustrate. Have children highlight the words that rhyme in the poem.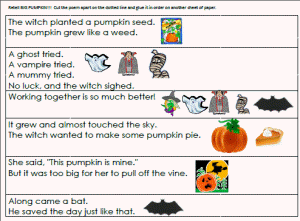 Click here to print the cut-up.
Big Pumpkin Report: Fill this out after students read the book in small groups or as a class. Independently for grades 2-3.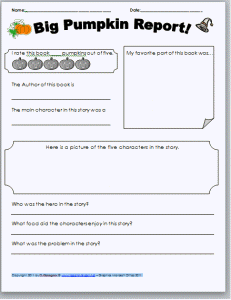 Click here to print the report.
Here is a book report for PreK-First. Click here to dowload.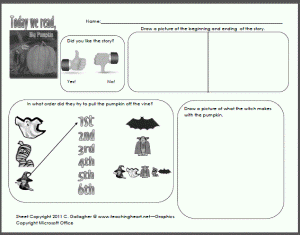 Need more pumpkin themed ideas???
TEACHING HEART'S FALL & HALLOWEEN PACKET for Kindergarten to 2nd Grades...
Below are some of the files found on the packet - to learn more and purchase, click here...
And our Pumpkin Patch Packet for Preschool and Kindergarten Classrooms - Click here to purchase and learn more!
Page 6. Five Little Pumpkin Manupulatives to use to retell the poem found on page 7.

Page 7. Five Little Pumpkins Poem with coloring page.

Page 8 and 9. Five Little Pumpkins Counting Flap Book. Students color and trace.

Page 10. Counting Puzzle to print.

Page 11 and 12. Counting puzzle to color and glue to page 12

Page 13. Number writing and one to three worksheet.

Page 15 and 16. Pumpkin Sequencing Pocket Chart Pieces to use when teaching about the pumpkin life cycle.

Page 17 and 18. Pumpkin Sequencing activity. Students sequence the cycle in order.

Page 19. Cut, Count, and Graph the Pumpkin Life Cycle Worksheet

Page 20 . Pumpkin Life Cycle Mini Book for students to color.

Page 21 and 22. Once I Planted a Pumpkin Seed Mini Book. Students Color and Trace and bring home to share and read.

Page 23. Pumpkin Pals Glyph Activity.

Page 24. Pumpkin cut and paste 10 frames worksheet.

Page 25 26 and 27. Pumpkin Rhyming activities.

Pages 29 and 30. Pumpkin Themed Play-dough Mats.

Page 31. Five Pumpkins on a Gate Dice Game. Have students take turns rolling the dice and matching the picture to the number rolled. First person to roll the gate and five pumpkins, wins!

Page 32. Square Pumpkin Counting Puzzles one to six.

Page 34 and 35. Life Cycle Sequence Puzzles one to six. Great for an independent center.

Page 36. Beginning Sound Pumpkin Patch Match Up—Students match the pumpkin Page 37 to the picture that matches the beginning sound

Page 36. Student covers the picture with the pumpkin letter. When finished the patch is filled with pumpkins.


Great Books To Make Your Pumpkin Unit Perfect!

Pumpkin Things to print