I started the school year in class with my students in early August and we made it 57 days of social distance schooling until we shut down. We are due to go back on January 7th! I have been teaching online for about three weeks now. I wanted to keep my holiday "fun days" still fun for the kids even if they are virtual. I have done Grinch Day since I started teaching in 1998. Here are some pictures from Grinch Day fun and activities on a regular Grinch Day in class. Click here!
I want to share a printable with some activity ideas for a VIRTUAL Grinch Day. It went really well today and if you still have a few days in school, you may enjoy some of these activities with your students.
The students had a pickup before this day and I made them Grinch bags as seen below…
They had a necklace craft, bookmark, green candy cane licked by the Grinch, and a Bendable little Grinch (ORIENTAL TRADING). One of their assignments was to take the bendable Grinch on an adventure in their home. They used FlipGrid to record the Green things the Grinch liked at their house. I shared the FlipGrids later in the day. They turned out really cute.
If you looked at the pictures from my post of my typical Grinch Day you will see we always draw the Grinch and talk about how his character changes through the story. We did the same thing through Zoom today…
We also had a guest reader read us the Grinch… Click Here for the video I used.
One of the activities that they did on their own was watch this version of the Grinch and fill out this graphic organizer. Click here to download the sheet.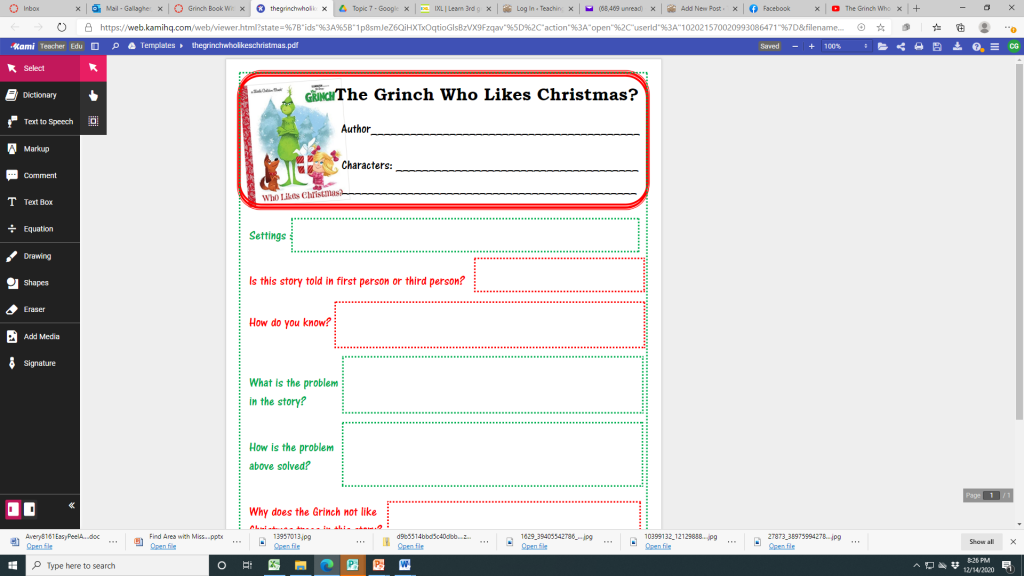 Google+