It's been a bit of time since I shared a new free printable…  Here are two dice games that I made for a first grade teacher, but they can be used in Preschool to Second Grade.  This should be a great way to add a little learning fun with a splash of green to your lessons on St. Patrick's Day.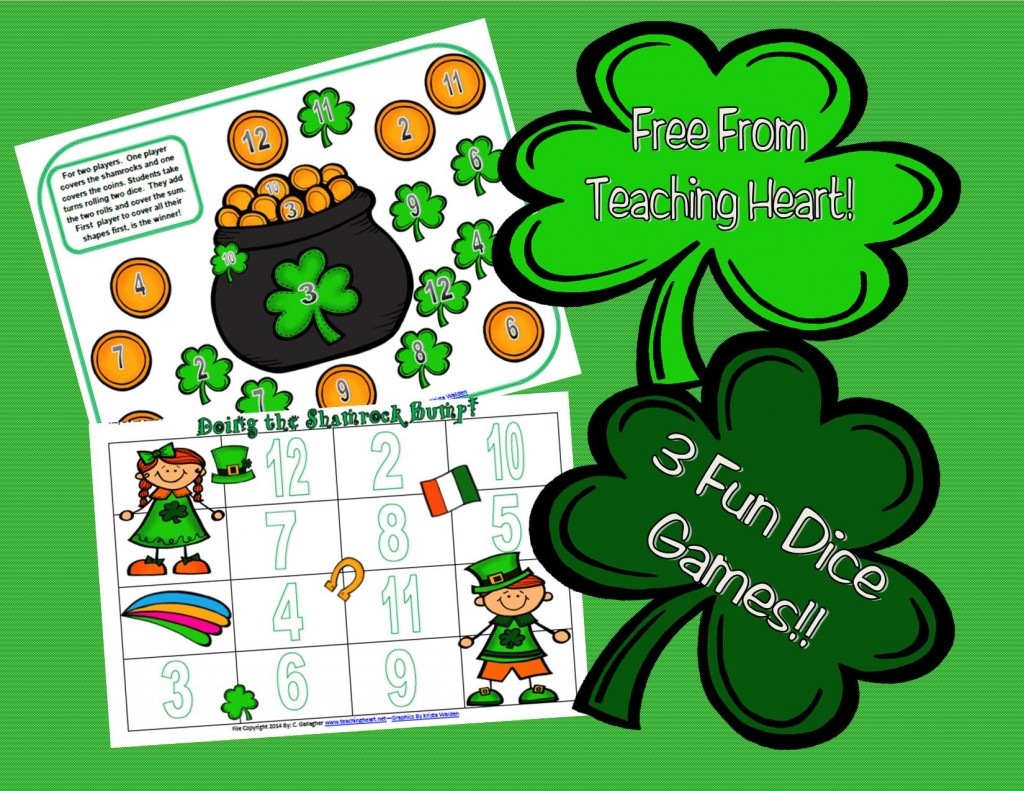 There are three printables in this set.
There is a cover-up game where you will need to supply the printable, two dice, and markers for each player:
For two players.  One player  covers the shamrocks and one covers the coins. Students take turns rolling two dice.  They add the two rolls and cover the sum. First  player to cover all their shapes first, is the winner!
There are two BUMP games that you will need to supply cubes of a different color for each player.  One game uses two dice and one uses on dice.
Directions: Each players picks 15 of the same colored chips. Players take turns rolling 2 dice, add up the two rolls, and cover up the matching number if it is open. Players can be bumped off their number until it is covered with 2 chips of the same color and is safe! When all the numbers are covered, see who covered the most numbers.  They are the winner!
I hope these three games will make your students smile while the continue to learn lots!
Be sure to stop by our St. Patrick's Day Page for a ton more of great ideas for St. Patrick's Day!  Click here!
Support Teaching Heart – Shop Our Store!!! 
Click here to download the free St. Patrick's Day Printables!
Google+