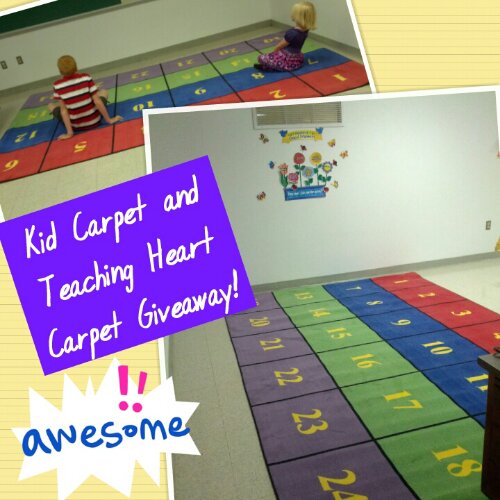 I just added the carpet to the classroom I teach in on Fridays and that I teach Faith Formation in!!!  See it, up there!!   Isn't it AWESOME!!!???   I love how each student has their own marked space, don't you?  That's an 11 (almost) and 7 year old on a square and they both have their own space – even the 11 year old fits!!   It can fit 24 students very comfortably.  The carpet is soft and lays so nicely after being rolled up.  The colors are bright and fun without being distracting.  The carpet came from Kid Carpet.  It took only three days to get here once I decided on the carpet I wanted!  It was rolled and packed in water proof paper and delivered to my door.  Kid Carpet was such an easy way to get a quality carpet for a classroom quickly.   Their catalog is very extensive… so many sizes, shapes, themes, and designs. It was a hard choice!  I picked this one because I like how it gives 24 students their own space and isn't too busy!  Hmmm, I bet I will be so happy to put certain students right where I want them…  "Johnny get your bottom on number 23 right by me!"  LOL!  Seriously, most preschool classes have up to 12 kids, thus each kid has a square with a space in-between.  Also, you can use the numbers for learning as well.  If you need 30 squares – this one is similar!
Check out the one above with 16 circle!  Pretty cool too, huh?
If you like more design and still want designated places for each student, how about a silly seat like below!!!  You can get it with 16 seats or 20…

I was also a fan of the carpet below if you were looking for a lighter and more neutral look. It also is VERY educational with shapes and letters!!
I can't get over all the choices on the site!!  If you have theme in your classroom, they may have a rug to match it!!!  Perhaps it's the ocean, you may want this Ocean Rug!!!    Or if you want a rug for Sunday School, you may like this!!!      There are so many!
Kid Carpet is an awesome company!!!  THEY love teachers and want one of the Teaching Heart fans to win a FREE Factory Direct Carpet!   How cool is that???
Make sure you stop by their Facebook and tell them you came from Teaching Heart and say thanks for the giveaway!!!   They are a company with a Teaching Heart for sure!!!  LOVE THEM!!
One of you will win a 7'6" x 12' carpet from this page!    There are lots of ways to enter below using the raffle copter!  The more ways you enter, the better chance you will have at winning!!!   Please make sure if you enter you follow the directions for each entry.  I will be checking the entries and have the right to remove any that do not follow the rule!!   Just follow the rule for each entry and you will be set!  I will pick a winner on August 17th!  You have till the 16th to get your entries in!
Google+